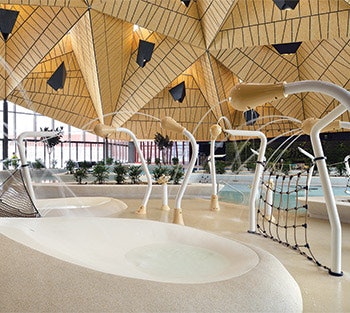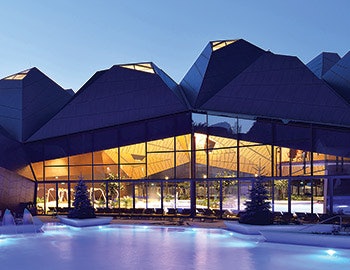 A Slovenian firm has renovated an outdated health complex into a modern spa, with a distinctive geometric exterior over the pool.
The Termalija Family Wellness pool is the latest in a series of projects built by Enota studio for Terme Olimia Spa in Podcetrtek, Slovenia. The structure completes the firm's 15-year transformation of the spa.
"[This] transformation has been characterized by its gradual nature," says the studio. "Each step was carried out in response to the then- current needs and did not follow any preconceived development plan."
The area was renovated to replace an older, outdoor pool that featured a retractable roof. That roof was impractical for everyday use, and its size and shape looked out of place among the pitched rooflines defining the surrounding area.
"The existing winter covering was a definite detriment to the guests' experience of this otherwise very naturally designed complex," explains the studio. "The [new] roof above the water area was divided into sets of smaller segments to prevent its scale from overwhelming the surroundings."
RELATED: Indoor Pools, Potential Problems?
In addition, the angular construction creates static strength, essentially allowing the roof to cover the space without structural support.
"In this way, the new roof floats above the pool platform, which is designed as an exterior space," explains the studio.
Inside, the sight is equally striking. A blend of skylights and supplemental artificial lighting illuminate the space, and the pool itself was completed with concrete forms that serve dual purpose, holding an array of plants and trees.
"Due to the lack of outdoor spaces in the summer, it was imperative to examine solutions which would deliver the same closed space used by the guests in winter as an open space in summer," says the studio. "Numerous skylights in the roof, together with the ability to fully open all the facade glass surfaces, enable the guests to seamlessly pass through the interior of the building."
---
This article first appeared in the May 2021 issue of AQUA Magazine — the top resource for retailers, builders and service pros in the pool and spa industry. Subscriptions to the print magazine are free to all industry professionals. Click here to subscribe.