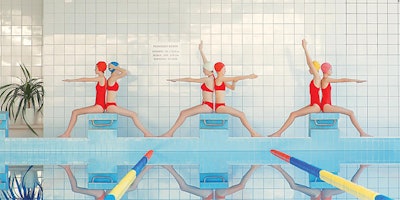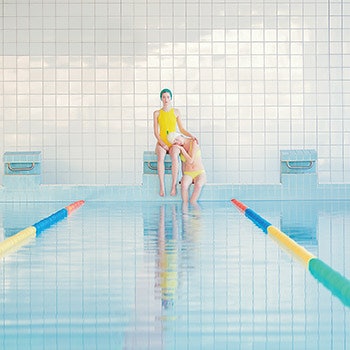 Photographer Maria Svarbova's largest exhibition of work to date has drawn excited reviews from across the globe for its powerful, understated tone and dreamlike atmosphere. It embraces the minimalism of indoor, socialist-era public swimming pools in her native Slovakia.
For the series, Svarbova photographed 13 pools built between 1920 and 1970 across 13 Slovakian cities, according to CNN. The collection has since been published as a book titled "Swimming Pools" and exhibited around the world.
"When I saw the first swimming pool, I was definitely fascinated by the architecture of the large open space," Svarbova tells CNN. "I prefer swimming pools that are old and without reconstruction. I can see a timelessness."
Svarbova re-interprets the rigid, functionally designed pools as muted, dreamy backgrounds for futuristic swimmers in saturated bathing suits. The pool water itself serves to express creative symmetry and reflection. The result? A mesmerizing visual treat.
Though the project began in 2014, and Svarbova has since accumulated international photography awards for a variety of her work, the "Swimming Pool" collection feels increasingly relevant today. Create! Magazine describes it as a vision that "compels the viewer to respond to the mystery, loneliness and isolation of the human experience." For many, the global pandemic has stripped away even the most mundane pieces of daily life. Social distancing is bringing us face-toface with ourselves as we live and work remotely.
"Time seems to have stopped," Svarbova says, describing her photos to Juxtapoz Magazine. "And the swimmers have no other idea than to see themselves reflected in the perfectly still water of the swimming pool."
Many of our defining and reassuring "constants" have come to an indefinite halt. While the resulting uncertainty may be uncomfortable, perhaps we've been given a chance to reflect upon ourselves in this 'perfectly still water' without the world's usual commotion.