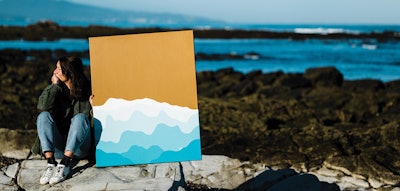 Photos courtesy Romain Laffitte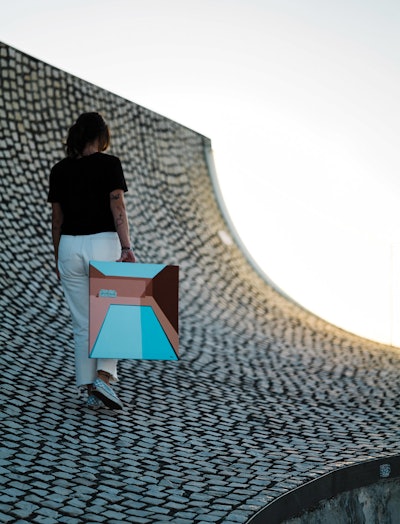 A real estate agent left her career behind to pursue a passion for painting — specifically, colorful visions of swimming pools and other abstract bodies of water.
Toulouse native Sara Bagot, now based out of a studio in Andorra, has had a lifelong interest in architecture and the structural beauty of buildings. She began painting as a child, but didn't start exhibiting her work until 2016. Bagot cites David Hockney as an inspiration, which comes through in her minimalist style and crisp, clean lines.
"I have pools that inspire me, but the one that inspires me the most and that makes me want to paint them is the one by architect Luis Barragán, the Pedregal house [in Cabo San Lucas]," she says.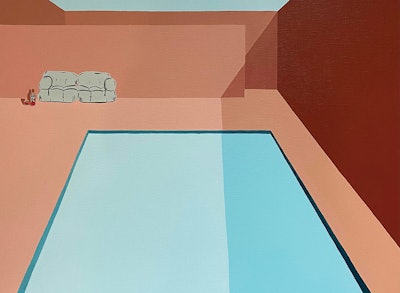 Bagot prefers to paint with acrylics, which she slightly dilutes. She typically needs about a week or more to bring a canvas to life. "First, I imagine the outside walls and the views, the sky. Then, my pool comes automatically," she explains. "For the colors, it's the same thing: the sky first, and I finish with the pool. More or less dark, according to my canvas."
Bagot has now participated in seven exhibitions, most recently an opening in Agen, France. She's preparing a new series for an exhibition in Rome this summer. "I'll include swimming pools, with other colors, other shapes. Round pools, too," she says.
To keep up with Bagot's latest work, check out hashtagmoigallery.com or follow her Instagram @hashtagmoi.
---
This article first appeared in the May 2022 issue of AQUA Magazine — the top resource for retailers, builders and service pros in the pool and spa industry. Subscriptions to the print magazine are free to all industry professionals. Click here to subscribe.