Many paintings are displayed in galleries, meant to be admired in frames — but Ania Amador's work is probably best appreciated underwater, through a pair of swim goggles.
Painted as a commission, this stellar pool mural is located at a private residence in Sequim, Wash. The detailed, colorful scene depicts outer space, featuring an astronaut, asteroids and planets.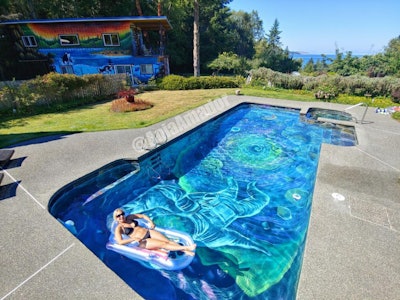 Amador, a large-scale mural artist and professional live painter, devised the concept in collaboration with her client. "They wanted a space theme, incorporating specific elements that represent their family, and I wanted to create a unique perspective that would change depending on where you were standing," she explains.
This project was unlike anything she'd done before, and painting on the ground brought a host of new challenges.
RELATED: The Artist Behind the Pool of Dreams
"Getting in and out multiple times to get a different perspective throughout the process was physically demanding and time-consuming," she says. "I dealt with drips everywhere from painting downward with spray paint. Fortunately, I was able to work some of the drips into the space scene, but I had to clean up and paint over a lot."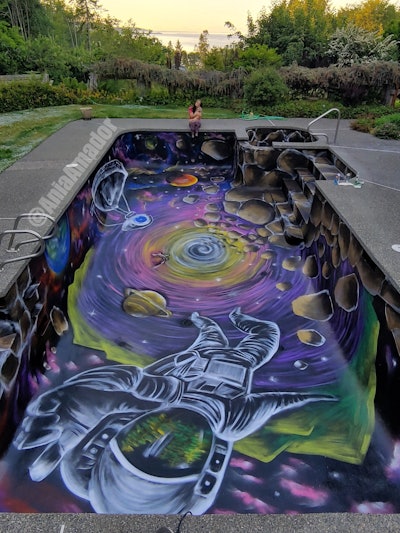 Amador and her client acknowledge that the pool's chlorine and chemicals will eventually degrade the artwork. "Finding the best protective sealer was more difficult than expected, but we learned so much every step of the way," she says.
She expects the mural to last around three to five years.
Amador's mediums are set to get even more unique: She says she plans to paint an RV next. To view more of her work, check out @aniaamador on Instagram.
---
This article first appeared in the June 2021 issue of AQUA Magazine — the top resource for retailers, builders and service pros in the pool and spa industry. Subscriptions to the print magazine are free to all industry professionals. Click here to subscribe.
---