Consumers expect pools to be beautiful. When they fall into disrepair with dodgy plaster, drab tile, cliché coping and worn-out decks, restoring these settings can become a profitable revenue stream, either as part of a larger construction enterprise or as a singular specialty.
Either way, making the most of those opportunities requires design flexibility, a willingness to expand product offerings and above all, the ability to listen to client needs while also guiding them to the best choices for their property and budget. Sometimes, cosmetic renovations lead to bigger changes that involve full-blown remodeling, such as adding a spa, Baja shelf or repairing structural cracks. Most of the time, however, working on the surface provides its own reward.
Even though beauty is only skin deep, with pools and spas it can spell the difference between a body of water that's cherished and one that is left to decay.
BIG PICTURES
Zain Khwaja is founder and managing partner of The Pool Specialist in Kissimmee, Fla., a company focusing entirely on cosmetic renovations. For Khwaja, the abundance of aging pools in the Orlando area combined with the opportunity to dazzle clients was enough to prompt him to start his company. Khwaja started off in pool service as a teenager and now at 27, sees growing opportunities in the makeover project category.
RELATED: Fullerton, Calif., Residential Pool Gets a Makeover
"When you combine the pool surface, tile, coping and deck, you can completely transform how the pool and surrounding area look," he says. "It's like having a brand-new pool at a fraction of the cost. Homeowners get excited about owning their pool all over again. Often they've put it off for years but when they finally get around to it, they can't believe their eyes."
Khwaja reports his company is currently doing more than 400 cosmetic rehabs a year. But not all of his projects come as the result of a crumbling appearance.
"Here in the Orlando area there's a large influx of people moving into the area and people leaving as well, so the homes turn over. It's very common when someone moves into a home with an existing pool, they want to make changes. We renovate pools that look fantastic, but just don't suit the customer's taste. That's as common in this market as people who want to upgrade the pool because it looks bad. Even in those projects where the pool is in good shape, you can still make a dramatic difference in the appearance that completely redefines the space."
EXPANDING OPTIONS
Across the country in Southern California's ever-burgeoning pool and spa market, Alan Smith, founder of Alan Smith Pool Plaster in Orange, Calif., also started in the industry as a teen. Starting out primarily in pool plastering, Smith steadily moved into all aspects of renovation work and his company became one of the region's iconic family-owned pool companies. Now, more than half of his projects fall into the cosmetic category.
The key to success, he says, is listening to the client and offering appropriate aesthetic options.
"When we first meet with the clients, we tell them they have an opportunity to change the look of their pool with some very basic upgrades," Smith explains. "Maybe they're interested in going from a basic white plaster to a color that's much darker and looks like a lagoon, for example. We open up the conversation explaining that you're not going to structurally change the backyard, but you are going to get maximum bang for your buck when you alter the aesthetics."
In most cases, he says, those elements come down to a small set of important finish elements.
"No. 1 is the finish. There are so many options and it's the largest visual element associated with the pool. No. 2 is LED lighting, which can make the pool look more beautiful at night than it does during the day. No. 3 is landscape or outdoor lighting, which does the same thing for the landscape as LED lighting in the pool," he says. "It transforms the landscape at night, and you don't need more than a few fixtures in strategic locations. In terms of the most visual improvement for the cost, those three are at the top of the list."
RELATED: Vinyl Liner Pool Gets Extreme Makeover
Over the years, Smith has seen the materials palette for finishes, tile, coping and decking expand dramatically, giving clients an almost endless set of choices, especially in ] terms of the possible combinations of materials. That's why his company has developed elaborate displays, including a water wall with 64 different pool surface finishes along with other displays of interlocking pavers, all types of tile, stone finishes and coping, as well as cast concrete and poured-in-place coping.
He and his staff often take clients to local design showrooms where they can find even more choices. "Our sales and marketing is extremely fluid in terms of what we sell, which drives operations crazy sometimes because we're always asking them to learn how to work with different materials. We always work to make sure we're giving customers exactly what they want.
"We do trend toward a few things," he adds, "such as pre-cast concrete, natural stone such as quartzite or travertine, and poured-in-place concrete and interlocking pavers. All of those are popular options that offer a wide variety of choices in each category."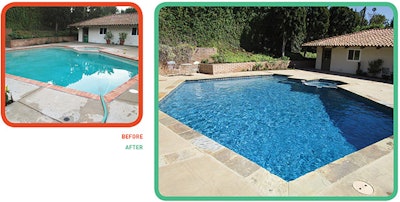 ON THE SURFACE
As Smith points out, in many cosmetic renovations the pool's interior surface is the starting point. As the largest visible surface area, the pool finish defines the look of the water and much of the pool's visual personality.
"With plaster, we try to steer our clients to the more durable finishes," Smith says. "Colored plaster is probably the most fragile finish in terms of aesthetics because it tends to blow up when it's exposed to fluctuating water chemistry. Pebble finishes are more durable because the pebbles themselves are chemically inert. We also do a lot of polished finishes. There, the effect is subtler. From far back, it looks very similar to a colored plaster pool or a pebble finish. With polished finishes, it's really the up-close look that gives you the enhancement."
For similar reasons, pebble is the finish of choice at The Pool Company in Clayton, Calif.
"When I came into the market it was probably 10% pebble and 90% plaster," says Owner Steve Swanson. "Now that's flipped. Pebble is by far the most popular finish for remodels and new construction. The surface is more durable and it just looks better, longer. With plaster, you can tell how old it is by looking at it. With pebble, unless somebody screwed it up somehow, it doesn't change appearance over time. My own pool is going on 18 years with a pebble finish and it looks pretty much as good as when we first put it on."
RELATED: Morning Show Makeover In Midtown Manhattan
Khwaja adds that finding the perfect finish requires understanding how the color looks in water and also how the setting influences that appearance. "It can be tricky to get the exact color because the tonality of the water changes six times a day because of the position of the sun," he says. "So you do have to have an understanding of how the color of a finish is affected by the water and sun. If you have a yard with lots of greenery that reflects in the pool's surface, you'll want to have a color that has green in it or is very compatible with green. You have to take all those things that impact the appearance of the pool, and especially the water, into consideration."
DECKS, TILE & COPING
Unsurprisingly, waterline tile is often replaced along with the interior surface and the options have similarly expanded with both domestic tile and imported product lines. Coordinating the tile selection is key, Smith says. "The choice of tile should support the overall design concept. If you are making the pool darker to create a more lagoon-like setting, you want the choice of tile, as well as decking and coping, to support that effect. You want all the finish materials to work together."
Decks are usually next in line in terms of key aesthetic decisions, and like interior finishes, the choices for decks have been expanding for decades. A wide range of interlocking pavers, stone tile (especially travertine), textured and colored concrete and even traditional brick are all popular options.
"We probably do a hundred deck replacements a year, both commercial and residential," Smith says. "Usually, the customer knows they want to treat the decks going in because they've been living with stained or cracked concrete and are tired of it. But sometimes they just want to change the look. Although the price for different options varies over a fairly wide range, replacing your deck is another way to make a huge difference at a relatively low cost."
Coping and other types of edge treatments have likewise expanded far beyond the familiar bullnose or brick coping and present a similar set of broad choices.
RELATED: So Cal Builder Performs Miracle Pool Makeover For Well-Heeled Homeowner
"With coping, or more generic edge treatments, there are now more types of stone available at masonry suppliers," Swanson says. "That's been on the uptick for the last 15 years. Brick has become dated but when a backyard calls for it because they already have brick on the house or in the hardscape, we will install it on occasion. It's all about what the customer wants, of course, but we do try to guide them toward choices that are best suited for their particular property."
GOING STRUCTURAL
While cosmetic renovations typically stay on the surface, if a feature is trending, a homeowner may simply want the latest structure added to an older pool. "We do some projects where we just add a Baja shelf," Smith explains. "That's become more popular than adding a spa because the cost is so much less and a lot of people love being able to relax in shallow water. Add a couple adirondack chairs and an umbrella, and now the mom is relaxing in the pool watching the kids, where before she'd probably just be in the house. From a functionality standpoint Baja shelves are an amazing investment, probably the most used feature in the pool for most people who have them."
Sometimes structural remodeling is completely unintended but becomes necessary when removing plaster and other cosmetic elements reveals structural cracking or deterioration due to the use of rebound during the original construction.
"Cosmetic remodels will often lead to different types of repairs," Swanson says. "When you drain a spa, for example, you may see cracks that you hadn't seen before. It might be that rebound was used in the steps and they need to be redone. Or you find significant cracks that have allowed water to intrude and compromise the gunite and structural steel. You might need to open up a significant portion of the wall to correct the problem. That's not uncommon, so you have to be prepared to deal with those situations, to take on those things that go above and beyond the cosmetic. As a professional, you're like the primary care physician who has to treat the whole patient."
THE LINER OPTION
There's more than one way to resurface a pool. As described in the adjoining text, there are plenty of cementitious options including traditional and enhanced plasters, pebbles and exposed aggregates. There are also spray-on fiberglass and composite coatings, which boast a number of impressive advantages, and there are traditional pool paints that offer an ultra-affordable but comparatively impermanent surface option.
And there are liners, specifically those used to renovate concrete pools. Different from liners used in package pools, these are much thicker, 60-mil liners that are made for high-use environments found in commercial pools.
Aaron Darcy, marketing manager for RenoSys, a manufacturer and installer of liner systems used mostly in large commercial renovations, says that renovation work calls for different options and his company's liner systems for pool interiors and decks can be a good fit across a range of situations.
"On average renovations account for 65% of our business," he says. "The liner that we use is primarily on commercial projects, although we do send it to dealers who do use it in residential projects. We have crews that we deploy all over the country to do the larger projects that you would find at universities or parks and recs departments."
As is true of other types of renovations, the before-and-after difference can be stunning. "Often it doesn't even look like the same pool," Darcy says. "From the deck point of view, we have a very similar system to our liner designed specifically for the deck. It's 85-mil, formulated with UV inhibitors. It's very similar to the 60-mil liner but it's thicker and embossed with texture. It doesn't crack or chip the way concrete does."
Because RenoSys operates largely in the commercial realm, Darcy has seen firsthand just how important a cosmetic upgrade can be, particularly in facilities struggling to keep the doors open.
"These pools are a valuable asset to their communities, but when they fall into disrepair they are oftentimes at risk of being permanently shut down. We've found that when we install our liner systems and dramatically improve the appearance, as well as the comfort of these pools, they gain a new lease on life. That's an incredibly satisfying feeling knowing that our work has been able to save pools that might have otherwise disappeared."