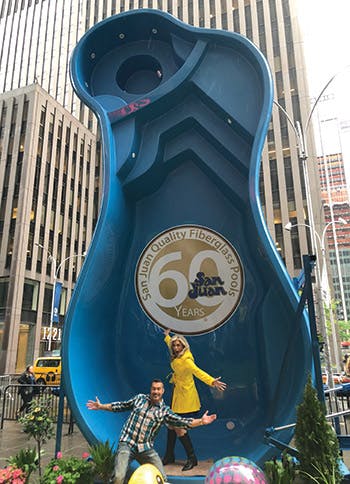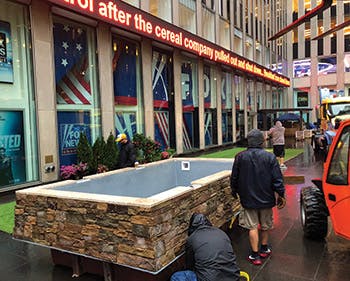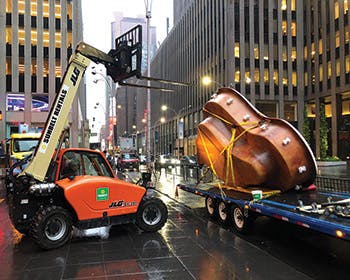 Normally, it's hard to find a swimming pool on 6th Avenue in New York. Sometimes it's hard enough to find a cab. But recently San Juan Pools set up three fiberglass swimming pools right there on the corner of 6th Avenue and 48th street for the morning TV show "Fox and Friends."
The set of three pools included a 12-by-25-foot pool/spa combo tipped on end, which rose high above the crowd gathered to watch the live show on a rainy day in uptown Manhattan. Getting the pools set up in the city took some doing, says Kirk Sullivan, president of San Juan Pools.
RELATED: Ocean Spray Hot Tubs Tells Us About Being on Bravo Reality Show
"Originally, we were going to bring in the 14-by-16-foot pool we call the Fun Deck, but they wouldn't let us bring it into the city — too many wide load permits required. Still, we had to get city permits and parking permits, we had to get permits to be able to unload the pool, and we needed a permit to have pools on the plaza.
"I'm glad we didn't try to bring in the bigger pool, because that would have been really difficult."
TV personality Skip Bedell, host of "Catch A Contractor" and subject of the Fox and Friends segment took a fancy to the stone-sided aboveground pool that goes 40 inches deep but leaves only 18-inches above grade — so much so that he ended up going home with it.
"The crew loaded it up and took it over to his house," Sullivan says. "It was perfect for him because it only goes 18 inches into the ground, and all the homes here are so tight, and for most of them the 'yard' is kind of considered the front yard. And you can't have a pool in the front yard, but if it's less than 18 inches into the ground, you can. So for those city homes this kind of pool works pretty well."