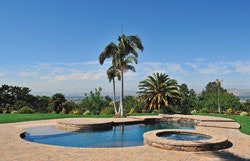 Dave Penton, owner of Fluid Dynamics Pool and Spa, Fullerton, Calif., simply describes this pool's predecessor as "really ugly," chalking it up to a mix of bad coping, bad tile and its overall unappealing nature. But, the new tropical look is a far cry from what existed before.
"It was one of those jobs that comes along once in a decade, and the home-owner just trusts you, and we had a great time with it," says Penton. "So we added a beach entry, redid the equipment, re-plumbed everything. It really went well."
In order to make room for the new additions, a lot of demolition and reconfiguration needed to take place. Penton and his crew took out the front corner of the pool to add the beach entry, removed the bond beam from the deep end and reconfigured it to accommodate heavier stones, and reconfigured the bench in front of the spa to add a sun shelf that mirrors the beach entry.
The homeowner also wanted spillways in the rocks in the deep end, so Penton needed to build a custom radius and recess into the wall so they could achieve the desired trickling water effect.
Fluid Dynamics replaced all of the plumbing and pool equipment, also installing a full automation system on the saltwater pool.
In the end, the homeowner got exactly what he wanted, says Penton. "He was very happy with it, and he even built a 2,600-square-foot pool house to go with it. It turned out really well."