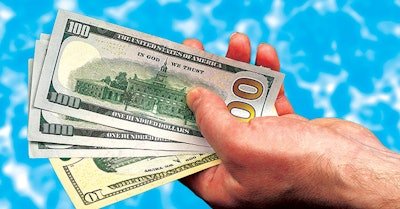 For the average homeowner, putting in a new swimming pool is no small matter. The project is sure to eat up a significant amount of their backyard real estate and the install can be long and inconvenient. But maybe the most significant impediment is also the simplest and most familiar: dollars and cents.
In 2018, the average cost of an inground pool was just below $50,000. That's about the same as a new full-size pickup truck. Given the amount of work required for a quality pool, that's certainly a reasonable price tag, but it still often stresses skittish consumers.
HOUSE MONEY
According to 2016 data mined by the Farnsworth Group and the website Houzz, a whopping 86 percent of home renovations in the U.S. are funded by either a home equity line of credit or a home equity loan.
For several years, there's been a pronounced reluctance to borrow against home values due to lingering fallout from the subprime mortgage crisis. And erased equity meant people simply didn't have much money available to them.
RELATED: Spring Thaw In Pool Financing
Ten years later, homeowner equity has rebounded and now averages 59 percent of the residences' value, putting it at essentially pre-recession levels. In terms of real money, the picture looks even better, with a record high $14.4 trillion in home value held by property owners.
This housing rebound hasn't totally eased people's concern about home-equity borrowing, though.
FINANCING BUILT IN
As pool prospects grew hesitant to borrow against their homes, builders have adapted by coming up with new ways to finance.
Basically, builders are no longer expecting the consumer to answer the money question all on their own.
"The notion of incorporating financing into the sale is something we're seeing go through lots of different parts of the economy," says Nick Lazares, vice president and home improvement general manager at LendKey. "You see that if you look at e-commerce, if you look at retail, obviously the auto industry has been conditioned with that forever. We're seeing that multiply throughout the economy."
LendKey is a financing platform that partners with contractors like pool builders so they can offer financing options as customers are in the shop considering build options.
"We've got partnerships with hundreds of pool contractors all over the country," Lazares explains. "In general, we like to work with pool contractors that understand financing and how to promote it in sales. We've also worked with many pool contractors who haven't understood that. We've taught them how to incorporate that into their process."
Pool financing has historically been fragmented, involving market players that farm out the loan to multiple different lenders, potentially landing on terms that are good for the financing company but bad for the consumer. Organizations such as LendKey rely on local lenders who have lower cost of capital and longer-term loans, up to 15 years.
"It essentially helps people that were going to cut back on their pool because of that payment on the five- or seven-year term," says Natalie Doyle, finance manager with Presidential Pools, located in Arizona. "When I offer the 15 year with the lower interest rate, the customer is getting what they really want with their pool and their payments aren't that high because they're spread out over a longer span."
Doyle says Presidential Pools sold over 1,000 new pools in 2018, estimating that approximately half were financed internally.
CRYSTAL CLEAR
With more of the financing burden resting with pool builders, there has been a greater need for financial education for industry professionals.
"Historically, financing has been a bit of a black box," says Lazares. "You couldn't say with great certainty when you referred your customer over to the finance company what that payment might look like, what that rate might look like. As a builder you wouldn't really know. Nor would you know what the funding schedule would look like or how you would manage it on the operational end of the sale."
It's important to work with a lending partner that provides this information in an easily understood fashion. Ideally, there's an online portal that allows the pool contractor to compare numbers and track everything, including where the customer is in the process.
RELATED: A Better Way to Borrow
Having more control over the financing journey can also give the pool contractor more immediate financial clarity. Pools take a long time to build, of course, and contractors need cash fl ow. Funding through property equity goes to the homeowner first, who then needs to turn it over to the builder. Organizations such as LendKey typically fund the contractor directly.
"As a contractor, not only is it more comfortable knowing what the product looks like going into the sale, but after the sale you have the peace of mind to know that you'll be able to make your salary payments, make your equipment payments," Lazares says.
START TO FINISH
"It's got to be a seamless experience," says Lewis Goldman, chief marketing officer at LendKey. "That's why we exclusively go through contractors. We want to be integrated into the sale rather than a situation where the contractor is talking about the project and says, OK, now go find financing.' Here, the contractor is in control, and that's very deliberate on our part."
Goldman adds the approach creates a more holistic experience for the customer, who finds they can rely on the pool builder for every aspect of the project. It becomes a turnkey solution.
This broad reliance has some risks. It can boomerang back on the pool contractor, leading to ill will that leaves mighty dents in a reputation. On the other hand, getting it right can be a boon. Pool installers count on word of mouth to recruit new clients, and anything that eases the process reflects well.
"We get a lot of referral business just because we offer that financing," enthuses Doyle, who believes having the option doubled Presidential Pools' recent numbers.
LOSING WAIT
Pools are big-ticket items, so the financing process is always going to be at least somewhat arduous. The trick is to look for new ideas and tools that speed the process and make it better for all involved.
Relying on home equity to drive financing means a longer wait than many customers would like. This is especially true for millennials, who grew up with the immediacy of e-commerce.
"That's just the not the speed at which consumers live now," says Goldman. "Consumers expect speedy service, quick turnaround, for the bank to come to them or for the financing product to come to them." Customer expectations around finance are moving. It's important for the pool industry to keep pace.