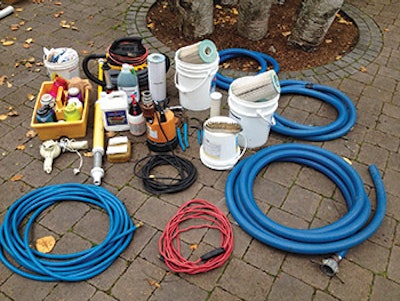 Spa maintenance guys in the sunny South may be surprised to learn that in the Great White North, draining a hot tub can have the added complication of hard water. I don't mean calcium or magnesium hardness, I mean the sort stiffness that results when the ambient temperature drops below zero.
If you will be changing spa water outdoors this winter in states like Minnesota, Montana or my own province of BC, here are a few things I've learned that help make the process go smoothly:
1. Plan ahead for decent weather. Although we do between 500 and 600 water changes per winter, we still like to work within certain weather parameters. Our low temperature threshold is approximately negative 20 degrees Celsius (that's negative 4 degrees Fahrenheit). My personal experience says if you choose to push that parameter, you're either really good or about to explain to your customer how to enjoy their appliance in the summer months. Be careful and cautious. I have told my guys many times that, "One poorly placed drop of water below zero will ruin your whole day."
2. To best serve the water change process, we do all of our water changes before noon. This allows the techs to monitor the appliance and make sure that all systems are good before they finish their day. This also allows us to do any repairs that are required before refill. It is extremely important that our techs identify and rectify problems at every opportunity, for two reasons: It reduces the chance of random breakdown (which, going unnoticed for any length of time can prove catastrophic) and it also maximizes the technician's ability to be proactive for additional revenue and customer confidence.
3. Approximately one week prior to the water change, open the doghouse and thoroughly inspect for any deficiencies. This will allow you ample time to order any parts or supplies so you're ready to perform on game day. During the inspection process, make sure you scroll through all topside control functions. This scrolling process often helps find hidden issues as well — from a faulty topside that needs replacing to a jet pump that only leaks on high speed. You never know what you may find.
Always open the actual spa pack and look for carbonate build up (usually at the flow-thru cold pins or pressure switch. These are easy fixes that could haunt you later). Also make sure to test the light function. Often a light has to be changed from inside the tub when empty, and you maximize your efficiency if you do this during a water change. I've found it's a good idea to carry an LED light with me. I've had a number of customers upgrade from a standard 12v bulb to an LED, and it often gives an old tub new appeal. I have had more people absolutely astounded at the result than you can imagine — it's a quick way to make some more dollars and create another happy customer.