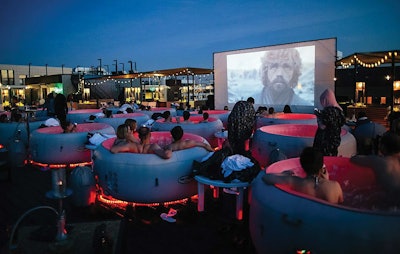 Photos courtesy Hot Tub Miami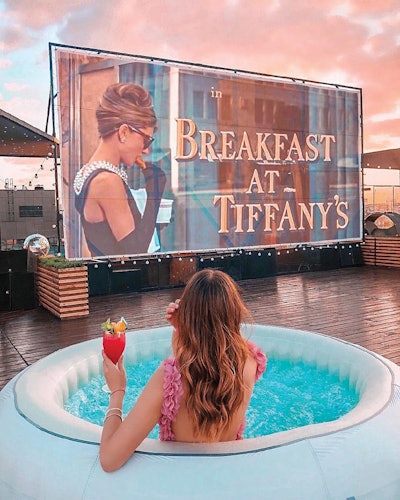 There are a few unconventional ways to catch a movie: drive-ins, boat-ins and even specialty brewpubs add novelty to the standard theater experience. Now, a pop-up cinema in Florida is the hot venue to beat.
Hot Tub Party & Cinema allows its guests to soak up the big screen in a whole new way. In a once-vacant Wynwood lot, Miami moviegoers can rent one of 20 inflatable hot tubs lined with glowing LED lights. Things kicked off with an opening screening of Scarface in August.
Group ticket pricing includes towels and a bottle of champagne, with optional add-ons including food, beverages and the use of hookah. For the high-rollers, a VIP option offers bathrobes and access to a cabana.
RELATED: Dine While You Dip, Sip While You Soak
The price of potentially pruned skin is not cheap — a group of four can expect to pay $500 for access to a hot tub, while the VIP option runs $1,000 for a group of six. A $50 general admission ticket can keep you dry, but you'll enjoy the movie from either the bar or a couch.
---
This article first appeared in the October 2021 issue of AQUA Magazine — the top resource for retailers, builders and service pros in the pool and spa industry. Subscriptions to the print magazine are free to all industry professionals. Click here to subscribe.
---