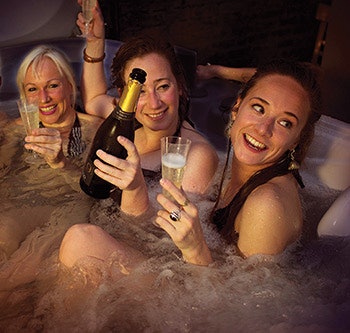 You might think there's nothing that can top the simple luxury of a dip in a hot tub, but creative minds in the U.K. are finding ways to make it even better.
Case in point: Supper Tub, which offers guests a chance to hang out in a wooden hot tub and enjoy cocktails and a three-course menu, all served tub-side. Launched in June, the menu features Peruvian dishes like canapés, marinated steak, fresh fish ceviche as well as fruits and chocolates. After getting their full on the delicious eats, Supper Tub keeps guests entertained with rubber ducks and water pistols to make it a dinner party to remember.
Of course, Supper Tub isn't the first group to take advantage of the hot tub craze. Hot Tub Cinema launched in 2013, offering cinephiles the chance to enjoy their favorite films on the rooftops of London, all from the comfort of a hot tub.
So far, Supper Tub is only open in London, but we'll keep our fingers crossed for a U.S. location.