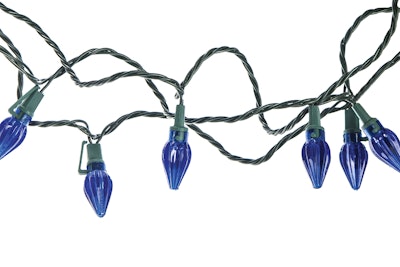 Thought it may not land during the pool and spa industry's busiest time of year, the holiday season is a crucial time for pool and spa retailers — and oftentimes, a successful fourth quarter can mean the difference between a great year and an average one.
We spoke with Dennis Murande of Arvidson Pools & Spas in Crystal Lake, Ill., and both Julie Pettis and Jim Napodano of Pettis Pools in Hilton, N.Y., about best strategies on how pool and spa retailers can make the most of the holidays to finish the year strong.
STAYING BUSY
Pool and spa dealers in seasonal areas face unique challenges: In an industry that profits off of warm weather and sunshine, staying afloat during the cold and darker days of winter can be hard unless you diversify your product offerings, says Murande. For instance, over the last decade, Arvidson Pools & Spas has been selling holiday lighting installations to homeowners in the area.
"It's been a growing business activity for us," he says, "and the pandemic did not cut that back at all. In fact, in a lot of ways, it's been more in demand."
Not only does the initiative help sales, it's also important for employees, as it keeps them engaged over the offseason. "Our employees who work on Christmas lights actually look forward to it," says Murande. "It helps to stave off some of the exhaustion or just the, 'I'm so done with this; I want a break,' kind of attitude."
Murande says his employees enjoy taking their families out on a drive to show their kids the different houses they decorated. "I think it lifts their spirits, and there's something really great about that time of year for them," he says. "They get to give back to their community, and it brings them, and everyone really, joy in return."
As for Pettis Pools, "the fourth quarter is no time to rest," says Julie Pettis. Instead of taking their foot off the gas after the busy season, the company continues into the winter months, full steam ahead. And to kick things off, they host a four-day, in-store expo at both of its locations in October.
"We put a significant amount of money behind this event, including television, radio and social media advertising," says Pettis. "The Expo is promoted with special pricing, special financing and a limited number of scratch-n-dent models for deeper discounts." Pettis Pools also extends its store hours beyond the usual for the event to give customers added flexibility.
On top of The Expo, Pettis Pools opens a holiday pop-up store in a high-end mall that still has over 85% occupancy. The pop-up store stays in place through the end of January to capture as much holiday traffic as possible.
"Featured in that store are hot tubs, softubs, swim spas and saunas," says Pettis. "And this year, we are expanding the Black Friday concept to Black Friday month. The entire month of November will feature rotating specials on specific products with special financing offers and guaranteed delivery before Christmas."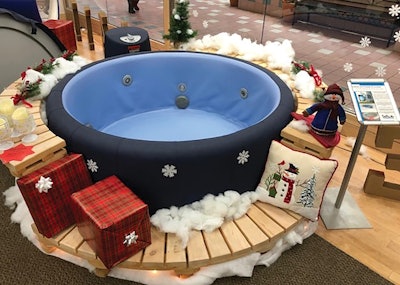 THE HOLIDAY SPIRIT
A lot of the houses that Arvidson Pools & Spas decorates approach their holiday decor as a way to give back to the community, to give something to their neighborhood, and so with each new passing year, the company shares in that same mentality. "Whether people are just driving by or they are actually stopping into our store, we want to give them a joyful, holiday experience, so we don't skimp on decorations."
And because they are in the business of decorating, "we have a lot of lights and garlands, wreaths and bows, and other things in our inventory," says Murande, "so we are able to go pretty heavy on making each of our three locations well illuminated and joyful."
While the decorations gear more toward traditional, they do step outside the box on occasion. For instance, at one location last year, the store was lit up in a combination of bright blue and white. "It got a lot of attention," says Murande. "It's not something you normally see, but we liked it."
The decorations also serve as sales tools, particularly bows. "We place large bows on any sort of big ticket items that we would like to encourage people to be thinking about as a potential holiday gift," says Murande, "whether it's for themselves or another family member. Maybe it's not too subtle, but we're not outright saying, 'Hey, buy this one.' It's suggestive."
Pettis Pools tries to paint a winter wonderland amidst its displays, as they "hope to speak to and attract outdoor enthusiasts," says Jim Napodano. "All of your store displays should tell a story. And as far as props go, there is nothing like a string of lights to brighten up displays. A pair of skis or a snowboard, alongside some snow, can really set the outdoor mood. Everything is on the table, from trees to poinsettias to menorah candles. It's important to set the stage, and have your stores celebrate the holidays with your customers."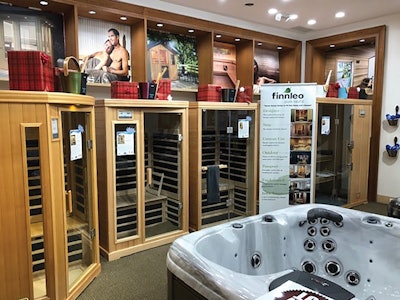 PROMOTIONS
Holiday sales provide pool and spa retailers with an excellent opportunity to increase their brand visibility and recognition, and unique holiday marketing campaigns and exclusive deals can lead to long-term customer loyalty, with consumers returning throughout the year. "That's why
it's important to focus on sales that benefit the customers in your particular marketplace," says Murande.
In Chicago, for example, where there are pretty severe winters, some of Arvidson's sales center around winter preparedness to set their customers up for success, "especially when things get really bad in January and February," says Murande. Each year, the company hosts an annual hot tub cover sale, and also offers valet services where they encourage customers to drain and clean their hot tubs before winter arrives.
"A lot of what we do for our year-end promotions also aligns with the national campaigns that our manufacturers themselves are promoting for the fourth quarter of the year," says Murande.
Arvidson Pools & Spas will celebrate its 65th anniversary this year, so the company also plans to capitalize on that special occasion over the holiday season, which Murande hopes will help to efficiently turn over inventory and set up the new year. "The sales we have over the fourth quarter help us
to replenish products, and it improves cash flow," he says. "We will identify slow-moving items, or very seasonal products, stuff that actually has an expiration date, and offer significant discounts on them. It lets us do more efficient management of our inventory so that we aren't sitting on something and working around it in the warehouse.
"And frankly, all of those activities, the sales that happen now, many of them give our employees more work to do as the season winds down. So it extends our season, and it keeps our people working year round."
EMPLOYEE APPRECIATION
There is, of course, more to the holiday season than generating revenue and inventory preparedness. It presents a great opportunity to acknowledge and celebrate staff, which for Murande, doesn't always look the same year after year.
"I think it's very important to meet your employees where they are at," says Murande. "That's why we don't follow a specific pattern over the holidays. We ask, 'What are we sensing would be the most helpful to everybody at this particular time of year?'"
At Arvidson, that might mean a fun party, but a lot of times, it's simply making sure staff has enough paid time off around each of the holidays. "I'm talking about Thanksgiving, Christmas, and New Year's, where they're actually able to spend predictable, dependable, multiple days with their families and loved ones and friends," says Murande. In the instances where they don't throw a holiday party, the money that was set aside to do so is given to staff as a year-end bonus, a special financial thank you.
"Something that has also worked for us is giving staff the opportunity to select from a range of different gift cards, from a grocery store, to Home Depot to gas cards, not everyone gets the same thing," says Murande. "They might get a variety of dollar amounts depending on the positions that they hold or their contributions for the year, but it's fairly popular. I think they were in the $500 per person range for gift cards."
STEADY THE COURSE
Ultimately, in an industry where seasonal burnout might extend into the winter months, it's important to stay the course and keep some continuity through the offseason.
"I think it's important not to pack it in too early," Murande says. "For me, the dividends that come to you as a business oftentimes are the result of how well you finish up your year, and the way you finish up your year is setting the table, so to speak, for how the next year's going to start."