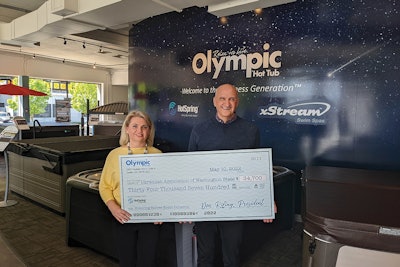 courtesy Olympic Hot Tub
Olympic Hot Tub selected the Ukrainian Association of Washington State (UAWS) as the beneficiary of their 6th annual Honoring Heroes event this April. After surpassing an initial fundraising goal of $18,000, Olympic was able to donate $34,700.
Don Riling, Olympic Hot Tub's president, spearheaded the Honoring Heroes event in 2017. Each year, the company donates toward "honoring or celebrating local heroes, first responders or teachers." This year, Riling felt moved to support efforts aiding Ukraine.
"Because of the heroic efforts of Ukrainian people in the headlines every day, I felt compelled to look for a way we could offer support from within our own communities," he explains. (Olympic's retail locations are based in Washington.) "We are proud to honor the Ukrainian Association of Washington State and the heroes they serve."
During the month of April, Olympic donated a portion of the purchase price for each Hot Spring Spa, Freeflow Spa, and Vita Spa sold, as well as sales from Vita Swim Spas and Covana Automated Gazebos. UAWS will allocate these funds toward the purchase of Newborn Intensive Care Units.
Founded in 1971, UAWS works to preserve Ukrainian heritage and currently supports Ukrainian families devastated by war with comfort, aid, and lifesaving medical supplies. Riling was particularly inspired by the actions of their president, Liliya Kovalenko.
"[UAWS] kept popping up on the news here, and Lilya was doing incredible work getting much needed medical supplies and body armor over to Ukraine," Riling says. "Lilya has been traveling there herself with these supplies. If that's not the definition of a hero in that crisis, I don't know what is."
During the Honoring Heroes campaign, Olympic also became a partner in Warm 106.9 FM's Operation: Teddy Bear Lift. This initiative sends teddy bears along on planes delivering medical equipment, supplies and body armor, in an effort to provide comfort to displaced children.
For Riling, giving back is an important part of doing business. "We're in an industry that sells products that improve the health and wellness of our customers. I believe that focus on health and well-being should extend to my employees and the communities in which we do business," he explains. "It also helps to instill a sense of pride in my team that we're working to better the lives of others."
This article first appeared in the August 2022 issue of AQUA Magazine — the top resource for retailers, builders and service pros in the pool and spa industry. Subscriptions to the print magazine are free to all industry professionals. Click here to subscribe.