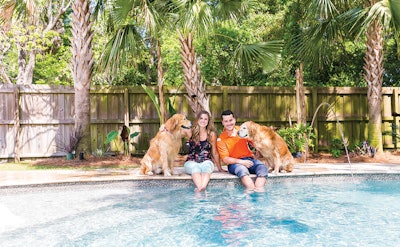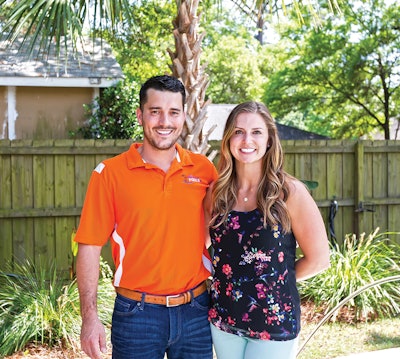 "We are continually improving client journeys through customizations, as to not be a catchall company."
—Michael Gesmond (Owner, Heritage Pools)
"We have to earn the trust and respect of our customers every day in order to have homeowners make the decision to choose our services," says Owner Michael Gesmond on Heritage Pools' motto. "We sell service, and service is provided by people."
Thus, with each new day, employees are committed to the continuous improvement of quality in all aspects of customer service — a large part of which is open communication and transparency among staff and clients. "Each department has a coordinator whose responsibilities include keeping the homeowner up-to-date on their current project, as well as managing individual projects," says Gesmond. "This way, the customer always knows exactly what is happening." Coordinators are on a continued first name basis with clients — occasionally sending gift bags or calling to check in on their recent or continued service.
Heritage Pools' cutting-edge online presence also helps to keep communication top-of-mind, not only to provide up-to-date information to the company's client base but also a consistent brand presence across multiple platforms. "Heritage Pools has begun new initiatives for written and video content to help support clients in making informed purchasing and maintenance decisions," says Gesmond.
For new clients, Heritage Pools tries to provide as much information up front through an automated email system, blog and online videos. For existing clients, the company has digitized its Pool School program, which walks them through best care practices for their new pool. YouTube videos provide an open resource whenever questions arise. "Our digital platforms are now reaching a combined 60,000-plus user accounts per month and have acquired thousands of new followers," says Gesmond.
The company has big plans to grow its business: In the next five years, it will be a sector leader in tech-based integrations, from mobile software application for "mobile live" tracking to a new water testing station. The company also plans to implement same-day delivery service of pool supplies. "Currently in development is also a new warehouse, office space, showroom and on-site pool," says Gesmond. "The hope is to continue to strengthen the opportunity to establish relationships with our customers."
---
This article first appeared in the April 2022 issue of AQUA Magazine — the top resource for retailers, builders and service pros in the pool and spa industry. Subscriptions to the print magazine are free to all industry professionals. Click here to subscribe.