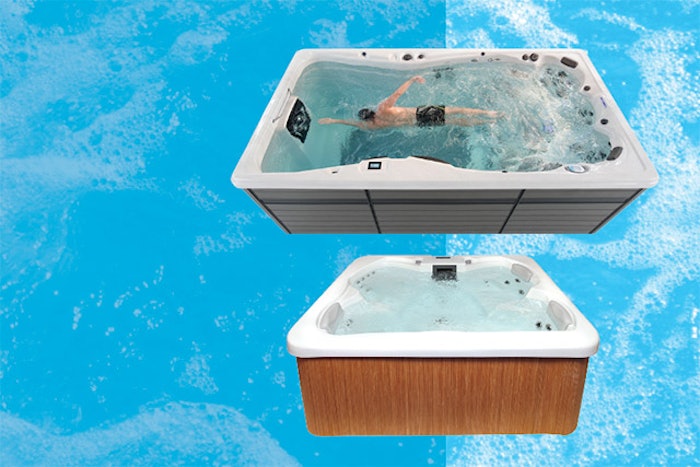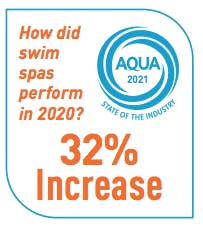 Swim spas have seen unprecedented growth this past year: According to AQUA's 2021 State of the Industry report, sales rose by 32% over 2019. What was the recipe for such success?
The product offered the perfect hybridization between traditional swimming pools and hot tubs for homebound customers during the pandemic. But on top of that, it appears swim spas — while not immune to the supply shortages — were simply easier to come by. In fact, Kristin Poppa-Rosel of Valley Pool & Spa (Pittsburgh, Pa.) noticed no change at all. "We haven't had any COVID-related issues with swim spa manufacturing. We have been able to keep on track with demand. We get them in as we sell them," she says.
After customers realized the waiting time for aboveground pools far exceeded their patience, a swim spa was an easier, more accessible alternative — a vessel that offered a lot of the same benefits as a pool and hot tub and then some. "It was a win-win," Poppa-Rosel says.
Given the niche nature of the product, swim spas require a new level of product knowledge and understanding that can be intimidating to dealers. But for those whose revenues are being choked by tight supplies, it's a product worth exploring.
RELATED: Swim Spas: A Market in Motion
To offer more insight into the growing category, AQUA spoke with dealers about the key differences in the sales process and strategies between swim spas and spas. (Spoiler: There's more there than meets the eye.)
THE CUSTOMER
When comparing a swim spa and hot tub customer, Matthew Gray, hot tub manager at Gohlke Pools in Denton, Texas, offers up some important observations.
"Hot tub customers come in looking for something more customizable," he says. "The conversation steers more towards wellness and massage, fit or size.
"Now, with a swim spa customer, it is more about selling the experience. Let's talk about your aerobic workout. Let's talk about how this swim spa could pull you out of the gym and give you a much more efficient workout than what you're getting there. You sell the experience, not the swim spa. It's a much larger conversation, as you really delve into speaking with the customer to understand their needs a bit more than you would with a hot tub customer per se."
At Valley Pool & Spa, Poppa-Rosel finds that the swim spa customer is also more informed about the product and has done their research — sometimes to a fault. "People who want a swim spa have seen the product online or have gotten brochures sent to them in the mail, things like that," she says. "Their interest has often been piqued before they come into the showroom."
With all seven of Valley Pool & Spa's branches located in Pennsylvania, which sees an average of 28 inches of snow per year, customers are also intrigued at the opportunity to extend the warmer season. "It is very hard to heat a swimming pool year round, but swim spas offer an easier alternative," says Poppa-Rosel.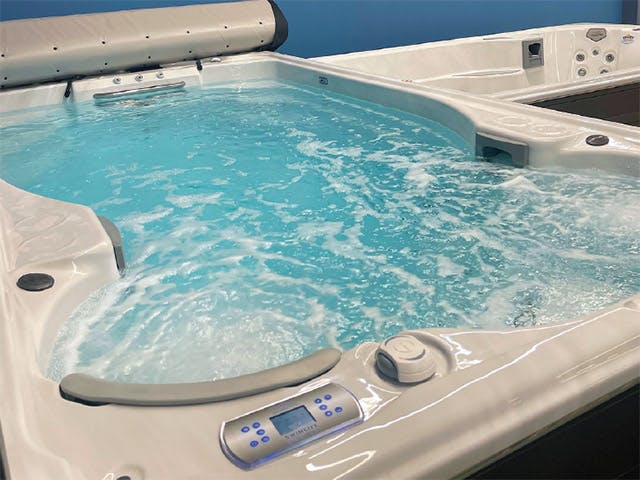 Dealers stress the importance of a running swim spa on the showroom floor. The tactile experience of the product is essential to a successful sale. (Photo courtesy Valley Pool & Spa)
THE CONSULTATION
With both swim spas and hot tubs, initial consultations happen onsite; however, over the pandemic period, dealers adjusted to virtual consults, which are still an option today. But with social regulations lifting amid higher vaccination rates, customers feel more comfortable coming to the store, which is important, as one key element of the consultation process is on the showroom floor: the swim spa display.
RELATED: Training for Tomorrow In Swim Spas
"More so than hot tubs, the swim spa display is critical — which is why we have a 12-foot swim spa on display in all of our stores," explains Poppa-Rosel. "Our Robinson location has one filled with water, so we can show customers how it works. We demonstrate the WaveRider Technology (a feature by SwimLife) with paddle boat oars. The customer feels how strong the jet is by holding the oar."
Gray also feels that by showing swim spas on the floor, it gives customers a chance to daydream and, for him, a chance to understand their vision. "It works quite similar to hot tubs, but the difference comes back to knowing your customer's needs. The consultation starts off by me asking some key questions: Is this swim spa for family time? Is this for leisure and luxury? Are you looking to spend time with friends or is this more you're trying to stay active, fi t and well?"
Another key element is the wet test. Gray and Poppa-Rosel both find that the percentage of customers who partake in a wet test are definitely higher among swim spa customers. "I mean, they have to try it," says Gray. "We've all experienced the hot tub in some capacity, so we get it. We don't necessarily get a swim spa."
While wet tests were inevitably down during the pandemic — the State of the Industry survey reported a 17% decrease — it gave dealers a chance to re-examine operations. Some saw that by offering customers a chance to come in after hours when the store traffic was down or nonexistent, they felt more comfortable and confident. It's likely this option will be a permanent change.
THE PRICE
Dealers hesitant to enter the swim spa market often blame the product's price. After all, swim spas are more expensive than hot tubs — and low-end swim spas often start at high-end, luxury hot tub prices. But Poppa-Rosel says the "sticker shock" those retailers are worried about is, large in part, a myth.
"We don't have much sticker shock," says Poppa-Rosel. "People looking for a swim spa normally know already that they are going to be higher in price than a regular hot tub.
"This past year helped us to show customers just how reasonable the price actually is. When homeowners called inground pool companies — we don't do any inground pools — they found that they were so backed up. So they moved to swim spas as an alternative, a price that is significantly lower than an inground pool and offers some benefits that hot tubs do, too. There was no sticker shock. They are saving money, especially in the Pennsylvania area."
THE DELIVERY
There is a lot to consider when choosing the best location for a swim spa or hot tub: proximity to the home, the view from inside the product, light and shade exposure, privacy, landscaping and more. Overall, though, dealers have found that swim spa customers have a lot more prep than hot tub clientele. "Customers take longer to prep their area if they aren't already prepared to have the swim spa delivered," explains Poppa-Rosel.
RELATED: Sellers: Swim Spas Set To Surge
"I've definitely found that my average swim spa customer takes many weeks longer than the hot tub customer because it takes up more property in their backyards," adds Gray. "It has a much larger footprint, which means it is a larger commitment to them."
Some dealers choose to visit the jobsite beforehand to know what they are up against on delivery day. "It's so essential not only for a successful job and installation," says Gray, "but also for successful customer service. It shows that, as a salesperson, you are involved to the very end — you are there to make the process simple for them."
Gray immediately follows the site assessment with a visit from company craftsmen. "I've learned that it's integral to bring in the master electricians, the construction managers and everyone in between," he says. "Once customers have put money on a swim spa, I tell them, 'The next step is my electrician, Terry, is going to stop by. He's going to take great care of you and knows the product as well as I do. Then, my renovations manager will come by to make suggestions based on the foundation of where you want your swim spa located.'"
Unlike most hot tubs, swim spas are delivered by crane. "Normally, your heaviest hot tub is maybe 1,200 lbs," explains Poppa-Rosel, "while a swim spa weighs tons. So it's quite a different process. The crane helps a lot because our delivery team does not have the equipment to place a swim spa." Valley Pool & Spa has an exclusive relationship with their crane company, which meets them at each customer's house on delivery day.
"To see a customer's swim spa go into place on delivery day, it's the talk of the town," adds Gray. "The whole neighborhood comes out. It's very exciting."
MARKETING
Because dealers simply can't approach the swim spa market like they would the hot tub market, swim spas lend themselves to unique marketing opportunities. Offsite events, for example, are a great way to garner leads and product awareness.
"Prior to the pandemic, we partnered with one of the high school swim teams," explains Poppa-Rosel. "We displayed the swim spas at the team's home meets, where the athletes could try them out and show the audience how they worked. We continue to work with that same high school, because they are competitive swimmers."
RELATED: SLIDESHOW: Get Creative With Swim Spas
Valley Pool & Spa has informational videos in its stores — each location is equipped with six televisions — that show different swim spa exercises and product details, as well as a video of the actual manufacturing facility where the product is shown inside and out. "That, I would say, is more similar to hot tubs, as we offer the same video marketing for our hot tub line, but the swim spa content is noticeably different," says Poppa-Rossel.
Gray says that difference simply comes down to, once again, the niche nature of the product. "Swim spa marketing is about showcasing the experience a swim spa can give you: Aerobic exercise and relaxation from the comfort of your home. Customers want to hear about that."
SOME ADDITIONAL ADVICE
For both swim spas and hot tubs, seeing is believing. Of course, it is important to place customers in front of products to show them all the functions they are capable of. But even more important is giving your staff the same opportunity. "Swim spas is a newer category to a lot of dealers, and we are always learning new things. Anyone new to the category needs to do their research, and that comes down to getting in the swim spa and experiencing all it has to offer firsthand," Poppa-Rosel says.
"Employees are encouraged to perform their own swim spa wet test. Our entire Robinson location has tried it out, including myself, and have found that the experience is totally different from a regular hot tub."
Valley Pool & Spa's staff is extensively trained on the product, having participated in a two-week training program with their swim spa manufacturer. "We actually took a trip to Canada pre-pandemic to see the factory ourselves and see how the swim spas are made," she says. "It was important for us to see everything in person."
The company has continued to take advantage of new training opportunities via Zoom and other digital platforms throughout the past year. Because for Poppa-Rosel, success in the category means putting in the hours. "It's a commitment," she says. "Dealers need to continually train and keep up with new swim spa research the same as they would with hot tub research — the two products are not the same."
---
This article first appeared in the June 2021 issue of AQUA Magazine — the top resource for retailers, builders and service pros in the pool and spa industry. Subscriptions to the print magazine are free to all industry professionals. Click here to subscribe.
---