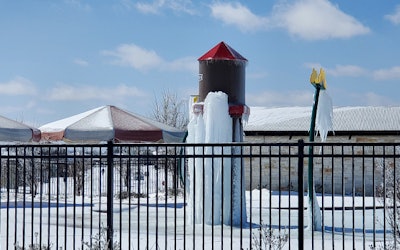 Texas is known for its self-reliant, fighting spirit. There are places in the world where disaster strikes, and people curl up and wait for help; Texas is the other kind of place.
So it was no surprise to see the Texas pool industry emerge from the wreckage of the Valentine's Day winter storm, spit in its hands, grab a wrench and get to work.
For those who missed the backstory, a brief recap: On Feb. 14, a generational winter storm barrelled across Texas and neighboring states in the South, bringing snow and sub-zero temperatures to places like Abilene and Austin.
Normally in February, below the frost line in Texas, pools aren't winterized. If they get a rare, hard frost, they just keep the water running for a few days until the weather moderates. Texas utilities are normally very reliable.
However, this time, the sudden, unprecedented deep freeze knocked out the pumping infrastructure on Texas' natural gas utilities, leaving millions of Texans without power and calming the gently rippling surfaces of pools and spas across the state to a smooth, icy mirror.
One event without the other would have caused little damage. But together, the frigid winter storm temperatures and the power outage produced a pool and spa armageddon.
Without steady flow to protect them, and with temperatures plunging toward zero as far south as San Antonio, icy fingers reached up through the stilled water, wound their way through unprotected pipes, and the irresistible force of molecular expansion due to freezing snapped sections of PVC like dry branches. Filter casings cracked open like roasted pistachios. Copper heater tubes twisted into useless junk.
Frank Disher, owner of Poolwerx North Richland Hills, Texas, reported that, "People woke up that morning with temperatures in the single digits, already without power for four to five hours. Their equipment was already frozen solid. I fielded 100 to 120 phone calls [that day] — while I was already in backyards, because my staff could not make it into work due to the harsh weather conditions. I was even FaceTiming customers, trying to walk them through a problem."
It was immediately apparent that the pool and spa carnage was on a scale comparable to hurricanes Katrina and Harvey. Even as the howling winter winds were abating, however, the Texas professional pool community swung into action. Service techs swarmed to begin the mountain of work, one pool at a time.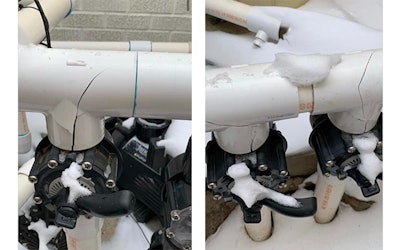 Two Key Shortages
As the pros took stock of the damage, it became obvious to everyone this battle would come down to their ability to overcome shortages in two key areas: skilled labor and replacement parts.
Entering into 2021, the industry had been mired in the worst supply problems in its history, with pool equipment already facing back-orders and lengthy wait-times. That was before the storm destroyed perhaps 100,000 equipment pads, maybe more. Damage reports are still being assessed, but according to service pros on the scene, equipment scarcity has been a constant feature of the restoration effort, as has the engineering ingenuity shown by techs to overcome it.
At the same time, these same pool pros are facing a workload many times larger than usual. A typical service company may face repairs on 5% of its pools. The pool pros AQUA has spoken to in Texas put the figure at 75%; three quarters of their company's pools are facing major repair.
Facing a task of this magnitude, even as the storm ended, the call went out across the nation to come help in the massive reconstruction effort.
In the modern age, social media is the cheap, effective hotline in times of need. Heather Linton, president of Swim Carefree (Plano, Texas), is an administrator of a growing industry Facebook group with over 3,700 members. She put out the word and quickly found five pool pros willing to drive to Texas and lend a hand. "Some from Florida, some from Wisconsin," she says. "We just found them in my Facebook pool group 14psi Pool Industry Lounge, and they said they'd come and help."
Another pool pro watching the comments pile up on Facebook was Nick Cenci of 702 Pools LLC in Las Vegas. After seeing the story in the national news and reading the social media posts calling for help, he and two able-bodied friends responded with their own post offering their services.
"Multiple people responded, and one of them was Jason Frick at ATX Pools in Austin. He said he had more work than he could handle, and he was short of equipment. So we put about $120,000 worth of equipment into a trailer and headed for Texas. And it's just been nonstop, seven days a week, literally morning to night, since I got here."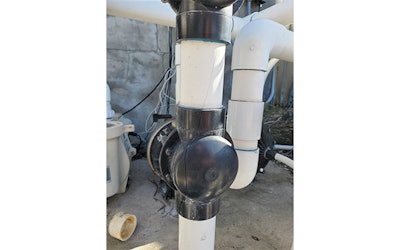 A Strange New World of Busted Pools
Upon crossing the border and entering the Lone Star State, Cenci found a strange new world of pool service. It was a world in which most of the existing pools were shut down due to a special kind of problem — not corrosion, not clogging, but by the formation of cracks. Service techs with years of experience dealing with water chemistry, flow and surface problems have had to become overnight experts in dealing with cracks.
"One problem with the cracks is, you don't always know exactly where they are," says Anthony Mojica, Righteous Pool Service, Austin, a 12-year pool service veteran. "You can't really see them without having any kind of pressure on the system — these are hairline cracks, or cracks that are just buried in the system.
"Like this pool I just left where we replaced the pump, heater, filter, UV, and we turned on the system and water just started spraying everywhere. On the bottom of one of the three-way valves, at the very bottom where it was hard to even get a look, there was this tiny hairline crack. And that thing just started spraying water like crazy.
"So I had to go back to the homeowner and say, 'Sorry, I know y'all just spent $5,000 or whatever dollars, but now we're looking at another couple 100 dollars for the valve, and another $300 in labor.'"
The lack of parts has presented techs with once-in-a-lifetime professional challenges, as the goals of service and the means of achieving them are remade on the fly.
For instance, Cenci found himself with an internally exploded heater (due to ice expansion) that had to be replaced. He had no replacement available, nor even the hope of getting one anytime soon. He did have a number of manifold unions, scavenged from other heaters he'd replaced. So he built a heater bypass using the old heater manifolds just to get things up and running.
"I don't normally have a pile of extra manifold unions!" he laughs. "When they do get a new heater, whoever is working on it can unscrew what I've done and easily put the new heater in place."
Engineering in the Field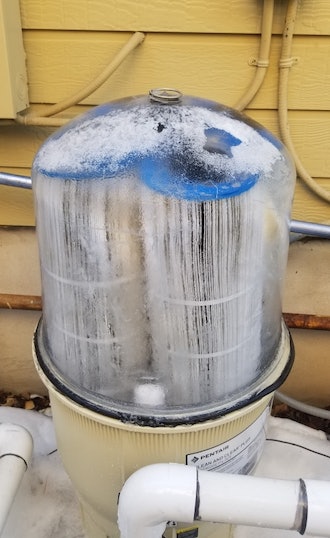 Macgyvering and bypassing have become the order of the day as techs solve engineering problems on pool after pool. But it all depends on what you have at hand. Cenci is bypassing heaters because he can't find replacements. Mojica is having to bypass filters for the same reason.
"There's just no chance of finding filters. We've looked up every brand, every model that you can think of. Tried to find them everywhere. That's the thing we're really hurting for right now."
He says he has 30 customers with bypass filters, just so they can get their pumps running.
Of course, bypassing the filter is not optimal.
"We've contemplated going to Georgia, Oklahoma, Louisiana to try to find some equipment. But a lot of places are trying to hold onto their equipment for their own guys. And every day, I'm calling distributors here in Austin. They are telling me they're looking at 13 weeks before their next shipment of filters.
"So people are doing what they have to do to get equipment. I know some of the bigger guys out here — places with 600 or 700 accounts — are tracking down equipment in other places, flying people out there and having them drive it back in a U-Haul."
Combine scarcity and demand, and you tend to get a rise in prices. Mojica says the distributors he's seen are not gouging the service techs, but online it's a different story. "Like they're trying to hit people up for $400 over the usual cost of a VS pump, something like that. Because people are looking for equipment anywhere they can find it — just to get pools up and running again — and it's easiest to look online."
Natural Conflicts
With human nature being what it is, one might expect conflict in the chaotic situation one finds today in Texas. Homeowners with the funds for repair are not necessarily sticking with their usual service company. There are new accounts, other accounts being canceled, and all kinds of situations that could lead to pros getting crosswise with other pros — especially those from out of state. So far, Cenci hasn't seen it.
"I have not seen anything negative, but there's so much work, you don't get around much. Like I've been working in Dripping Springs, and not the whole of Dripping Springs but one community in it. When you do one job, they tell their three neighbors, and two of the neighbors want you to work for them, too, right now.
"I will say that I was doing a job at a property, and the pool company that services the pool regularly showed up. I was expecting some attitude, because I'm doing his repairs. But he was just thankful. He's like, 'We are so busy. There's so much work, and I can't get to everyone. So thank you for coming and taking care of this one customer of mine.' He told me he has about 500 accounts, and 300 to 400 of them have issues. If I have extra [equipment] when I'm done, I'll get ahold of him."
A complicating factor is the varied and difficult situation homeowners are in. This event was completely unforeseen, and therefore, it was badly insured in many cases, leaving pool owners in a tough spot.
"Each customer is in a different situation," says Mojica. "I have some people that are looking at a whole new equipment set up, but they can't even afford the deductible right now, and basically, they've just dropped service until they can get their equipment repaired. Some people had insurance and they are making claims, but that takes a while, maybe a month or two, for them to get everything settled up, so they're dropping service in the meantime.
"And a lot of people just don't have insurance for this. Those people are going to have to come out of pocket for it, and nobody's ready to spend $10,000 out of pocket on their pool. So right now, their pool is just sitting there."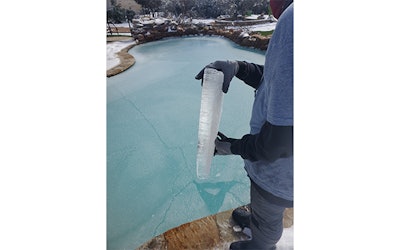 Pulling Together
For Cenci, this is a temporary assignment. He has a woman and two boys waiting for him back at home in Nevada. "I miss them and my own bed," he says, "and I'm not a big fan of working seven days a week.
"I'm not sure how long I'll be here. I'm hoping not more than a month. I don't want to be here long-term. I'm just here to help get things up and going. I'm still getting plenty of private messages that say, 'If you're going to be in this area, or if you have more product, or if you run out of work...' There's plenty to do.
"The biggest thing that struck me is how unbelievably appreciative and nice everybody here has been. 'Can I get you something? Can I get you anything to drink?' That sort of thing. But honestly, it's grab a granola bar and get back to work. [Laughs] I'm just trying to move as fast as I can and get jobs done."
For Mojica, a native of the state, the gung-ho response is no surprise at all. "A lot of these guys pulled together and stepped up to this thing. I've seen a lot of people looking out for each other, and that's kinda cool to see, you know, everybody working to handle the situation as best as possible.
"Anytime something happens in Texas — it could be a hurricane, it could be anything — we all pull together and find a way to make it work."