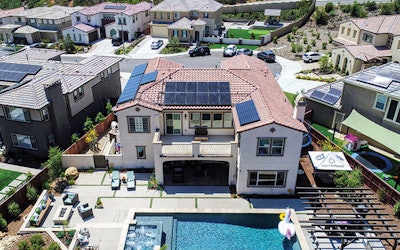 On May 20, the solar power industry surpassed two-million photovoltaic (PV) installations in the U.S., according to the Solar Energy Industries Association. The milestone comes only three years after surpassing one million. The current tally is expected to double by 2023.
Clearly, turning to the sun for renewable energy is on the rise.
Until recently, the pool and spa industry had mostly focused on passive solar water heating systems, which have been around for nearly 50 years with relatively steady but modest market penetration. That may have changed just over two years ago when solar manufacturer FAFCO introduced a line of systems called CoolPV, which combine both water heating and PV electricity generation in one panel.
While similar technology has been available in Europe for more than a decade, it is new to the U.S. market. According to Phil DelNegro, FAFCO's vice president of sales and marketing, the concept has gained immediate and widespread acceptance.
"We've increased sales by more than 300 percent over last year and have signed up hundreds of dealers nationwide," DelNegro says. "From a sales perspective, it's taken off like gangbusters right from the start because it just makes sense for both homeowners and professionals. From a manufacturing standpoint we've had zero defects and zero performance issues. In fact, the product has performed far better than we anticipated."
RELATED: When the Powers of the Sun Combine
That explosive growth in sales has flowed across a variety of overlapping industries, DelNegro explains. "It appeals to energy companies, pool builders, roofing contractors who are working the solar market space, HVAC companies working in the solar space, basically everyone's that's connected to solar. The appeal is almost universal right now."
SOLAR SYNERGY
The system is described as "photovoltaic-thermal" (PVT), which is basically an advanced PV system that also generates warm water. According to FAFCO, combining these systems generates four times the energy output of stand-alone systems in the same roof space.
"Combining the two functions presents big advantages to homeowners. You can power your home and heat your pool while maximizing your roof space," DelNegro says.
The system's efficiency increases due to a synergistic relationship between PV power generation and water heating. As the PV panels collect sunlight and generate electricity, they also produce heat, which is wasted in traditional PV-only systems. By running water below the panels, it absorbs the heat while at the same time cooling the PV panels, which are more efficient at lower temperatures.
"You get more than what you pay for because the system produces more energy for less money," DelNegro says. "We do a lot of preaching and teaching, and it can take time for some people to understand it at first. But once you become more familiar with the concept, it's easy to get excited and there have been a lot of people who want to know more."
YOU GET WHAT YOU GIVE
The initial success of PVT comes at a time when prices in some energy categories are down, largely due to lower petroleum prices. According DelNegro, this has not dampened the demand for solar power.
"The bottom line is energy companies are not passing savings along to the consumer," he says. "In fact, in some parts of the country — California, the East Coast, parts of Texas — the cost of energy is soaring. It doesn't matter what happens at the gas pump, it doesn't matter what happens with inflation, energy companies always have the luxury of raising prices. It's almost a monopolistic viewpoint.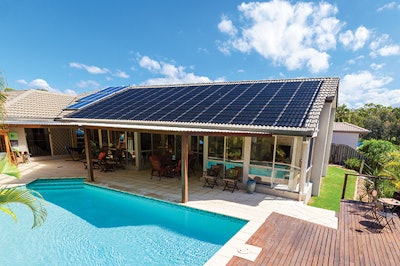 All photos courtesy of FAFCO
"Solar energy breaks up that monopoly," he says. "It enables customers to become their own power company by using the greatest renewable energy resource available."
RELATED: Green Power From The Big Yellow
Adoption of PVT technology comes down to ROI, DelNegro says. "The ROI depends on different factors such as the way someone uses energy and the amount of roof space they have to devote to a system. But every dollar you put into the technology will pay back in the form of free energy."
With the current surge of solar power popularity on both the residential and commercial levels, industry observers predict solar will soon become the norm and not the exception in homes and businesses.
"It's the only home improvement investment that pays dollar for dollar," he says, citing data from the National Association of Real Estate Agents. "If you invest in a new kitchen or even a swimming pool, you'll pay additional property taxes. But with solar, your taxes stay the same but the value of the property goes up."
A recent study for home appraisers by the Lawrence Berkeley National Laboratory and the U.S. Department of Energy found that "solar panels are viewed as upgrades, just like a renovated kitchen or a finished basement, and homebuyers across the country have been willing to pay a premium of about $15,000 for a home with an average-sized solar array."
Additionally, the study reveals data indicating that homes with solar panels sell faster than those without them.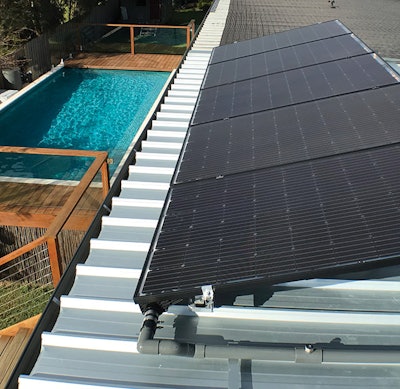 All photos courtesy of FAFCO
THE REGULATORY FRONT
Since solar power was introduced more than a half century ago, government on the federal and state levels has supported the technology with various rebates, tax credits and renewable energy mandates.
The Solar Investment Tax Credit, for example, has been credited as one of the most effective federal policy mechanisms in support of solar energy in the U.S. According to a report from the SEIA, "Since the ITC was enacted in 2006, the U.S. solar industry has grown by more than 8,600% — creating hundreds of thousands of jobs and investing billions of dollars in the U.S. economy."
RELATED: Solar & VSP: Better Together
The ITC is now being phased out with a 30% credit in 2019, reducing to 26% in 2020 and down to 22% in 2021. In 2022, the credit will be zero for homeowners and 10% for businesses and "utility-scale" users. DelNegro noted that while that might seem to dampen the market, the reduction in solar technology costs will offset the disappearing tax credit.
"The cost of installing a system is not increasing because ITC is disappearing," he says. "The tax break was necessary when the costs were higher, but that's changed."
The industry is about to receive a major boost in California, the state with by far the most solar systems. It will soon become the first state to require all new homes to have solar power. State officials and clean-energy advocates successfully argued the added expense to homebuyers will be more than offset by lowered energy costs.
"This adoption of these standards represents a quantum leap," Bob Raymer, senior engineer for the California Building Industry Association, said during the public comments before the vote. "You can bet every state will be watching to see what happens."