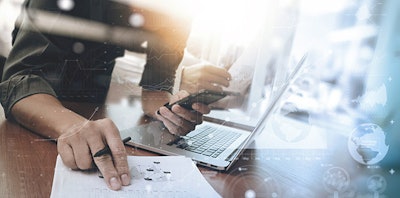 You've already got your website up and running, you've got online adverts going and you're doing your best to promote yourself in the local community — but you're still not performing as well as your competitors! What more can you do to promote your business?
With social media and Google ruling the roost when it comes to promoting businesses online, you're going to need a completely new approach to replace the old tactics of newspaper ads, radio and event appearances.
If you're using traditional marketing and lead generation methods, you're most likely working twice as hard for half the results.
The market's changed — when people are looking for pool-related products or services, they go online. They ask Google.
But how can you use this to your advantage? The good news is you don't need to pump your profits into an endless stream of Google ads.
In the last 15 years of helping more than 100 clients with their online needs, I have noticed three major ways to outperform competitors online that often go overlooked. And here they are: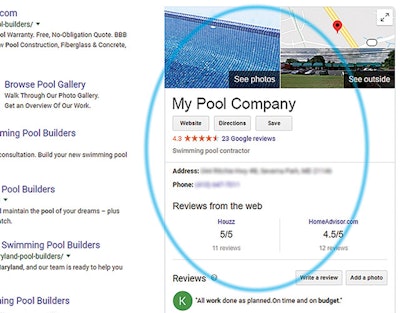 1. EMBRACE GOOGLE MY BUSINESS
Did you notice the last time you searched for a business on Google, a box popped up showing photos, an address and reviews? That's a Google My Business listing! Think of these listings like a free online ad. Whenever someone Googles your business, this listing will pop up.
To get the most out of it, you need to claim your company's profile first. Sometimes a business is already listed, but sometimes you'll need to register it first.
To figure out your next step, Google your company name. Does it already appear as a Google My Business listing? If so, click on the link that says, "Claim this business." It'll ask you a few questions and send out a letter to verify you're the company owner.
RELATED: Online Marketing: Beyond The Simple Website
If your business doesn't appear, you'll need to create a new listing. To do this, go to the main Google My Business site and click "Start Now."
Once you've claimed your account, it's time to optimize it and stand out from the crowd!
Fill out every relevant section of the profile: add photos, videos, contact details, opening hours, everything a new customer will want to know about you. Link to your website and social media accounts.
An important thing to remember is to keep updating the profile with new videos, photos and info. If Google sees a business listing that is regularly updated with relevant content, it'll promote that business above other local companies who don't update theirs.
Finally, encourage customers to leave you glowing reviews under the listing. The more 5-star reviews you have, the better your profile will look not only to Google, but to potential customers, too.
2. HARNESS THE POWER OF ONLINE REVIEWS
Collect as many reviews on Google My Business as you can, but at the same time, look into registering on other review sites for our industry like Facebook, Houzz and Yelp.
You can actively encourage people to leave you reviews on Facebook and Houzz. It's against Yelp's guidelines to ask someone for a review on their site, but displaying their signage at your premises helps to let customers know you're on the site, just in case they ever do feel like leaving a review.
These reviews are almost as powerful as word-of-mouth reviews! A recent study found 91% of people trust online reviews as much as personal recommendations — and we all know how influential personal recommendations are.
To make the most of great reviews, you can embed them onto your website and share them on your social media accounts.
Received a negative review? Spin that bad buzz into good PR by responding quickly, efficiently and professionally.
If you have trouble keeping up with online reviews, try a reputation management service. They can respond to reviews (both good and bad) incredibly quickly and help you get the most (positive!) exposure out of it.
3. REGULARLY CREATE AND POST ORIGINAL CONTENT ON YOUR WEBSITE
I can't stress this point enough! One of the most important things you can do to outperform your competitors online is regularly update your website with unique, original and engaging content. This can be new photos, new videos or new blog posts.
Blogging is one of the most effective tools in marketing. By writing blog posts your customers will find interesting, you'll start to outrank competitors on Google for the subjects you're writing about. People will come to your site to read about your insights into the best products and tips from the industry.
RELATED: Internet Marketing For Pool Companies
By crafting engaging content, you'll start to be seen as the go-to expert for help and information on your products and services.
The result? You're considered a trustworthy, professional company to buy from.
A benefit of blogging on a weekly or monthly basis is that once the blogs are live, they will always help your ranking on Google.
If you send newsletters or email campaigns to customers, you can send out your latest blog posts too.
The key to successful blogging is writing about the issues, problems and interests your customers have. Write like they're the only one reading and you'll be outperforming your competitors in no time!
Pam Haskell's website design and development company Chili Pepper Design (Pool & Patio Marketing division) helps businesses in the pool and outdoor living space create and maintain a modern web presence and provides online marketing and reputation management services. She can be reached at 410.757.7852 or pam@cpdesignco.com. Visit www.cpdesignco.com for more information.