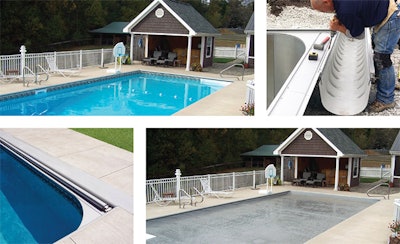 For years, automatic pool covers were considered a luxury add-on to what was already a luxury product. At a cost of tens of thousands of dollars, the ability to open and close a pool with the push of a button was something accessible only to high-end homeowners. Today, however, pool builders report automatic pool covers are becoming far more commonplace, especially on mid-range pools.
"Twenty years ago, trying to sell an automatic pool cover to our middle-class customers was a tough sell," says Allan Horwood of Pool Patrol (B.C., Canada). "These days, the attitude is very different."
Terry Hill, co-owner of Hillside Pools in Fort Wayne, Ind., has seen APC sales spike in his area as well.
"Five years ago, only half of our customers purchased an automatic pool cover," he says. "Today, 90 percent of our clients are purchasing one. Homeowners see their neighbors with these pool covers and come into our store inquiring about getting one for their pool. As a result, automatic pool covers have become a highly profitable product for us."
The argument can be made that the automatic pool cover is becoming an everyday essential for consumers to own and pros to sell. Motivating this shift is a perfect storm of market conditions, including the rise of automation and the compatibility of APCs with mid-range models. Below, builders share more about why everyone, from the millionaire to the middle-class family of four, wants an APC in their backyard.
AUTOMATION EXPECTATION
A primary driver behind the APC boom is, of course, the automation craze. Homeowners' demand for tools that control the lighting, security, temperature and sound systems in their homes — heck, even smart refrigerators are on the market — has led to a growing expectation for similar offerings in the backyard. The pool and spa industry has responded with products that can automate water temperature, pump operation, pool cleaners, sanitizers, lights and more. Industry pros who carry such products should expect sales to rise; according to global management consulting and market research firm Lucintel, the global home automation market is expected to reach an estimated 75.2 billion by 2022.
"Consumers simply do not want to manually crank a cover on and off their pool. They want the pool to open instantly and remain free of leaves and debris. They want the whole package," says Gary Hendrick, president of Hendrick Pools, a family-owned business in McCordsville, Ind.
RELATED: The Case for Automatic Pool Covers
That said, "instant" is a relative term — there may be some room for improvement in the automatic pool cover category.
"I have to say, I have clients who really have no patience. They can't wait — not even for the automatic cover to open and close," Horwood says. "One customer wanted to know if they really needed to hold the button on the cover control system for 32 seconds. They thought that was a long time. Everyone wants immediate gratification and an automatic pool cover is part of the automation craze."
A NO-BRAINER
While convenience is a primary driver behind automatic pool cover purchases, middle-class buyers are justifying the expense with practical reasoning. Automatic pool covers cut down on heat costs and chemical requirements, which make a compelling argument in favor of the initial investment.
"We explain to the homeowner that they can actually save money in the long run with an automatic pool cover, which makes it an easier sell to even those customers that are more price sensitive," says Michael Dominici of Long Island Pool and Patio in Coram, N.Y.
And if you think about it, when you're planning to spend thousands of dollars on something you hope will last, you want to do it right.
"It's like when you redesign your kitchen. If you spend $60,000 on the renovation, you aren't going to want plywood countertops; you spend the extra money for granite," Horwood says.
ALL IN THE KIT
Customers don't just expect automation options to be available to them, they also count on price flexibility for those options. Shoppers today expect gadgets and smart products to be available in several models at different price points, which make them more accessible and attainable. One example: Amazon's Alexa-enabled smart speakers start at around $25 and can go as high as $150.
The pool industry is following suit with more cost-effective APC options to help customers get a better bang for their buck. In particular, the advent of APCs that are compatible with vinyl-liner pools has helped break the market wide open.
These covers, often available in kit systems, keep costs down for homeowners and facilitate the installation process for builders, as they require very little excavation and no additional form work.
"These new kits even now come with a cover housing that is simple to level, as it attaches to the back-end of the pool," Hendrick says. "Now that these auto pool cover kits are available, we install an automatic pool cover with every new pool we build today."
RELATED: If You Aren't Selling Automatic Pool Covers, You're Missing Out
Like any product, there's a learning curve with installs, but builders find they quickly grasp the concept.
"Once you get the hang of installing that auto cover on a vinyl liner pool, it's not difficult. But the first time we installed an automatic pool cover on a vinyl liner pool, we were a bit overwhelmed by the process. There are a lot of boxes — the process can be likened to assembling Ikea furniture," Horwood says.
With a broader field of APC options at a range of price points, it only makes sense that the category is catching on among homeowners — and savvy builders know that means there's room to grow.
"It does seem that, because of the internet, or word of mouth or the fact that consumers are seeing automatic covers on nearby pools, that the auto cover has really trickled down to pools of any price tag," Dominici says.