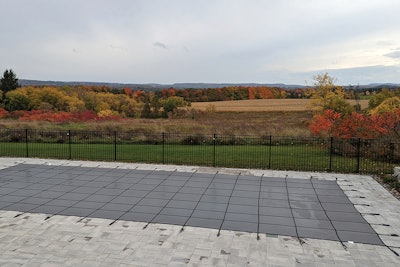 Photo courtesy Shutterstock
There is no better opportunity to sell a pool cover than standing in your customer's backyard. Not only does this present a chance for greater product inclusion among your existing clientele, the sale will increase profits while prioritizing customer safety — and selling safety is a game-changer for your customers and your bottom line.
I spent a reasonable amount of time in this sector in a previous life, beyond selling safety and talking about layers of protection with pool owners (although I did that, too). My first stint in manufacturing was with one of the country's more prominent safety cover manufacturers as the large accounts manager. During that time, I was directly involved in designing and fabricating thousands of safety covers, discussing material type, strap spacing, padding, cutouts, bridging, vanishing edges, anchors, cables, hooks and flaps. On top of that, I was tasked with R&D (research & design) for that manufacturer's line of removable safety fencing.
It is a topic that should always be the foremost concern regarding pool ownership. However, pool owners are only sometimes aware of the hidden dangers. Okay, I'll rephrase that. They minimize the threat in their minds. Tali Sharot, a cognitive neuroscientist, refers to this as "Optimism Bias." In a TED talk, she explains, "It's our tendency to overestimate our likelihood of experiencing good events in our lives and underestimate our likelihood of experiencing bad events." It's the, "It won't happen to me," mindset. Whether the person is aware of this or not, everyone employs this in their decision-making regarding potential danger to one extent or another.
Is it your job to bring them back to reality and poop on their pancakes? Not necessarily. Is it even your responsibility? Again, no. However, if you decide to add safety to your offerings, not only is it rewarding in an, "I'm helping to make my customer's pool safer," kind of way, beyond the warm fuzzies, it's also highly profitable.
It can be a challenging subject to broach, though, especially at first, until you get used to it. No one wants to come across as an old-time door-to-door insurance salesperson yelling, "Your pool is coming to get you, Barbara!" instilling fear to close a sale. If you do, you are a twisted little kugel, and therapy may or may not help. Regardless, how do you open the door to the discussion without a potential death threat?
The best method I have found is to get the word out to your customers so they know you offer safety covers and fencing. Put out the information to everyone in an email blast as an announcement with an uplifting tone. Something along the lines of...
"Because we at XYZ Pools are committed to increasing the level of safety of your swimming pool, we have spent endless hours researching the best possible safety covers available and are proud to announce that we now have yada yada yada..."
From there, you can add whatever introductory offer suits you, such as a complimentary quote on installing stock-size covers (when applicable) available ONLY to existing customers.
Do you offer AB measures at no charge for your existing clientele? I wouldn't, but if it works within your business model and sells covers, then of course you should.
By incorporating safety covers into your product line, you can cater to the growing demand for pool safety solutions. Regular pool maintenance and repair services are vital, but basic — this allows you to truly differentiate your business and tap into an additional revenue stream. Moreover, it positions you as a comprehensive pool professional prioritizing aesthetics and safety.
You have established trust with your customers through your expertise and reliable service. Selling safety covers reinforces that trust by showcasing your commitment to their well-being. Educating your customers about the importance of safety covers and offering quality products demonstrates that their safety is your top priority. Most of us already boast about this when referencing chemical and maintenance protocols. This is one step further toward your company goal of becoming the total package. It will enhance customer loyalty and encourage positive word-of- mouth referrals, increasing business opportunities.
HAVE THE CONVERSATION
Discussing the benefits is crucial to selling safety covers effectively. Most pool owners need to be informed of the various safety covers available and their specific advantages. Take the time to explain the different options, such as mesh covers, solid covers, and automatic covers, highlighting their durability, debris protection, energy efficiency, and ease of use. Additionally, emphasize how safety covers comply with local safety regulations and, in some cases, can lower insurance premiums for pool owners.
In the field, your techs are not only your eyes and ears in a backyard ripe with opportunities for add-on products and services, they are also the mouthpiece that should share your message — the "Pool Whisperers,"if you will. A well-trained employee who is onboard and dedicated to the company's goal is vital in maximizing the profitability of the pools on their route. They don't need to be crackerjack salespersons, nor should they make the pool owner feel as if they have somehow stumbled onto a used car lot. However, they should subtly plant seeds as they interact with your clientele throughout the day:
Customer: Hey Toby, the pool looks great. How are you today?
Pool Tech: Thank you, Mr. Smith. I'm a little nervous today.
Customer: Why's that, Toby?
Pool Tech: I have a training session on our new product after my route today — safety covers. We're going to be child-proofing pools, and it's really important. The owner even has the manufacturer coming in to go over things step-by-step.
I can almost guarantee that at least half of the customers will inquire about the training session next week. This is an open door to share some of what they learned.
Even though these covers are traditionally used as winter covers for the non-year-round markets, they are also great options for the pool-owning family that take regular vacations, head out of town on business, or any pool home left unattended for any reason. Realtors in REO properties are great candidates for safety cover installation, so don't be afraid to approach "Ricky, the Realtor" with product information.
Many families do not realize that powered safety covers are highly recommended by the Consumer Product Safety Commission (CPSC)as an added layer of protection when the house serves as one side of the four-sided barrier fencing, meaning it is within a three-sided fence. An inside door or window provides access to the pool area. The barrier fencing protects wandering neighbor kids, and the cover is a layer of added protection for the child that lives in or visits the home.
Remember that the spring-loaded covers are not meant to be installed, removed or reinstalled regularly. If the plan is to add to swim season safety in an actively used pool, a powered safety cover better matches that pool owner's needs.
I have been a stakeholder in a project that is currently occurring in the state of Florida, where the Florida Prevention Research Center, College of Public Health (COPH) at The University of South Florida has been contracted by the Florida Department of Health (FLDOH) to raise public awareness of drowning risk specifically at vacation rentals, Airbnb's, Swimply's and hotels. This initiative has a significant focus on educating those renters on understanding the layers of protection that need to be in place to ensure they are safe.
Once customers recognize the importance of safety, they may be interested in additional safety-related products or services. For example, you can offer pool alarms, removable safety fencing (hopefully already in place), or even pool renovation services to enhance your pool area's overall safety and appearance. There is a definite advantage to being known as the pool safety guru in your county, but that is an article all by itself.
To summarize this article, let me just say that selling safety covers presents a lucrative opportunity for pool professionals to increase profits while prioritizing customer safety. By expanding your product offering, educating customers, building trust, and providing professional installation and maintenance services, you can position your business as THE pool safety provider. People spare no expense in the child-proofing of the inside of their homes. You can help them to extend their efforts to the backyard and help them child-proof against what is already known to be the leading cause of death (drownings, not swimming pools alone) in this country for children in that one- to four-year-old age group.
This article first appeared in the July 2023 issue of AQUA Magazine — the top resource for retailers, builders and service pros in the pool and spa industry. Subscriptions to the print magazine are free to all industry professionals. Click here to subscribe.