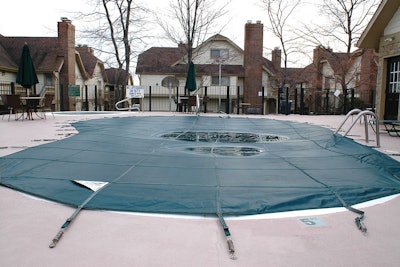 Whatever the type of pool or spa cover your client chooses, it's a long-term investment, so it's important to talk with homeowners about maintaining their covers and keeping them clean and free from unsafe water accumulation. In fact, pool cover maintenance should be part of your overall annual service contract with your clients. From opening in the spring to closing in the fall — and all summer long — look for these pool cover maintenance issues anytime you pay a homeowner a visit.
1. IS THE COVER TORN OR COMPROMISED IN ANY WAY? ARE SPRINGS AND STRAPS PROPERLY IN PLACE AND IN GOOD WORKING ORDER?
Anytime you visit a homeowner's pool, give the pool cover a quick visual inspection. Look for rips on seams, frayed edges or tears anywhere on the cover. Ask the homeowner if any tree limbs or other large debris have hit the cover due to storms or high winds, and double check these areas. Then, inspect springs and straps or auto cover mechanisms. If you notice any issues, check with the cover's manufacturer for repair kits. It may be time for a pool cover replacement.
2. IS THE COVER CLEAN AND CLEAR OF DEBRIS?
Branches, leaves and other organic materials can potentially puncture a cover. It should be cleaned periodically throughout the off-season, and especially before removal and storage.
Use a leaf blower to clear grasses, leaves, and other dry and light debris; a skimmer net, special pool cover "rake," broom or other long-handled devices can help you reach and gently remove larger items like tree branches or mounds of wet leaves.
Then, rinse off the cover with a garden hose. If there are stubborn spots of dirt, scrub with a broom or brush. Water and a little elbow grease should do it — in fact, most pool cover manufacturers recommend you never use soap or other cleaning agents. Not only can these be bad for the cover, but they can also make their way into the pool's water, creating water quality issues. Once the cover is clean, give it time to dry before storing to prevent mold or mildew build-up.
3. FOR SOLID COVERS: IS IT ACCUMULATING WATER?
Solid pool covers are designed to keep stuff out of the pool — and that includes rainwater and snow melt. Consequently, solid pool covers are notorious for accumulating water on top. Water remaining on top of a pool cover for an extended period of time adds extra weight and can cause ripping or tearing, resulting in costly repairs or replacement. The water can also mix with other organic debris, creating a slurry of wet leaves and dirt that's unsightly, smelly and unsafe. In fact, water on a pool cover can pose a drowning risk. If you notice any of these water accumulation issues, clear the area of the water. Then, recommend the client install a pool cover pump.
Automatic pool cover pumps first hit the market in the mid-1990s in response to a new California law. Covers were becoming increasingly popular at the time, especially automatic covers that could be quickly opened and closed at any time. While these covers were convenient, infants could easily crawl out on the covers and several drowned in accumulated rainwater. Previously, manual pumps were used to clear water; the new law required that these pumps work automatically — kicking in whenever an unsafe level of water gathered on the surface.
Automatic pool cover pumps are designed to be lightweight and placed on the cover whenever it's closed. They kick on when they sense a certain water level, pumping about 1,700 gallons per hour. Placement is easy: They hook up to a standard garden hose for water out-take, and no special plumbing or equipment is required. That means they're easy to install, maintain and remove when it's time to take off the cover. Specially designed, pool cover pumps also feature removable intake screens to prevent dirt or debris from clogging their operation. When cleaning pool covers each season, it's also a good idea to clean the pump as well.
4. FOR MESH COVERS: IS TOO MUCH WATER MAKING ITS WAY INTO THE POOL?
Mesh covers are designed to eliminate water pooling on the surface, but they can create their own water accumulation issues. Since rain and snowmelt automatically go through the mesh and into the pool, the pool itself can overfill. Automatic pool cover pumps can be set to kick on when this happens, removing excess water only when needed to keep the pool's water at an ideal height. It's important when using these to make sure the pump is placed in an area that doesn't drain the pool too much.
5. IS THE COVER PROPERLY SECURED?
One final check to consider is overall pool cover operation. For automatic pool covers, lubricating mechanisms is a task best left to a professional. Check equipment once or twice per season for your clients: make sure the auto cover closes and opens as it should and that there are no gaps. Check the integrity of the cover as well — again, looking for rips or tears, brittle fabric or other signs that it's time to replace the cover.
For winter-only covers, check that the springs and straps are in place and in good working order. Ensure that the material is tensioned according to manufacturer recommendations, and there are no gaps that would allow access to the pool water. This helps with safety, and assures wind doesn't blow leaves or debris underneath.
A pool cover is an important investment for your clients. And, just like all components of their pool or spa, it requires regular inspection and maintenance to keep it durable and reliable.
With more than 20 years of industry experience, Mark Smith is the auto cover expert and product manager for automatic safety covers at Latham, The Pool Company. This article was written in collaboration with Stephanie List, marketing strategist for Little Giant Pumps.
---
This article first appeared in the July 2022 issue of AQUA Magazine — the top resource for retailers, builders and service pros in the pool and spa industry. Subscriptions to the print magazine are free to all industry professionals. Click here to subscribe.