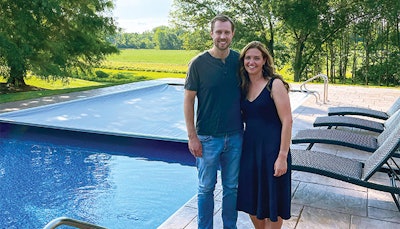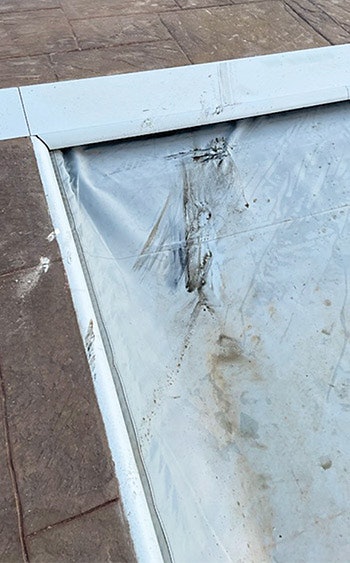 On one fateful night in Columbus, Ind., an unassuming backyard pool cover ended up saving a driver's life.
Last year, Brad Lovins, owner of Lovins Select Pool & Spa, worked with Automatic Pool Covers to install an APC on a newly-built, 20-by-44-foot rectangular pool. Nothing was out of the ordinary until recently, when Lovins received a text from a client asking him to come by and inspect the pool cover in the wake of an incident.
"It was [the pool owner's] routine to wake up each morning and open the automatic pool cover," he explains. "That was when they noticed a black mark and hole in the cover, and then they looked over and saw a car. They didn't hear anything during the night."
Police found a mid-size red Chevrolet SUV in a nearby creek. Reportedly, a disoriented driver had come up the neighbor's driveway, turned around and then drove across the yard and off into the pool. The driver came out of the pool, hit and destroyed the diving board, and finally drove down over the hill into the creek below.
"The car nose-dived into the creek. No one knew, but the driver was still in the car the next day when we showed up to inspect the cover," says Lovins. "Then the police showed up to do their report. They didn't arrest the driver. They just took her home and had the car pulled out of the creek. Essentially, the driver spent the night in her car."
Amazingly, Lovins says the cover was still functional. "We were shocked the cover was still working. No issues with it, just a gouge in the coping and a small hole. The pool's safety was never compromised, as they were able to keep the original cover on the pool — it wasn't taking on any water, because where it was ripped was on the wall camp."
"We, as dealer and customer, were very impressed with Automatic Pool Covers," he says. "The homeowner was very, very amazed that the car was not in the bottom of their pool. And that auto cover probably saved that woman's life. Amazing."
---
This article first appeared in the September 2021 issue of AQUA Magazine — the top resource for retailers, builders and service pros in the pool and spa industry. Subscriptions to the print magazine are free to all industry professionals. Click here to subscribe.
---