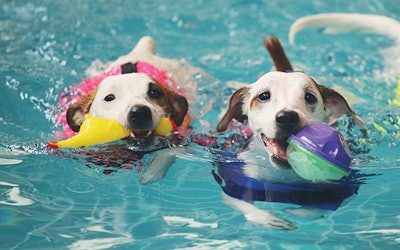 Most people who invest in a backyard pool have done so for two reasons. 1) They love entertaining and being outdoors. 2) The pool is a great place to spend time with family — and sometimes, those family members are of the four-legged variety.
Many people consider their pets to be full-fledged members of the family, with all the rights and privileges thereof. That includes a seat in the car on family vacations, annual birthday celebrations (complete with bone-shaped birthday cakes) and dips in the backyard pool. This idea of pets as family members has caused a boom in the pet industry — and by extension, the pool industry. Read on to discover how you can harness the power of the burgeoning pet industry to provide better services and an enhanced product selection to your dog-owning customers.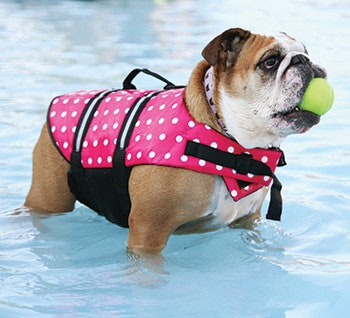 GETTING A PIECE OF THE PIE
According to the American Pet Products Association, sales in pet industry totalled about $69.5 billion in 2017, up from $41.2 billion 10 years before. There are several reasons for that, including a healthier economy and shifting demographics. APPA, for example, finds millennials recently surpassed Baby Boomers as the largest segment of pet owners. And as the millennial generation continues to put off getting married and starting a family, they're lavishing attention on their pets. In fact, 44 percent of millennial pet owners view their pets as "starter children."
As such, this audience of "pet parents" is willing to spend far beyond the necessary costs of pet ownership, like food, vet visits and medicine. They're buying accessories (from high-end dog collars to Halloween costumes), fancy treats, toys and services like dog-walking, boarding and more. And pool retailers have a great opportunity to get a piece of that pie.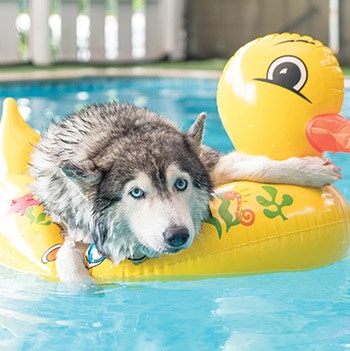 There are several product lines you can carry in your store to help your customers' pets have a great time in and around the pool. Life jackets, of course, can help even the best canine swimmers stay safe in the water. But there is also an array of floating retrieval toys, ramps, drying towels and even canine-sized cabana cushions that can help give your sales season a little extra bump.
RELATED: Dog Pools: They're a Thing Now
Total Tech Pools & Leisure in Oakville, ON, Canada, has been carrying pool products for dogs for several years. But the pet service perks don't end there. Owner Dave Warren understands how important dogs are to their pet parents, and in response has made his store a pet-friendly space with free treats and water bowls for canine guests.
"It is common for clients to bring their pets," says Warren. "And many of them know the store well and run straight for the treats." He notes that being pet friendly definitely contributes to his customers' overall experiences by creating a more-welcoming atmosphere. It also makes pet-loving customers more inclined to choose his store over his competitors — in fact, he's looking into increasing his pet offerings in order to make Total Tech a one-stop shopping experience.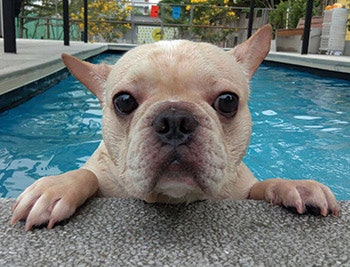 Pets are also welcome at any of Arvidson Pools & Spas' three Illinois locations, where shoppers will find a dedicated pet section that includes everything from life jackets (in all sizes), throw toys, food and water bowls, leashes and dog treats. "The portable water bowls and dog treats are the most popular," says Nadine Nuzzo, retail division manager. "We get them locally from a business with a similar business model to ours."
Arvidson has been carrying pet pool products for about five years and won't be stopping anytime soon. In fact, the staff is so dedicated to dogs that they hold a "Dog Days of Summer" charity event every August, during which a portion of each hot tub sale is donated to local animal shelters. They also raffle off three large baskets of pet supplies and donate all the proceeds from the ticket sales.
HEALTH AND SAFETY CHALLENGES
Dedication and love for pets can be extremely rewarding, but it can also create challenges when it comes to pools. About 25 percent of the homes serviced by Stanton Pools in Westlake Village, Calif., have pets, and about 15 percent of those clients have dogs that swim regularly. Those dogs, of course, can have an impact on water chemistry and filtration.
"Dogs are equivalent to approximately 50 people in a pool," says Eric Stanton, owner. "This is because most dogs bring in a lot of dirt that is trapped inside their fur and on their paws." He notes that dogs are also more likely to bring traces of fecal matter into the pool and urinate in the pool. When this happens, chlorine gets used up much more quickly, which increases the need for chemical assistors like chlorinators, he says. "Also, due to all of the hair that comes off of dogs while swimming, baskets and filters get clogged much faster, which hinders circulation and, therefore, water clarity," says Stanton.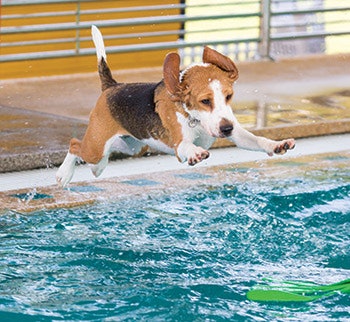 To get a head start on such pet-related problems, service techs at On-Time Pool Service in Sarasota, Fla., always ask new clients if they have a dog that swims in the pool, "though you can usually tell from inspecting the filter cartridge," says Owner Kirk Bradley. To make sure these pools stay crystal clear and swimmable, On-Time techs will typically amp up the chlorine use. Bradley also notes that installing a salt water chlorination system is a good option because it allows a continuous chlorine feed for both oxidation and sanitation. He also recommends using an ozone system.
RELATED: Goin' To The Dogs
"The lower level of chlorine from these systems also help the pet enjoy the pool more without any issues," he says.
HELPFUL HINTS
To ensure the best relationship between the pet and the pool, retailers and service techs can help customers by offering as much assistance and information as possible.
Wendy Purser, owner of Hampstead Pool, Spa & Patio in Hampstead, N.C., has two water-loving canines herself. She likes to remind pet and pool owners to make sure that the pool area is clear of all pets before operating the pool cleaner, and she also warns of the dangers of leaving solar covers, tarp covers or auto cleaners with cords in the pool while pets are swimming.
And while we're discussing safety, remember that dogs in the pool can accidentally gulp down mouthfuls of water, just like humans. And while drinking pool water on occasion isn't harmful, it's also not recommended. "During a weekly [maintenance] visit, high levels of chlorine and metal algaecides may be used, which could harm dogs," Stanton says. "And if a dog is not currently in good health (e.g., kidney disease, heart disease, etc.), it'd be best to prevent them from drinking pool water entirely."
In addition to filter-clogging and water-drinking concerns, pool owners might want to curb their pets' time in the pool for another good reason: the chlorine can dry out a dog's skin. And since applying moisturizer isn't an option, Bradley recommends rinsing dogs off with fresh water once they exit the pool.
But the No. 1 thing that pet owners can do to keep both their dogs and their pools healthy and clean will sound very obvious to most, but not to all: Do not wash your dog in the pool. "We have one customer who insists on washing their dog in the pool," Bradley says. "Not only does the shampoo add phosphates [to the water], but the washing makes sure that all the dirt gets into the pool, plus lots of hair. Fortunately, it is a small dog, but still..."