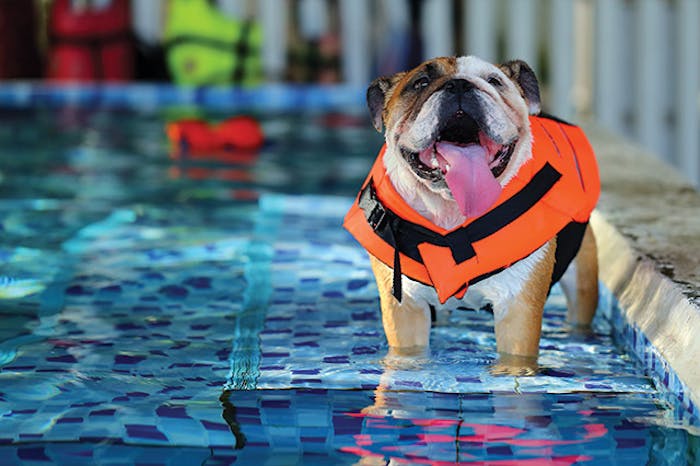 This is not a story about dogs in pools — we've covered that on the Waterfront before. This is a story about dog pools moving mainstream. About entrepreneurs opening up commercial pools for dogs just like they do for humans, and getting the dogs (or perhaps their owners) to pay for the privilege of using the pool the same as you'd expect at LA Fitness or Gold's Gym.
A google search using the keywords "dog pool" in major metro areas brings up a slew of businesses with names like "Wet Wags" and the "The Rex Center," all with top-flight swimming facilities dedicated exclusively to canines.
One such dog swimming facility is the K9 Aquatic Center in posh Potomac, Md., which opened two years ago to fill "a need that people were not aware of," so the owner, Dominique Darcis, told the Washington Post. The business has flourished with some 900 current clients making regular bookings for swim sessions. The Center charges $44 for a half-hour swim, $390 for a 10-swim pass and makes special arrangements for dog birthday parties.
RELATED: Goin' To The Dogs
Oddly enough, the rapid growth of dog pools is due to the fact that the dog pool industry has clearly done a much better job of promoting the health benefits of swimming than the human pool industry.
Dog pool websites tout the marvelous results a dog can expect with regular aquatic exercise. The K9 Aquatic Center claims "… [your dog] will show improved muscular strength and tone, while working the cardiovascular and respiratory systems, without the impact of concussive exercise on land and the associated damage that it may cause.
"Whether your goal is to keep him/her in optimal physical and psychological health, manage weight, help prevent injuries or recover from surgeries, as well as help with arthritis for our senior citizens, swimming is the best exercise for your pup at any stage of his/her life."
Not bad. We could learn a few things from these people. And there's no question it's working, as Jonathan Block, veterinary medical director at Water4Dogs in New York City, told the Post. "It's a relatively new field in veterinary medicine, but it's one of the fastest-growing areas."