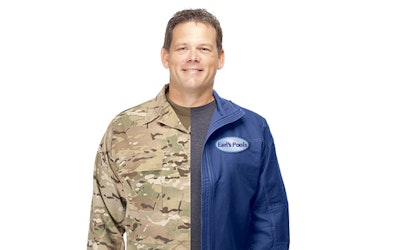 "Echo Tango Suitcase and I'm back on the block. Meeting is at 0900 hours. Into my good civvies and I am Oscar Tango Mike."
You have two candidates waiting for interviews, though you only scheduled one at a time and thirty minutes apart. One is sitting thumbing through a copy of AQUA Magazine, the other stands even though an empty seat is available. This individual not only stands, but also stands out. Perfect posture and arms crossed, the veteran has his/her back six inches off the wall and leans against nothing. Fifteen minutes early is still ten minutes late; as far as the vet is concerned, he/she is right on time. Standing quietly as the scheduled appointment occurs before him/her, one cannot help but notice the candidate carefully scanning and taking in his/her surroundings — not in a creepy way, but in alert and observant fashion. When the veteran's turn has come, he/she proceeds to walk at a swift pace and with an unexpected sense of urgency, extending his/her hand forward with a firm and confident grip.
"My experience as a U.S. Navy Corpsman has taught me to be able to improvise, adapt and overcome, skills I use daily in the pool industry."
— Nate Watkins, Owner, OMG Pools
Your candidate stands in front of your desk, although you have already taken your chair. The applicant does not even glance in the direction of the empty seat until offered. The interview is speckled with terms of honor and respect in the use of "sir" or "ma'am," except for one moment when they slip and say, "Roger that."
The answers to your questions are short and to the point, not due to a lack of communication skills, but because they're accustomed to short, precise, clear communication.
You look down at the candidate's resume, which lists a series of numbers and letters as their position in experience, and you realize that, unless you yourself have also served, you have no idea what this individual's job has been.
Veterans are some of the most reliable, hardworking and dedicated people you could employ. However, if you want to reap the rewards of having a veteran on your team, you will most likely need to do your homework and prepare for a conversation with a person whose ways are as foreign to you as yours are to them.
You need to understand that one of the most difficult tasks a transitioning veteran will face is in attempting to match their military skills to the required experience for your vacant position. The person in front of you applying for a position with your pool service company states that their military occupational code (or mos) was 11B. The veteran knows what he did while he was in the military, but do you?
"As a young lieutenant, I learned quickly the results of my decisions fall on my shoulders, not on those of the men I lead."
— Tal Millican, Pwlshrk Pool Services/Multi-Tork Pool Tools
The Army lists the 11 Bravo's job duties as: "Performing as a member of a fire team during combat, aid in the mobilization of troops and weaponry, assisting in reconnaissance missions, process prisoners of war, and the use and maintenance of combat weapons." You will need to decipher the traits and skills that support the tangibles of that position; you will need to consider (in this example) the Army values that are key in this individual's training: Loyalty, Duty, Respect, Selfless Service, Honor, Integrity, and Personal Courage. Is this not what you are looking for in a new hire?
According to the National Veterans Training Institute, veterans possess the following strengths that are sought in the civilian workforce: Ability to work as a team member and/or team leader; ability to work under pressure and meet deadlines; ability to give and follow directions; high standards of quality and commitment to excellence; client and service oriented, plus many more. (To see the complete listing, visit aqmag.co/veteranstrengths.)
"I'm not sure where jumping out of aircraft comes into pool service, but I do know that I have benefited from perseverance and a greatly enhanced work ethic. I have the ability to overcome obstacles and I hold myself to a higher standard."
— Rob Mathews, Owner, Pristine Water
Obviously, there are differences in experience between branches and military occupational specialties in the individuals you will interview, but all veterans will possess traits I listed above. I chose 11 Bravo for our example because that was my mos prior to entering the swimming pool industry. I can speak from experience that it was challenging to effectively translate my skills at the time.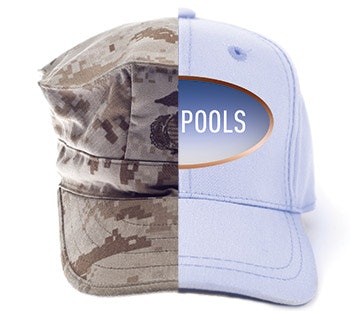 I will never forget the one interviewer who asked, "Tell me about a time that you worked under pressure," and the jaw-dropping impact of the response that came from the mouth of a 24-year-old recently-discharged infantry soldier. HOOAH!
So where do you find these potential weapons of algae destruction? Start with current team members. Do you currently have any veterans on staff? They may have friends or know of other vets they can refer. If not, they can definitely assist you in translating military lingo into civilian skills. This could be advantageous in a pre-interview resume review, or they could even take an active role in accustoming your new hire to both the position and the team. Obviously, the longer a person has been out of the military, the less assistance in acclimating the individual will require.
"Why do I hire veterans? It only makes perfect sense to employ those who have served and sacrificed for our communities and our country in the GREATEST WAY IMAGINABLE."
— Mary Prettyman, Owner, A Grande Choice Pool & Spa
During the discharge process, the veteran is required to participate in the Department of Defense's Transition Assistance Program. This mandatory counselling involves workshops on employment developed by the Department of Labor. During these sessions, the veteran will receive guidance on everything from resume help to the employment search. The military primarily recommends local job boards as a means of finding employment during these pre-separation workshops. With this in mind, if you are seeking to recruit veterans, you will need to make certain that you have your available position listed on these sites. The beauty of posting your needs on a job board is that many allow employers to post career opportunities at no charge.
Just a few job boards geared toward veterans include:
Social media can also serve you well when networking in the veteran community. LinkedIn, for example, has a lot of groups designed to help connect veterans, current military and employers; some have tens of thousands of members. Take a look, join a group and share your hiring needs.
There are several groups on Facebook as well that offer employers a means to share available positions with the veteran community. The membership numbers in these FB groups are typically much less than that of LinkedIn, but don't let that stop you from posting your job listings on your company page, personal page, and even in those community "word of mouth" groups. You never know which one may go viral.
"My time in the Marines taught me the importance of being efficient and timely as related to paperwork, but it applies to all aspects of business."
— Joe Giehm, BioLab, Retired
Career fairs are also a tremendous resource in hiring; there are even job fairs that specifically target veterans. They are quite easy to find. If there is a fee involved, it is usually nominal.
If you go this route, understand that there is a method to working a job fair correctly. Similar to a trade show, simply sitting behind a table and waiting for people to approach you will yield poor results. The "if you build it they will come" theory only works for Kevin Costner. Set up your table, put a bowl of candy on it (something old school and unique – I would fill mine with sticks of Bazooka Joe), then stand out in front of your table and talk to people as they pass by. Offering a sugary treat will draw more applicants to your table and afford you the chance to hear each potential candidate's elevator pitch as you simultaneously market your company's available opportunity. If you work a career fair correctly, you should expect to leave with both potential new hires and a stack of resumes.
Do keep in mind that through all of this, no matter what venue you choose to advertise your help wanted needs, veterans are accustomed to a tiered system that affords them the opportunity to advance in rank. They will be looking for the same opportunities in civilian employment — in other words, a position with growth potential.
You can find information on local job fairs at:
"As Group leader of SF OD-A, planning and recon skills were needed for missions and rescues in South Vietnam. I use these skills every day as a chemical expert and author."
— Robert W. Lowry, Lowry Consulting Group, LLC
Still need an additional incentive? The Department of Veterans Affairs offers a Specialized Employer Incentive Program in which employers who hire veterans are reimbursed for 50 percent of that veteran's salary for the first six months of employment: aqmag.co/veteranincentiveprogram
The United States Department of Labor also offers a federal tax credit through its WOTC (Work Opportunity Tax Credit) program to employers hiring from certain target groups, which does include U.S. military veterans: aqmag.co/WOTCvetincentive
Rudy Stankowitz is the CEO and president of Aquatic Facility Training & Consultants in Archer, Fla.