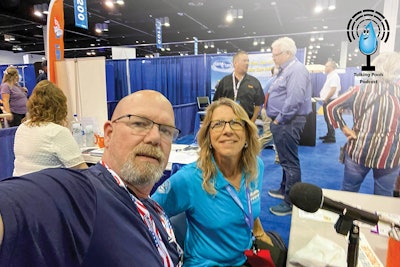 Rudy Stankowitz
"This is the Talking Pools Podcast," a booming voice announces. "If it happens in a pool, you'll hear about it here. Everything from tips and hacks to the latest trends, breaking news…we lay it on the line, we tell it like it is, because we think you deserve to know."
That, in a nutshell, is the Talking Pools philosophy — delivered across four-plus episodes every week by Rudy Stankowitz and a bubbly band of cohosts.
"Everybody talks about something in their wheelhouse. There's variety in the personalities, and there's also varieties in the show topics," explains Stankowitz. "Not everybody likes everything, we get that."
While Stankowitz and hosts Andrea Nannini, Heather Linden, Kelly Clancy and Dan Lenz bring different kinds of pool industry expertise to the table, their easygoing style and genuine, often humorous discussions behind the mic tie separate episodes together. Talking Pools feels refreshingly more like a morning radio show than anything else.
"We've put together something that's edgy and different," says Stankowitz. "I think we filled a nice niche in the space."
Here, preparation is not key: Talking Pools thrives on spontaneity. "Topics can come up minutes before, to a day or two before we record," says Stankowitz. "And we have a rapid turnaround time. If something happens, we can be more breaking news style, and we can address it and have that information out within a week."
And the format works. At just one year in, Talking Pools is already making its way up the charts: In June, it reached No. 43 of all "How-To" Apple Podcasts in the United States (chartable.com).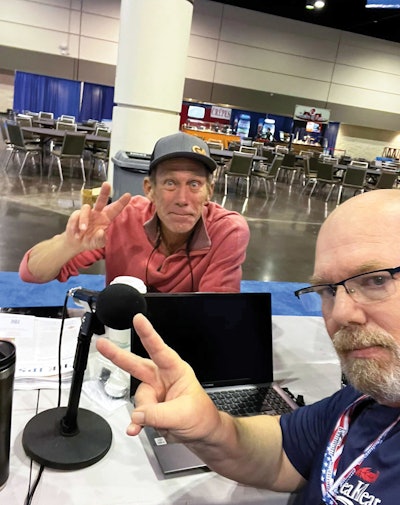 "We're getting tons of downloads each week, and that number is continually growing," says Stankowitz. "A lot of people tell me that they learned something new or have tried things out in the field that we suggested. We get emails with questions, and people telling us how much they enjoy the show and look forward to the episodes. It's exciting — I see nothing but growth from this point forward."
Stankowitz, an industry (and military) veteran, juggles podcast hosting with other roles as an educator and consultant. The rest of the Talking Pools crew also manages to fit the show into their busy lives as business owners, technicians and operators. "To have two people record a podcast 3,000 miles apart and have it sound like they're sitting next to one another is not the easiest thing in the world to do," says Stankowitz. But, as many of us have learned, "if there's something that you love doing, you make the time to do it."
"The pool industry has been really good to me over the years," Stankowitz adds. "Like anybody else, I fell into it assbackwards: When I got out of the service, I had no idea what I wanted to do with my life. I didn't know how to transition my military skills. I ended up taking a job at a pool store, and here I am, still in the industry. It's kept a roof over my head and food in my belly. I think for me, it's about the ability to give back to an industry that I really care about."
Check out Talking Pools on Apple Podcasts, Spotify, Audible and more.
This article first appeared in the August 2022 issue of AQUA Magazine — the top resource for retailers, builders and service pros in the pool and spa industry. Subscriptions to the print magazine are free to all industry professionals. Click here to subscribe.