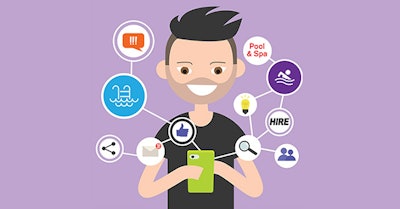 A few years ago, industry marketing consultant Leon Rawitz traveled to major pool and spa commerce centers across the U.S. to get a firsthand look at the state of retail. In the October 2017 issue, he wrote about several of his findings. (See "Winning Against Online Merchants.") Here, he shares his insights on the labor crunch in the pool and spa industry.
Any discussion regarding attracting and retaining new talent to the swimming pool industry must first start with a glimpse into the industry's future outlook. There are some hard truths that career-minded millennials will quickly uncover.
Truth #1 — Despite a relative boost in residential construction, new pool construction has increased only slightly over recessionary lows.
Truth #2 — The swimming pool industry is in the mature stage of its product evolution. Research from Gallup indicates that 84 percent of non-pool owners are highly unlikely to install a new pool in the next five years. Three out of four non-owners have never even considered installing a pool.
Truth #3 — According to a 2016 IBISWorld Swimming Pool Industry Report, average after-market profits declined from 4.4 percent in 2011 to 4.2 percent in 2016. Competition from online retailers and mass merchants are expected to drive profits down further to 3.8 percent by 2021.
With declining industry profits, low demand among non-pool prospects and more closings of traditional retail stores than any other year on record, millennials would be wise to look elsewhere for job opportunities that offer promising career growth. Of course, that assumes that we continue to embrace a "business as usual" philosophy.
RELATED: Finding the Next Generation
To Disrupt or Be Disrupted—That is the Question
What if we were to make RADICAL CHANGES in defining what we do and how we do it? Who better to help us reinvent the swimming pool industry than bright millennials who, as early adaptors, have embraced the massive changes that companies like Uber, Airbnb and Spotify have wrought on their respective industries (transportation, hospitality and music), just to name a few. Millennials have the open-mindedness to envision the pool industry through fresh eyes. And anyone that doesn't think big changes are in store for the pool industry is encouraged to consider:
The ongoing retail apocalypse and the resulting impact it will have on all but a handful of pool retailers
The "Internet of things" and how "smart," connected equipment, mobile apps and chemical pods will completely reshape testing, equipment diagnostics and equipment servicing, not to mention the acquisition and payment of these products and services
The projected 7.9 percent growth in e-commerce sales of pool supplies and equipment (Source: 2016 IBISWorld Swimming Pool Industry Report) and how/where to recapture that lost revenue
"If you keep on doing what you've always done, you'll keep on getting what you've always got" is ONLY true if your competition is sitting idly by along with you. How confident are you given the market conditions that your online and offline competitors are not planning to shake things up in a big way this season?
Now, let's get back to attracting bright new talent. If what you're looking for is a new breed of water testers and in-store salespeople, I suggest you STOP READING. Forgive my bluntness but this is an article about attracting new talent to our industry. The skills you THINK you need represent OLD THINKING. They will soon be extinct. If we are to survive the whirlwind of change that is about to take place, we need visionaries. We need creative thinkers and excellent communicators.
Ideas for Finding Top, Young Talent
Where would I go to find these people?
1. I'd go the dean of the School of Business at the nearest university. I'd inquire about their most successful alumni with a minimum of 3-5 years of work experience. I'd ask about their current crop of MBA students, as well as top performers in their undergraduate program. I'd offer my company up as a case study for a class project, or offer paid internships for their top-performing students.
2. I'd check to see if the American Marketing Association has a chapter in my area. It's a great place for networking, educational content and finding young, new talent. You'll come across digital marketing companies, web developers, corporate marketers and marketing consultants, all excellent resources for helping you find top talent.
3. I'd check local marketing workshops—another great vehicle for networking with serious-minded professionals that are looking to upgrade their skill sets.
4. Superstars are all around you. You just need to pay attention because you'll find them in line at retail stores, behind cash registers, in restaurants, at seminars, in classrooms, in doctors' offices, at distributor counters…everywhere. Show me someone with a great attitude and I'll take them every time over someone that possesses the skills but lacks the right attitude and/or emotional intelligence. Skills can be acquired. Attitude… less so!
What skills will be required moving forward to reinvent how we do business?
Strategy: Product, service, price and channel strategies
E-commerce and web strategy and development
Search engine optimization
Voice of customer
Digital advertising
Content creation
Analytics
World-class customer experience
Reputation marketing
Customer retention
Experiential marketing
Event marketing
Social media
RELATED: Hiring Hot Tub Salespeople
What Employees Want—Ignore It at Your Peril
Now that we've identified where to find top talent and the skills they'll need to reinvent our industry, how do we retain them? For that, I turned for advice to my millennial son, Drew. As a back-end programmer for a New York advertising agency, he is qualified to render an opinion on several fronts. First, he's a millennial. Second, he's a coveted employee, having recently been acknowledged by his company's founders as the employee that best exemplifies its founding principles. Third, he knows our product. He grew up with a swimming pool in his backyard.
According to Drew and most millennials, it's all about the work. Millennials want to enjoy what they do. They also want to be a part of something bigger than they are — that does good in the world. Millennials want to have a voice in the creative process. They want to contribute, rather than being told what to do…like robots.
Working with bright coworkers, clients and customers invigorates them, as do challenging projects which allows them to learn and grow. Oh yeah, and don't forget FUN!
---
Leon Rawitz is President of Rawitz Marketing Group, a consulting firm specializing in the pool and spa industry. His consulting and speaking clients have included Pentair, PoolCorp, Arch Chemical, A & A Manufacturing, Aquatech, Ft. Wayne Pools, Pinch a Penny, NESPA, and many more. His new book, Igniting Awesomeness, How to Become Irreplaceable in the Minds, Hearts and Wallets of Your Customers will be released this spring. To contact Leon, go to [email protected] or call (919) 290-2704.