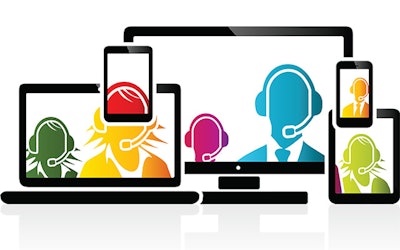 Ten years ago, Steve Jobs introduced the iPhone, a device whose slogan promised to "reinvent the phone." In the decade since, smartphones would indeed live up to that premise: They're now our cameras, our alarm clocks, our calendars, our way of communicating. For many, grabbing the smartphone is the first thought of the day.
As smartphones and tablets have grown more sophisticated, so too have customer expectations of the businesses they frequent. Today, your customers are more likely to email for a quote rather than call. They like to shop online, set up appointments online and keep track of just about everything, from how much they sleep to how many miles they run, in apps.
"If I lost my iPhone, I dropped it in the pool or something, my next stop is the Apple store to buy a new phone because life ceases to function without it," says Ben Honadel, CEO of Pools by Ben (Santa Clarita, Calif.).
In short, there are better ways of communicating with customers than leaving paper tabs on their door handle after servicing their pool. Many business owners are realizing that if they want to grow, they need to meet customers halfway with the smart features they're so accustomed to.
Here, we talk to industry pros who have done just that.
System Startup
When Denise McRee, office manager at Sky Blue Pools (North Richland Hills, Texas), noticed a spike in late payments, she realized her company needed a more convenient method for customers who need to pay their bill outside of regular business hours.
"A lot of customers requested they be able to pay online," McRee says.
As a result, she invested in hiring a website developer to create the payment portal as well as another highly-sought-after feature: online appointment booking.
"A lot of people are on the computer after work," McRee adds. "Our office isn't open after work, but they're able to go online and fill out an appointment request form. We call them the next day when we come in."
Honadel has more success texting customers. "A lot of times people won't answer the phone if you call them. But if you send them a text, they'll call back," he says.
To facilitate texting, Honadel changed his company's phone system. Transferring the office number to a smartphone and forwarding calls to a landline means he can use his office number, which he's had for more than 20 years, to send and receive texts in addition to taking phone calls.
Honadel finds the biggest advantage of texting is the ability to send and receive photos, a feature that's helped him sell more pumps while working remotely.
"We tell them to take lots of pictures of the equipment and text it to the office," he says. "Then I can look at the pictures and sell the pump. And all this occurs without ever making a trip to the property. Huge labor cost there, just in [terms of] time."
Heather Linton, president of Swim Carefree (Carrollton, Texas), uses a chat box on her website as an additional line of communication for her customers. "Employers don't like people being on their phones, but our working hours are the same as [our clients']," she says. "We want to give them every alternative to be able to chat with us without getting in trouble at work. Not everyone is a stay-at-home parent."
Customer questions submitted via chat box are forwarded to a desktop computer as well as Linton's cell phone. Her office personnel can address most questions, but Linton chimes in with responses to tougher questions.
"We have a lot of clients that actually pop in for the chat during business hours, which is also why we have texting available for those clients as well," she says. "They have any form of communication that they desire."
An 'iON' Job History
Paperwork is a headache for both service pros and homeowners alike. In lieu of filing cabinets full of documents, service companies are turning to software solutions that help both parties stay organized and, more importantly, maintain records for future reference. For Shawn Miller, owner of Aqua Shine Pools (Phoenix, Ariz.), the program of choice is Zodiac's iON software.
Before implementing iON, Miller found it difficult to keep track of all the work completed on a given job, meaning he sometimes didn't bill clients for services rendered.
Not only did that mean he occasionally provided free services, but it also meant he couldn't keep track of his clients' equipment. Thanks to iON, both Miller and his clients can track the status of their pools.
"Every time I have an interaction with a customer, whether it be a service or repair or anything like that at their property, they will get an email automatically with what we did," Miller says. "They can check their email at any time, log into their account at any time and just get a running history of what's happened with their pool, what the current state is or any issues that may have happened.
"Let's say we installed a new pump or piece of equipment for them a couple years ago; they can check and see when it was installed for warranty purposes."
Long Live Email
One of the biggest shifts in customer service is the rise of email — today's customers often prefer it over a cold call.
"Everyone's on the go a little bit more than they used to be," McRee says. "Obviously, the phone is old-school, and sometimes that's the best way to communicate with your customers. [Email] helped all businesses, including ours, communicate better, get our work orders dispatched a lot quicker and get the customers taken care of faster."
On the service side, email is an easy way to offer status updates after each job — no need to fill out a form and leave it on a door hanger.
"Let's say we're servicing a customer's pool. We'll [email] them their current chemical readings every week," Miller says. "For instance, if their chemicals were off a lot as opposed to the week before, they'll get that notice in their email. That will prompt them to either respond to the email, which is normally what happens, or call into the office and ask for more information."
Email is also great for assisting homeowners with small maintenance tasks and common questions — how to change a spa filter, where a particular valve is located on the equipment pad, etc. Sending videos or detailed write-ups, which can be re-used among other clients, can resolve small matters quickly and help service pros conserve their time for larger, more lucrative jobs.
"If they're home, I show them," Honadel says. "But we also take a video and email it to them. So six months from now, when they want to use their spa at 5 o'clock on a Saturday night when I'm not answering the phone, they can go look at the video."
But does the prominence of email alienate older customers who prefer phone calls and mailing checks? As it turns out, even high-tech companies need to adapt to cater to the analog generation.
"We just started service and sold a pump to a gentleman," Honadel says. "When we called, we said, 'We'll email you.' He just laughed and said, 'I'm 95, I don't do email and I'm never going to.' We snail-mailed him the paperwork and set everything up for him, and then he hired us for service.
"Out of 500 accounts, we have five or six that we actually mail an invoice to because they don't do email," he adds.
Miller's paper-only customers take up less than one percent of his total clientele.
"We started in the technology era, and that's pretty much what we go by," he says. "Those customers that are one-off situations will have flags set up in the iON system that tell us they need to be called whenever there are problems, or that they need to have their invoice mailed. We have workarounds set up for that circumstance."
"They're not adversely affected by not using anything electronic with our company," McRee says. "We still send out paper statements and give them envelopes to send back. We try to make it as easy for them as possible."
An App-etizer
Linton plans to make her clients' lives easier with her company's new smartphone app. While the app only launched in November, her clients are already using it to pay their bills, get referrals and receive special deals only available for app users.
"A lot of clients are moving forward with technology you can use at the palm of your hand," she says. "Everything is an app. Heck, you can order fast food now through an app. It's such an easy way to get what you want taken care of without having to open up a URL. You just click an app and bam, it's done."
Linton outsourced the development of the app to her SEO company, which she hired because of its app-development department.
Although the app is still new, Linton hopes to eventually integrate her website's chat box into it.
"Within the last two years, a lot more clients have been reaching out via chat," Linton says. "That's why I got to thinking, 'Everybody's reaching out now, let's give them another form of communication with the app.'"
The Human Touch
Taking advantage of digital tools is one of the best ways to stay competitive — especially compared to online retailers who use the same weapons against you — but it can come at a cost: the interpersonal connection.
"Interaction with customers from the office is important, but what takes place between customers and technicians at the pool and spa is also critical," Miller says. "They visit with the customers during their service time, and they can address questions with the customers on the spot. It's important to build a relationship with people. One of the biggest things with the service industry is getting these relationships down." 
Talking Computers
Despite the possible downsides of digital communications, all four pros we spoke to for this report said upgrading their businesses with digital communication software was worth it.
"It's 100 percent worth it," Miller says. "I couldn't even quantify the number of hours that it saves. It's astronomical."
"I can't imagine running my company without it," Honadel says. "I'm all for using any type of technology that will make the company more profitable or run smoother and simpler."
"Everything nowadays is going to technology," Linton says. "You're leaving money on the table and you're losing customers if you don't use it."
"It's convenient for us and it's convenient for the customer," McRee says. "We've found that balance where we're still keeping that human touch as well. We're not completely and solely relying on the digital, we're just letting it help us."
Comments or thoughts on this article? Please email kathryn@aquamagazine.com