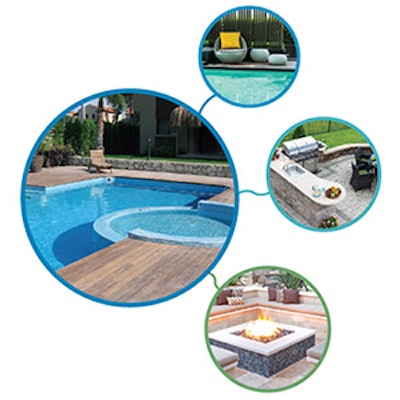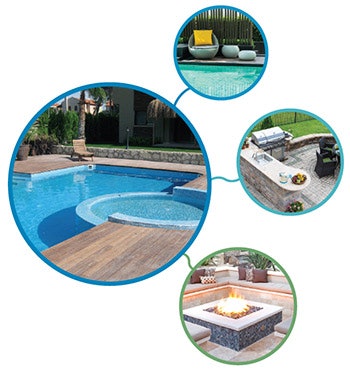 Attention pool and spa retailers/builders looking for new revenue streams: Let's talk about complementary products.
To be in the pool industry today means you need to look beyond the pool and consider yourself an outdoor living retailer or builder. This would include all items found around the pool. In fact, you may sometimes have clients who don't even want a pool.
Expanding your product selection has a big benefit: moving the sales needle. By broadening your offerings, you attract people who wouldn't have otherwise dropped by your store. That's how longtime relationships are made: Maybe it's a patio set that draws a customer in for the first time, but next year, after thinking about it more, they'll be ready to talk about adding a swimming pool — and you'll already have a leg up.
Without further ado, here are the top complementary products, all with a low barrier to entry, that will help push sales at your store.
1. Outdoor Kitchens
The hottest trend in our industry is to add a cooking space to the backyard. Swimming and barbecues naturally fit together because they're great social activities. For homeowners who love to entertain, a pool and grill setup is the perfect people-magnet.
And unlike the days of small charcoal grills, the market has shifted in the past few years to focus on more robust outdoor kitchens. Not only are people going with large stainless-steel gas grills, but they are also adding ceramic smokers, pizza ovens and other specialty cooking appliances.
RELATED: Dining by Design
And consider what else you might need: a cooler for drinks, sinks, garbage bins, extra storage, even built-in paper towel holders…you can see how these kitchens really add up!
If the thought of such complexity sounds a bit overwhelming (or expensive for your region), kitchen substructure manufacturers like RTF Systems make it easy to plan and lay out the kitchen. They create the substructures, so all you need to worry about is finishing the exterior and dropping in the components. It's that easy.
Builders and retailers sell simple versions for as low as $3,000, with custom kitchens averaging $10,000. Fully loaded kitchens can be $20,000 or more. Wow!
Another thing to consider: Even outdoor kitchens have complementary products. Make sure to stock up on sauces, rubs, charcoal and grilling tools and accessories (cleaners, covers, etc.) for repeat customer visits.
2. Fire Features
Fire features either in or around the pool are another trend that is only growing. When most people think of a fire feature, they think of a fire table or a gas fire pit. Those are indeed popular options, but the category is getting much more sophisticated.
Manufacturers make it easy to build a custom fire pit for your customer. Some sell premade substructures, burner units, glass and a bunch of other accessories to customize the fire pit to your customer's needs.
RELATED: Why Fire Features are Hot Right Now
Or maybe your customer wants the look of fire without the open flame. Faux fire features, including lamps, torches, pathway lighting and even table lights imitate flame with realism that will wow you — it truly looks like a live flame.
But the king of fire is the outdoor fireplace. A fireplace literally becomes the focal point of a room; it defines the space and cements its purpose as an outdoor room.
Outdoor fireplaces can be built with custom masonry or with prebuilt components; some manufacturers offer fireplace kits that only require you to stack three components on top of each other and bam, you have a fireplace!
3. Lighting
The right lighting can truly transform a backyard space. And I have to say, lighting is an area in which many companies fall short.
RELATED: Make a Statement with Outdoor Lighting
When I talk about lighting, I am not talking about just pathway lighting. Think about how you can use accent lighting in the backyard, like uplighting a beautiful tree, adding downlights to a seating area and, of course, adding lights to the kitchen for optimal outdoor cooking. What about wall washing the side of a home or that fireplace that was just installed? Are there lights that can change color for holidays and parties?
No matter what lighting you offer, make sure it can be customized and even tied back to a home automation system that can be controlled via smartphone.
4. Outdoor Audio Systems
The perfect backyard space appeals to all the customer's senses; that means it sounds beautiful, too. Some customers love a simple Bluetooth wireless speaker to carry around, while others prefer the sound and feel of 5.1 Dolby Digital surround sound. Either way, you need to offer some sort of audio system.
RELATED: Amplifying the Backyard with Audio/Visual Design
The easiest point of entry is to offer Bluetooth speakers, which retail from $19 to $99, but if you have a more affluent clientele, or clients who are serious about sound, offer something more upscale. Manufacturers today offer small speakers with amazing sound that totally blend into the landscape.
5. Pavers and Stone
Consumers love the look and feel of stone and manufactured-stone products. It adds rich tone, texture and complexity to the space. Pool builders and specialty retailers now have the ability to show and install stone products and capture sales they would normally have given to a subcontractor. And the best part is it's simple to learn to do and the results are stunning!
Travertine is still the No. 1 seller, with stone-style retaining walls being popular as a landscaping complement. Porcelain tile is also trending, as are grass pavers, which create that beautiful look of pavers with grass in-between.
Not only is this a popular category among consumers, it's also easy to break into. Most suppliers can provide sample boards to promote their products, and then you can attend one of their training classes to learn how to sell and install the products. Who knows, you may even get a driveway installation deal to go along with the pool deck you're putting in.
RELATED: The Top 10 Most Popular Landscape Paving Materials
6. Outdoor Seating
Sectional sofas, from classic wicker to modern cast aluminum, continue to grow in popularity, as do accompanying products like chairs, bar stools, high-top dining, lounges — basically anything that brings the idea of the indoor living room to the outdoor space.
With so many options out there, and many stores strapped for floor space, it's easy for pool and spa pros to say, "Pass. I'll focus on other items." In response, I say you should reconsider. There are simple ways of breaking into the outdoor furniture category without expending too much in terms of resource.
I suggest offering two neutral styles with two neutral finishes for your customer to choose from. They can personalize the space with custom pillows, throws, rugs and accessories. (Or pick lines that can be ordered in custom colors. Display the neutral tone and keep a book of texture samples on hand for customers to flip through.)
RELATED: Cozy Up — Outdoor Living Product Focus
Whatever you display, make sure it's more sophisticated than what you'll find at a mass retailer. For example, manufacturers like Plank & Hide offer hand-rubbed finishes that look like wood, but are actually rust-free aluminum. You have to feel it to believe it!
Everything I outlined above is just the beginning of the complementary products you can offer in your store. If you want your store to succeed in the battle against mass retailers and online companies, the best thing you can do is transform you business from "pool and spa store" to "comprehensive outdoor living retailer/builder." Start by tackling just two items on the list above — you'll not only change your customers' lives, but yours as well. 
---
Ted Lawrence, POOLCORP corporate retail category manager, has been in the specialty swimming pool industry for more than 24 years and is known as a leading authority on omnichannel retail. With his experience and proven methods, Lawrence coaches hundreds of small independent as well as large multi-store chains on how to skyrocket revenues, increase consumer loyalty, plan for the future and reach the next level. He is an award-winning international presenter at dozens of industry events globally.