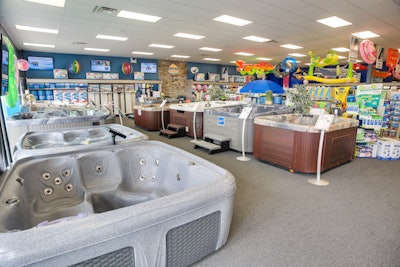 Pittsburgh's 100 Fastest Growing Companies is an award for privately-owned companies that have seen the most financial growth in the Pittsburgh, Pa., area. To enter, nominated companies have to submit three years' worth of financial information that is then audited by a third party. The final list includes law firms, pharmaceutical companies, education companies and other large, multimillion-dollar enterprises.
Also on that list? Valley Pool & Spa, a firm with five locations in the Pittsburgh area. Valley has made the list three times. This year marks the second year in a row.
"It's a pretty big deal for any business," says Eric Cassidy, vice president of Valley Pool & Spa. "It's a really big deal for a business such as ours because this is our 50th anniversary, and we're still continuing such a substantial growth rate."
So what helps Valley not only stand out not only among other pool and spa stores, but also the dozens of large-scale corporations in the Pittsburgh area?
"It's hard to say if it's just one thing," Cassidy says. "I think it's a combination of multiple things that make us different."
The Success Cycle
Cassidy says Valley's success begins and ends with its employees. Of course, training and building your employees' knowledge of the products is important, but so is incentivizing them and paying them well-deserved wages. While Valley Pool & Spa has several locations, the managers at each are given the autonomy to run their stores like their own companies.
"Beyond that, unlike a lot of dealers, we do very heavy marketing," Cassidy says. "We do a lot of digital marketing, print marketing and direct mail marketing to get people in the doors." They also use geofencing, a new marketing technique that targets customers for advertising after they walk into a digitally "fenced" area.
It also helps that shopping at Valley Pool & Spa is designed to be an experience.
"People can spend upwards to an hour shopping at our stores like you would at a Wal-Mart," Cassidy says. "There's so much for them to look at and browse through. We have something for everyone when it comes to their pools."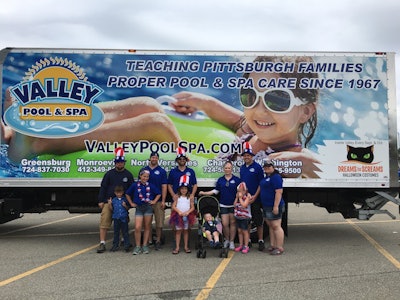 Beating the Big Box
In addition to other Pittsburgh-based companies, Cassidy is also competing against online retailers such as Amazon, which are able to sell the same products for less.
"I know a lot of colleagues feel that the internet is killing the industry totally because of price," Cassidy says. "But there are bigger factors at play. Price is maybe three or four on that list."
Convenience, for example, is a big reason consumers purchase online. The No. 1 reason, according to Cassidy, is consumer expectations for brick-and-mortar retail.
"People really want to do business with brick and mortar," Cassidy says. "People's expectations of brick-and-mortar retail now is poor customer service. We hook them with our promotions and marketing to get them in the door, and then they're amazed by the knowledge and customer service of our employees."
Stepping Back
Applying these techniques requires a bit more effort from the top.
"Owners and managers, particularly owners, need to spend more time working on their business and not in their business," Cassidy says. "That's a common problem in this industry. Owners are fearful of hiring another person and are always stuck in the day-to-day things with customers. They never have the time to dedicate to actually look at how things can improve or better their business. That's really the first step."
Other than that, Cassidy says there isn't a big secret to his success.
"We do good marketing, we have in-store customer appreciation events, we train our employees, we have a wide product selection and we're not scared to stock large amounts of inventory to make it available for our customers," he says. "Really, anyone could do it — it's just doing it."