Glossary:
Geofence:
A digital boundary created by an address or GPS coordinates. When someone walks through the geofence with a smartphone (and his/her wifi, location services and/or GPS on), the company that owns the geofence can capture their IP address and use it to send marketing messages via retargeting.
Retargeting:
Have you ever looked at an item on Amazon and started noticing ads for that item everywhere online? That's the magic of retargeting.
A slightly more technical definition: A site owner places code on his website, which is known as a pixel. When a user visits your site, that pixel drops a cookie, or a small text file, onto your computer or smartphone. (If you like to hit "remember me" when signing into a website, that's a cookie at work.)
Later, when that user is browsing the net and visits a site with ad space, they'll begin seeing ads for your business.
According to Eric Cassidy, vice president at Valley Pool & Spa (Pittsburgh, Pa.), digital marketing is the new frontier for retail. He would know: Before joining the pool and spa industry in 2006, Cassidy worked for retail giants like Coca Cola, Frito-Lay and Walmart.
"I really couldn't learn more about the retail industry than by working for those companies," he says. "That's really where I learned the most about everything regarding retail."
In his career with Valley so far, Cassidy has helped the company grow from one location to five. And while the industry was reeling from the recession in 2009, Valley was shifting into overdrive — the company landed on the Pittsburgh's Business Times' Top 100 Fastest Growing Private Companies that year and has placed twice since.
There are several reasons for Valley's consistent success, but in Cassidy's eyes, the big one is the company's innovative use of marketing. Over the past decade, Valley has developed expertise in e-mail marketing, SEO, social media and pay-per-click advertising. Over the past year, however, Valley has been experimenting with a strategy so new, it's still in its infancy in the marketing world: geofencing, a location-based marketing strategy.
While Valley prides itself on being ahead of the curve in terms of marketing, Cassidy was a bit skeptical of geofencing's potential at first. But now, with almost a year of experience under his belt, he sees why it's such a boon for businesses — especially for smaller companies like those in the pool and spa industry.
"Before we started these campaigns, I thought it was too far fetched," he says. "But the cool thing about these campaigns is you can see real conversions."
Below, we break down geofencing and explain how it's helped give Valley Pool & Spa a competitive edge.
Geofencing 101
At its most basic, a geofence is a digital perimeter that surrounds a real-world location. A geofenced area can be as small as a parking space or as large as whole city, but are typically used around buildings and other establishments.
When a geofence is activated, users who enter the area with a smartphone will begin seeing digital ads for the company that created the geofence.
How does this work? In short, it's because smartphones are just about always broadcasting location information to the world. To start, as an internet-enabled device, your smartphone has an internet protocol (or IP) address, a unique code that identifies your device and helps indicate your geographic location. Then there's GPS and location services, both of which make it easy to use the maps feature on your phone, quickly see nearby restaurants and more. As you walk through a fenced area, the information you're broadcasting is collected and used to serve you ads.
Naturally, there are countless applications for such technology. Here are three example scenarios, each of which use the concept a little differently:
(NOTE: Cassidy's geofence strategy is most similar to the first scenario below. To execute it, he partnered with a local digital media company, which managed the back-end coding of a geofence, while Cassidy provided locations for geotargeting.)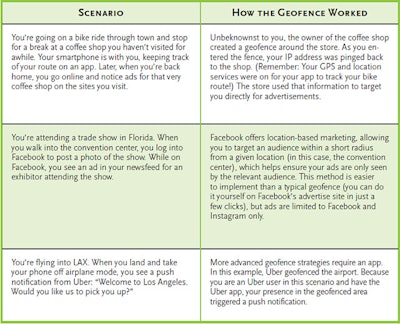 RELATED: The WRONG and RIGHT of Social Media
The Valley Strategy
One might suspect that Cassidy created a geofence around his store's five locations — but his approach is a bit more cunning. Cassidy and his marketing firm instead created geofences around his competitor's stores, meaning anyone who entered a competing store would begin seeing online ads for Valley Pool & Spa. And by adding retargeting into the mix (see glossary at the top of this story for info), customers who visited a competing store would be served ads for days after that visit — to be precise, they'd see an ad up to three times a day for seven days.
"It's like when you go online and search for something on Google, and now you're seeing the Amazon ads for that product all over the place," Cassidy says.
The marketing message differs depending on the competitor. For a competitor in the hot tub category, for example, Cassidy's marketing firm created a geofence around that store and paired it with a hot tub-focused message. They did the same for Valley's aboveground and chemical competitors.
The ads offer alluring deals. The hot tub ads, for example, promote $500 off a new hot tub purchase, an offer that's confirmed after the user submits an email address.
Offering a discount isn't just a way to draw customers away from competitors. Requiring customers to fill out a form — with contact information that can be used for later marketing messages — and redeem a tangible item like a certificate helps Cassidy track the campaign's success, as do reports from his media partner.
"I get a report from the company that I'm working with. Like for example, just last week, we showed ads to 71 people in one geofenced area, which is a prominent competitor's store. Of those 71 people, three actually came to one of my physical locations," he says.
Cassidy acknowledges that conversion rate may sound "ridiculously low." (For geofencing, anything over a .4 percent conversion rate is considered good. Valley's average is .9 percent.) And for all the work that goes into creating a campaign (finding a marketing company to partner with, preparing marketing messages, collecting data, analyzing for conversions, etc.), why bother when you can simply throw up a billboard that's guaranteed to be seen by thousands of people?
Because easier isn't necessarily better, especially from a financial standpoint.
"It's definitely proving to be cost-effective because it's only targeting people that are obviously interested in the products that we sell, because I'm targeting the people that are walking into my competition's locations," Cassidy says. "Traditional online advertising is a bit more broad. You're spending dollars a little more freely and it's not as targeted."
Right now, Valley spends $5,000 each month on geofencing and retargeting. (Or roughly $1,000 for each of the company's five locations.) That monthly spend decreases in the off-season, but it never comes to a halt.
That brings us to the big caveat of this whole discussion: Once you begin a data-heavy marketing campaign like geofencing, you can't stop.
"If you stop, you're going to lose all the useful data that you've compounded," Cassidy says. "If you're doing a lot of marketing, that data is invaluable because we have plans to grow, so that data can aid us in telling us where a store location can go, or it's going to aid us by telling me where to do more traditional forms of marketing. So that's the unfortunate thing, because I know a lot of people in this industry might only want to spend dollars on marketing in the four busy months, where we're spending money 12 months out of the year."
The Millennial Problem
Beyond immediate conversions from a campaign, Cassidy has another long-term goal that geofencing, retargeting and other digital marketing methods can help meet: Getting an edge on his competitors with the millennial market.
"Our industry has a millennial problem," he says. "Over the next five years, there's going to be major changes in our industry because our industry is not attracting millennial buyers. So I'm trying to heavily utilize the forms of marketing that target millennials, people who will age and become our main clientele."
RELATED: Pool Builder Marketing Secret #1: Look At it From Your Customer's Perspective
While the millennial market currently skews a bit young for home ownership and luxuries like pools and spas, it'll be a few short years until millennials take command of the economy. By 2020, 20 percent of U.S. adults over 25 will be millennials. And by that point, their spending power — currently estimated to be $600 billion a year — will grow to $1.4 trillion and account for 30 percent of retail sales. When that time comes, Cassidy wants Valley's name to be top of mind for new buyers, and he's getting a start on that marketing mission now.
"It's Just That We Do It"
For industry pros with already-tight budgets, the idea of allocating a significant sum of money each month for geofencing may sound intimidating — if not impossible — especially among those who consider themselves marketing novices. Couple that with a "that's the way we've always done it" mentality, and it's easy to see why many industry pros are reluctant to invest in advanced digital marketing.
Cassidy acknowledges this reality, but counters with a bit of encouragement.
"People ask me all the time, 'What do you do differently than your competitors?' And I say, 'We don't do anything that anyone else can't do. It's just that we do it,'" he says. "I just know that a lot of other dealers in this industry could be doing so much more if they put more money into marketing, especially digital marketing."
And in the same way big box stores and online competition have pushed retailers to meet the demands of the new retail landscape, so too is marketing separating retailers of the past from retailers of the future.
"If they don't do it in their market, someone else eventually will," Cassidy says. "And if someone else local in their market doesn't do it, then an online company eventually will, if they're not already."