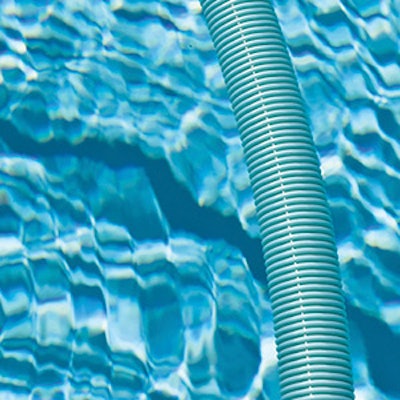 It's no secret that over the past several years robots have grabbed most, if not all, the attention in the world of automatic pool cleaners.
Yet for all of the panache and gear-head appeal of robotic units, the basic, tried‑ and-true suction automatic pool cleaner still dominates the market and by some accounts is even increasing in market share.
According to manufacturers, suction cleaners account for approximately 50 percent of sales, with robotic and pressure-driven cleaners splitting the other half. Manufacturers also report retailers have been, and remain, the industry segment that sells the most cleaners, followed by service techs, who often lease them as part of their service regimens, and then builders who often sell cleaners as part of original construction.
The relative affordability, flexibility and proven track record of these products add up to strong appeal for a wide range of homeowners, from those with the most affordable package pools on up through the most expensive custom installations, and everything between.
Regardless of how suction cleaners find their way into the water, successful use — i.e. clean pools and satisfied homeowners — comes down to minding a set of critical fundamentals.
THE EXPECTATIONS GAME
As is true of just about everything attached to a swimming pool, reasonable and realistic consumer expectations for operation, performance and maintenance are essential when it comes to selling and ultimately the successful use of suction automatic cleaners.
The first big point on that list is the importance of selecting the right model for the job. To a large extent, that means ensuring the unit is designed for the given pool surface – plaster, exposed aggregate, vinyl liner or fiberglass. The various pads and/or wheel treads have everything to do with how well a cleaner will move and collect debris from a given type of surface material.
It's also critical that homeowners understand what cleaners do best: cleaning the horizontal surfaces, where the vast majority of debris collects. Yes, they do climb walls, but the lion's share of the work is always going to be on the pool floor.
Along the same lines, homeowners need to understand that cleaners do not clean many of the design features that have become popular in recent years. Tanning ledges, swim outs, complex step and bench treatments or beach entries still need to be cleaned with brushes and elbow grease, or possibly in-floor cleaning systems (a topic unto itself).
Also, non-robotic cleaners do not function well with squared pool bottoms. Manufacturers typically recommend that pools using suction automatic pool cleaners have radius transitions between the floor and walls.
Likewise, cleaners are not particularly well suited for removing established algal blooms and they do absolutely nothing to address existing stains or scale. And when a pool is laden with debris, cleaners will fill strainer baskets in a huge hurry. They are not typically recommended for new construction start-ups or for opening pools in spring.
All of that said, it's also important to point out that many units these days have been designed to handle larger pieces of debris without clogging, and there have been design improvements that support more efficient and effective coverage and cleaning.
Finally, homeowners should have realistic expectations for how long it will take their unit to thoroughly clean the pool. Manufacturers will offer approximations, but time frames will very from model to model and with the size of the pool itself.
IMPORTANT SIMPLE MEASURES
One of the enduring benefits associated with suction automatic pool cleaners is their ease of use. Although convenience is king, there are a number of basic measures that are a must for achieving specified performance.
Although most of the items on this list are already familiar to many, none should be taken for granted. They are all important.
• Avoid damaged surfaces and loose fittings: Automatic pool cleaners of any type can be damaged, or their performance compromised, by severely cracked or delaminating plaster surfaces, broken tile or grout, loose light rings or other fittings or torn vinyl liners. Prior to cleaner use, be sure the pool surface and internal fixtures are sound and if not, repairs should be made before you set the cleaner loose inside the pool.
• Start with a clean circulation system: For efficient and effective operation, filters should be backwashed, cleaned and rinsed. All baskets should be rid of debris.
• Proper flow rate: Suction cleaners come with a specified flow rate for proper operation. If the flow rate is too low, the cleaner will move sluggishly and very likely not properly pick up dirt and debris. If it's too high, the unit might move too quickly or stick to the floor and not move at all. In extreme situations, they may climb the wall above the waterline, causing it to take in air.
How to measure suction can vary depending on the unit. Some manufacturers recommend simply measuring the wheels' RPM by simply marking one of the wheels and counting revolutions per minute, while others require a vacuum gauge adaptor or flow gauge.
• Ensure a proper connection seal: Whether you connect the cleaner's hose inside the skimmer or to a dedicated suction wall outlet, the connection must be leak free or, again, performance could be compromised.
• Fill the hose and unit prior to operation: Air in hoses can be a huge problem, especially if it causes the pump to lose prime. As is the case for every other part of the circulation system, air and water do not mix.
• Don't coil the hose: Manufacturers report coiling a hose for storage is one of the most common mistakes made by pool owners and service professionals. A coiled hose develops "memory," and when in use, will try to recoil itself. This causes the cleaner to stop, hop or only partially cover the pool. Therefore, hose segments should always be separated and stored straight.
• Make sure you have a long enough hose: Another seemingly elementary consideration, but if the hose isn't long enough to allow the cleaner to travel the entire surface of the pool, it can't clean where it can't go. Conversely, too much hose can become an obstacle, tripping, stopping or otherwise impeding the cleaner's movement. Manufacturers typically recommend having a hose that stretches to the farthest point in the pool from the cleaner's connection point, plus one length.
• Routine inspections: Manufacturers have made significant improvements in cleaner design that both improve performance and increase service life. Nevertheless, cleaner parts do wear out and should be inspected infrequently for wear and damaged parts should be replaced. Simple things like worn wheel treads, for example, can significantly compromise function.
• Maintain balanced water: Although cleaners are manufactured to withstand the rigors of regular operation and are resistant to damage from chemically treated water, they will over time be damaged by water that is either too acidic or too basic. Maintaining water balance per widely recognized industry guidelines is just as important for the longevity of a pool cleaner as it is for plaster, heat exchangers, pumps and filter components.
The above registry is based on recommendations from multiple manufacturers including Pentair Pool, Zodiac Pool Systems and Hayward Pool Products. Special thanks to Hayward's Patrick Caty, international product manager, automatic pool cleaners, for his invaluable input and assistance.
Making APCs Fun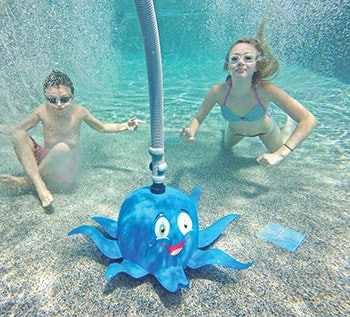 For all of their utility and functional convenience, there's also a surprising fun side to automatic pool cleaners. It's not unusual for kids (and even some grown-up kids) to regard an automatic cleaner in a playful, almost animated way, like a type of mechanical creature that faithfully cleans the pool — an automated pool-cleaning character of sorts.
Some people even give their auto cleaners names. With that touch of whimsy in mind, Kover Kritters offers a way to take the playful personification of cleaners to the next level. The company manufacturers covers that slip over any cleaner that make them look like "Kritters." The covers don't compromise cleaner function, but they do turn automatic pool cleaners into lovable conversation pieces, adding a dash of fun to a product category that traditionally isn't thought of that way.
The covers include characters that resemble octopi, goldfish, frogs and sea urchins.
Just as consumers personalize their smartphones with snappy covers, now they can do the same with their cleaners — a fun product for an already fun industry.
Comments or thoughts on this article? Please e-mail editors@aquamagazine.com.