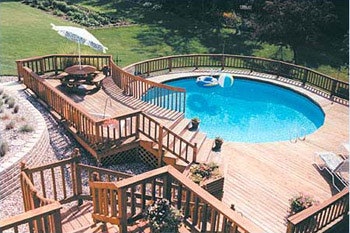 One thing that stood out in our State of the Industry survey was the growing chorus of complaints about the unfair advantage online retailers have over their bricks-and-mortar brethren.
Aboveground retailers aren't immune, as homeowners can look up prices online, have pools drop-shipped, then either tackle the setup themselves or hire installers. It's a problem that's likely to get worse. Can anything be done to combat it? We posed the question to several survey respondents.
"Internet sales are troublesome. The fact that most sites do not charge sales tax is a problem, as well. Most Internet-savvy customers can find product pricing on the net that I can't even get through distribution. It is hard to compete with that.
"The positive side of the Internet for us is that the level of personalized customer service is not there. The products are typically inferior, especially liners and filter systems. Also, there are components not included with the pool kits purchased on the net. Obtaining warranty service can be next to impossible with web-based companies, as well. We typically can out-sell those prices based on the fact that we provide a higher-quality product with the service to back it up. It is a challenge no matter how you look at it, but it will only force us to become better salespeople, which is always a positive. Those that can't adapt or adjust will fall by the wayside. As they say, competition only makes you better!" — Michael J. Bowers, president of Pool Pros, Green Bay, Wis.
"You have to give that personal touch with every customer, whether they are buying an O-ring or an aboveground pool. We make them feel that we enjoy what we do and that we go the extra mile for them. They are not going to get that customer service over the Internet. Overall, sales have probably increased because of the Internet because the customers have done their research and visited our website, where we advertise our products and services." — Colleen Morrow, All Seasons Pools & Spas, Lafayette, La.
"It has been difficult one. Luckily manufacturers are starting to understand how it hurts the brick-and-mortar stores so some have started MAPP pricing to try and protect the margins, but that only goes so far. If a customer approaches us with pricing they have seen online, most of the time we can come close to the price. Usually customers are willing to pay a little more to buy local." — Dan Meacham, Pool World — Spokane, Spokane, Wash.
"The Internet is always going to be there. We're a member of a buying group and we try to private-label a lot of our products, so shoppers can't really compare it to an Internet product. We change the names so they can't just Google it, then call and say, 'I found the same pool you're selling me online. Why is this one $1,500 and you're selling it for $2,900?'" — Derek Glaser, East Coast Leisure, Virginia Beach, Va.