Companies all over the nation have found that, contrary to what Kermit the frog might tell you, it's actually fairly easy being green — just provide sustainable products that save resources and save customers money.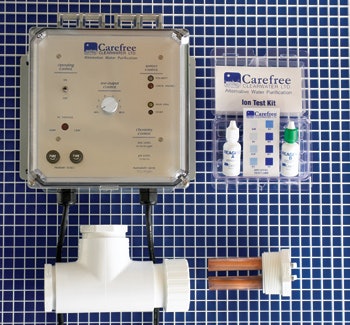 Carefree Clearwaterwww.carefreeclearwater.com(800) 364-5710
Carefree Clearwater is celebrating over 25 years in the environmental water treatment industry. With its lifetime warranty and unparalleled service, the company says it continues to see tremendous growth in all areas. Carefree Clearwater says, as an alternative to chemicals, its mineral ions automatically control algae and bacteria; maintain a stable sanitizer residual that is safe for plants and landscapes, are unaffected by heat and sunlight, and eliminate odors and corrosion.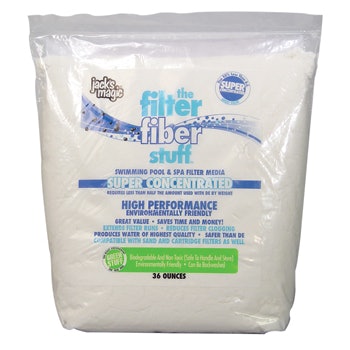 Jack's Magicwww.jacksmagic.com(800) 348-1656
Jack's Magic's Filter Fiber Stuff combines high performance with "green" features and benefits. This cellulose filter media is completely biodegradable and non-toxic, making it the safe alternative to DE, the company says. When used as a DE replacement, The Filter Fiber Stuff requires just 36 ounces to charge a 60-square-foot DE filter. The Filter Fiber Stuff filters down to 2 microns, according to the company, producing water of unsurpassed clarity. This product can also be used with cartridge and sand filters.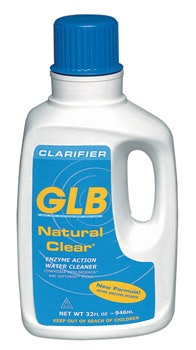 Advantis Technologieswww.glbpoolspa.com(800) 445-2059
Natural Clear enzyme clarifier is a biodegradable natural enzyme cleaner that eliminates residue caused by body oils and other debris, the company says. This formula clears cloudy water and prevents contaminants from clogging the filter by rapidly digesting oils, lotions and organics. It improves filtration and has a fresh, clean scent. Natural Clear enzyme clarifier is compatible with all sanitizers including bromine, chlorine, salt water, ozone, minerals and biguanide.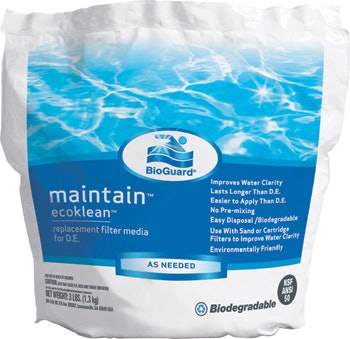 BioGuard Pool and Spa Productswww.bioguard.com(800) 859-7946
BioGuard offers EcoKlean, a replacement media for DE filters made from 100 percent biodegradable cellulose fiber. EcoKlean is an earth-friendly and effective alternative to DE for delivering a diamond-like sparkle to the pool, says BioGuard. After the first use, filtration run cycles increase by up to 70 percent when compared to those of DE. And since 3 pounds of EcoKlean is equivalent to 25 pounds of DE, it creates a smaller, more earth-friendly footprint, says BioGuard. EcoKlean can also be used on sand filters and cartridge filters to improve their filtration efficiency.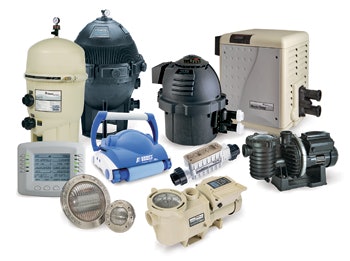 Pentair Water Pool and Spawww.pentairpool.com(800) 831-7133
Pentair Water Pool and Spa says its Eco Select products save energy, conserve water and/or reduce noise, contributing to a more environmentally responsible pool equipment system. IntelliFlo Variable Speed Pumps lead the offerings. The Eco Select brand also encompasses energy-efficient heaters, UltraTemp heat pumps, hydraulically efficient filters, long-lasting IntelliBrite 5g LED lights, IntelliChlor chlorine generators, and SunTouch, EasyTouch, and IntelliTouch automation controls, which optimize energy use and equipment performance by automating and synchronizing equipment scheduling.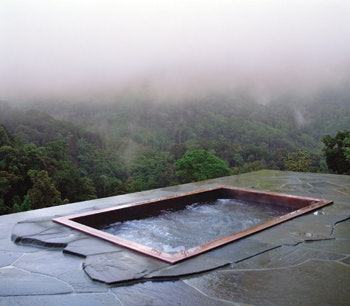 Diamond Spaswww.diamondspas.com(800) 951-7727
Diamond Spas specializes in custom copper and stainless-steel spas and pools. This Rectangular Copper Spa comes with remote-control accessibility, LED lighting, seating for six with customized seat depths, and a cool down seat. Fabricated with recycled copper sheeting, this spa is a great sustainable choice combining aesthetics and durability yet it's 100 percent recyclable. In addition, Diamond Spas is a chlorine-free company, instead utilizing a two-part system using ultraviolet sterilizer and hydrogen peroxide, reducing chlorine wastes into our communities.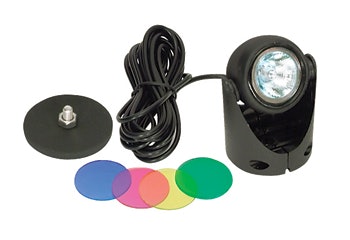 Franklin Electricwww.lgoutdoor.com(260) 824-2900
Little Giant patented EggLites add nighttime beauty to ponds, fountains and landscaping. Suitable for fresh and salt water, EggLites provide dramatic underwater lighting and come standard with dichotic lenses in blue, red, yellow and green.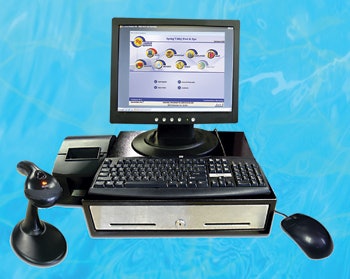 RB Control Systemswww.rbcontrolsystems.com(866) 224-7225
RB Control Systems invites pool and spa professionals to go green, save money, and operate more efficiently with its software. Click to send accounts receivable statements by e-mail. Send purchase orders through the system with authorized signatures, and receive against the PO in the computer. No need to print. Click to e-mail quotes, contract receipts and more, and reports export to Excel. Service technicians can access information poolside on their cell phones with the new RB Mobile Live.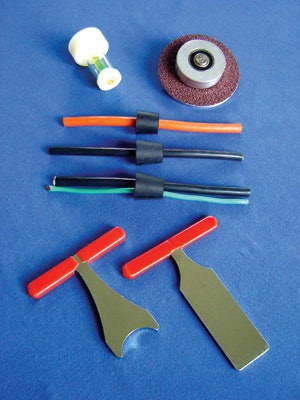 G&P Tools, LLC www.gandptools.com(573) 431-6998
G&P Tools says its Aqua Wrench line of tools is made of durable steel, which means no more broken plastic tools in the landfill. Aqua Wrench tools are also designed for equipment fittings eliminating broken fittings in the trash. Cord Stoppers have no plastic tubes to dispose of.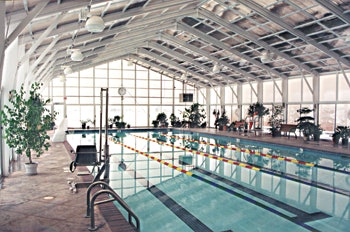 CCSI Internationalwww.ccsiusa.com(800) 537-8231
Clearing of debris in outdoor aquatic facilities costs personnel time and can necessitate the usage of harmful chemicals. An Atria commercial enclosure allows for year-round usage, allows you to welcome the nice weather in and keep the inclement debris and weather out. An Atria commercial enclosure saves in debris removal and cuts harmful chemical use attributed to debris and rain water dilution, the company says.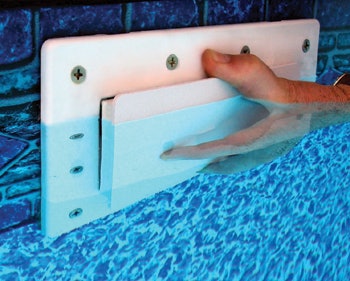 SimPoolTecwww.skimmerplug.com(800) 630-2456
Water conservation is paramount to owning an eco-friendly pool. By simply using a Skimmer Plug to seal off and winterize above and inground pool skimmers, pool owners can collectively save billions of gallons of water each year, says SimPoolTec. The Skimmer Plug can also be used to service pool equipment, plumbing and perform leak detection without water loss and without the need to install a new faceplate. No tools required, the Skimmer Plug fits "like a cork in a bottle" into existing skimmer faceplates, with models to fit most every skimmer and specialty faceplate.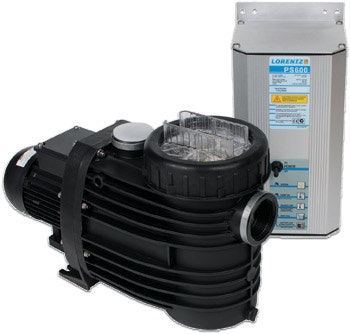 Lorentzwww.awwasc.com(888) 535-4788
Photovoltaic panels have been providing power for decades. Since 2002, Lorentz has been the world leader in manufacturing solar powered pumping systems. A solar powered swimming pool pump eliminates the filtration energy cost of the swimming pool. High quality manufacturing and German engineering have produced this revolutionary product, Lorentz says.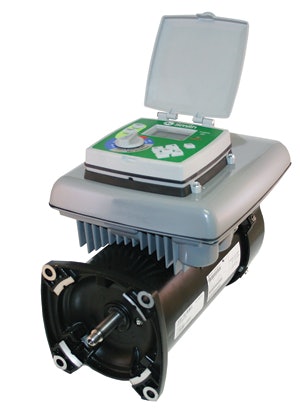 A.O. Smithwww.pool-motors.com(937) 667-2431
A. O. Smith offers the V-Green line of variable speed ECM pool and spa replacement motors equipped with integrated timers. Featuring three variable run speeds programmable from 600 – 3450 RPM and two adjustable override speeds, the V-Green motor is fully compliant with California Title 20 and Florida HB 849 energy efficiency statutes for replacement pump motor filtration system applications. V-Green motors can reduce energy consumption by as much as 80 percent over a standard single speed pump motor, the company says.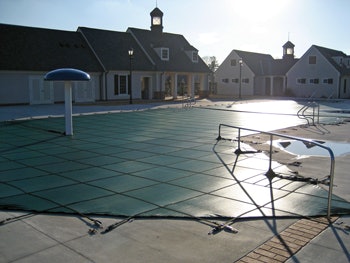 Merlin Industrieswww.merlinindustries.com(800) 289-1836
SmartMesh Safety Covers save money and conserve water in commercial pool applications. Many commercial pools go uncovered during the off-season, requiring complete drain and refill services to be completed in the spring. This process can waste millions of gallons of water each year in order to clean these pools and get them ready for opening. SmartMesh safety covers from Merlin Industries provide 100 percent shade while still allowing water to pass through the material, filter debris down to 40 microns and can be made large enough to fit almost any size commercial swimming pool, Merlin says.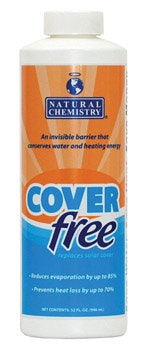 Natural Chemistrywww.naturalchemistry.com(800) 753-1233
Natural Chemistry's new COVERfree, a liquid solar cover replacement, is the most efficient and effective water and heat saving product on the market, the company says. COVERfree's advanced patented technology offers users the ability to save water and money by decreasing water evaporation by 85 percent or 60 gallons per day, the company says. COVERfree also reduces water heat loss by 70 percent allowing for a more energy efficient pool, according to Natural Chemistry.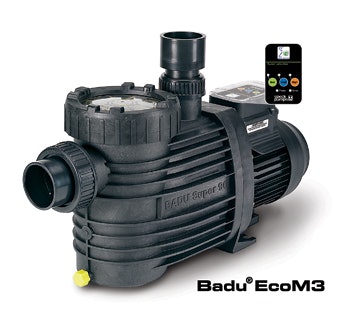 Speck Pumpswww.usa.speck-pumps.com(800) 223-8538
The Badu EcoM3 swimming pool pump is designned to be easy on the planet, and easy on your wallet. This high performance, three-speed pump offers consumers energy saving up to 80 percent, Speck says. The Badu EcoM3 is the perfect pump for most residential pools ranging from 10,000 to 25,000 gallons. Backed by Speck's global reputation and German engineering, the Badu EcoM3 provides pool owners with an affordable, eco-friendly alternative to larger, expensive pumps.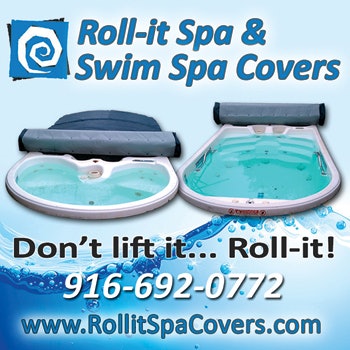 Roll-It Spa Coverswww.rollitspacovers.com(916) 692-0772
Roll-it spa covers are a new concept in spa and swim spa covers. Roll-it spa covers not only save you energy and lower water evaporation, but are very green for the environment due to the fact they will last much longer than the tradition foam core covers, the company says.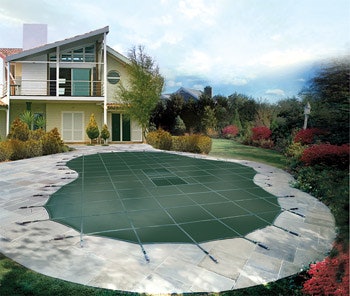 LOOP-LOC, Ltd.www.looploc.com(800) 562-5667
LOOP-LOC introduces a new generation of solid safety pool cover: ULTRA-LOC II. It's manufactured from an exclusive 100% polypropylene (0% vinyl) material that Loop-Loc says, offers unmatched strength and durability, and is remarkably lightweight. This unique material "bounces back" quickly, preventing pockets from forming, and is 100 percent recyclable.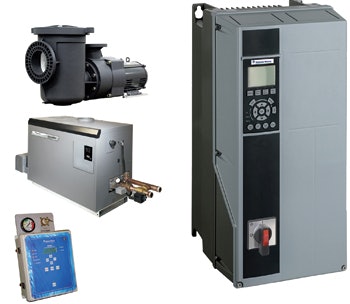 Pentair Commercialwww.pentaircommercial.com(800) 831-7133
Pentair Water Commercial Pool and Aquatics is now offering a complete line of Eco-Friendly Commercial pool equipment products designed to help aquatic facilities or high-end residential projects save money. These essential pump room products together offer tremendous efficiency and savings from reduced energy consumption. The products include the new PowerMax Heater, the EQ Series Pump, CS400 Backwash Controller and the new Acu-Drive XS variable frequency drive.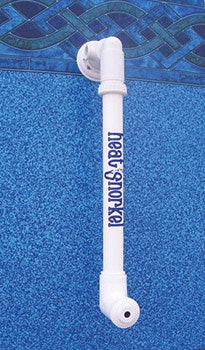 The Heat Snorkel Companywww.heatsnorkel.com(559) 997-6657
Heat Snorkel claims its American-made, patent-pending product cools pools quickly using evaporative cooling technology, and also speeds the heating of pools. In addition, it mixes chemicals and balances a pool's water temperature from top to bottom, the company says.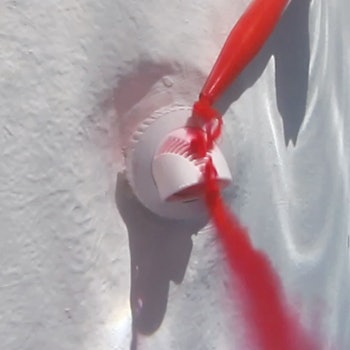 Infusion Pool Productswww.infusionpool.com(800)557-8018
Infusion Pool Products says it produces revolutionary, energy-efficient swimming pool venturi return fittings that increase flow, creating easier to service water. V-fittings draw warmer surface water through strategically placed louvers thrusting it to the floor. Users can eliminate algae growth, prevent sediment buildup and lower energy costs by simply installing Infusion's venturi return line inlet fittings, the company says.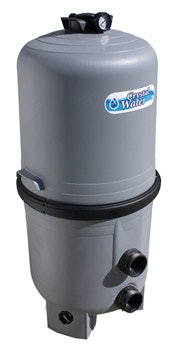 Waterway Plasticswww.waterwayplastics.com(805) 981-0262
The Crystal Water Filter's state-of-the-art design provides greater and more efficient filtration with 2 ½-inch internal piping, which minimizes restrictions and improves water flow, according to Waterway. Both the Crystal Water Cartridge and DE filters simplify element removal and servicing and extend the time between cleaning cycles, Waterway says, adding that its "Multi-Handle" lid makes servicing easier.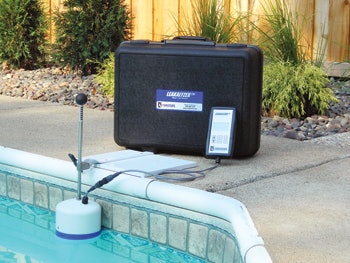 Anderson Mfg. Co.www.leaktools.com(800) 348-1316
The LZ400 Leakalyzer-Water Loss Sensor enables rapid determination of a pool's water loss. Using sophisticated electronic sensors and proprietary filtering methods, it measures water level changes to one 10,000th of an inch. Leaks or excessive evaporation of as little as 1/8 of an inch per day can be identified in five minutes, the company says. Tests can be downloaded and saved to a computer through a USB connection for further analysis or inclusion in reports.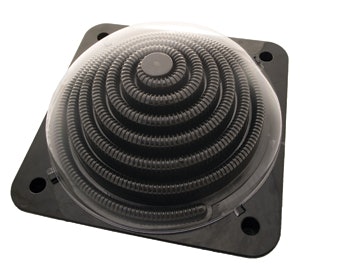 Great American Merchandise & Eventswww.game-group.com(888) 382-5988
GAME says its SolarPRO pool heater uses the sun's rays and the pool's pump to heat pool water, extending the swimming season at a dramatically lower cost than other heating technologies. The dome-shaped heater's space-saving design comes in two sizes. Multiple heaters may be connected in sequence to increase efficiency and heating effectiveness, according to the company.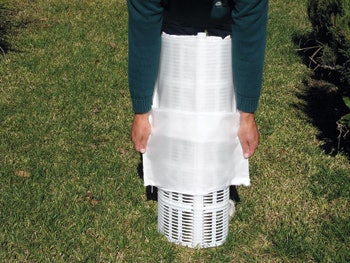 Gentekkwww.gridsock.com(909) 268-9773
Every year thousands of grid frames find their way into our nation's landfills, and Gentekk says you could help to prevent this by using the Gridsock filter grid replacement and repair kit. The Gridsock stores easily in your truck and is there when you need to fix a problem.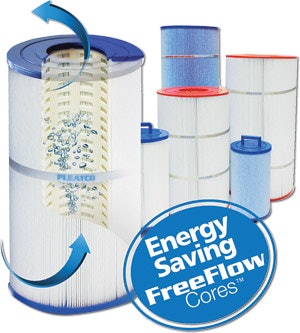 Pleatcowww.pleatco.com(800) 886-5160
Pleatco says all of its filter cartridges use the company's Free Flow Core technology, which keeps water crystal clear, provides longer product life and reduces energy consumption.