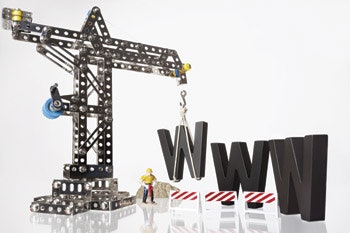 Here's a stat to chew on: The average attention span on the Internet is between four and 10 seconds. "It's really frightening," says Jon Gelberg, chief content officer at Blue Fountain Media in New York, N.Y. "When people come to your home page, if they don't immediately get what makes you better than the competition, they're gone and they'll go to the back button, and they'll be at your competitor's site in 10 seconds."
This is why it's so important to be clear about what differentiates you. "Maybe it's a great video or photograph of the work you've done," says Mr. Gelberg. "If it's spectacular, easily seen and the first thing people see, that will get their attention. This is very visceral. People see a beautiful pool or spa and say to themselves, 'This is perfect.' However, having huge blocks of content at the top of your homepage will make people's eyes glaze over. They'll leave your site and go to your competitors."
A top-notch, well designed home page is just the beginning, but if you're thinking a quality website is not in your marketing budget, think again. "If you're putting out a website equivalent to a brochure, you can do that for $3,000 to $5,000, and it will be an attractive site," says Mr. Gelberg. "In terms of one that is really going to drive business, that's often more of an investment."
While many pool and spa businesses do not rely on their websites alone to generate leads, these days the majority of consumers first go online to research luxury items. "If your competition is out there and you're not, you're damaged," says Mr. Gelberg. "Also, if there's a customer complaint on another website out there about your business, when you have your own website, your site shows up higher in search results, so you can control your message more, especially if you have a blog on your site, talking about how great portable spa and pool ownership is, and pool safety, etc. All of that gets picked up by the search engines and it'll be under your name, showing your expertise, so you really get to control your message more."
Prominently displaying testimonials from happy clients is highly recommended, as well. Says Mr. Gelberg, "Buying a pool is such a big investment for people, and if you have a list of positive testimonials, that's going to reassure people because you're looking to build trust."
You're also looking to see people come to your site and stay there a bit. "With Google Analytics, which is free, you can learn where people are coming to your site from, how long they stay, what pages they visit and where they leave," says Mr. Gelberg.
If people spend an average of five seconds on your services page, it tells you they're either finding the information they need and leaving or just leaving because it's confusing. You find out by asking your clients about their experience with your site. This is also ultimately how you find out if the site is generating leads. Google Analytics provides a lot of useful information and some people will fill out quote-requesting forms online, but you must also ask clients where they heard about you to find out if the website is really leading people to call or visit your store.
Sierra Timberline, a dealership in Grass Valley, Calif., uses Google Analytics and has found that the average amount of time spent on its testimonials page is seven to nine seconds. "That to me is perfect," says Steve Barlow, the sales associate who tends to the company website. "That means someone looks at it, they read one or two, and say, 'Wow, they've got a lot of clients and a lot of positive feedback.' So the impression we want is made and we don't need long [to make it]."
One of the most useful pieces of information you can get from Google Analytics is your bounce rate, which indicates the number of people who come to your site, look at your home page and don't do anything else. They leave after seeing your home page. "If your bounce rate is over 60 percent, it's a sign there's something not right with your home page and you should make changes," says Mr. Gelberg. "You find this by following your analytics. These help you figure out when and how to change and reinforce what's working."
Increasing Visibility: SEO
The most beautiful, well designed site doesn't do much good, though, if search engines (and therefore clients) can't find it. You'll want to be sure your site has been search engine optimized. If that sounds like a foreign language, fear not, there are businesses that can do this for you, but it's important to understand what you want done. First off, search engine optimization is the process of improving the visibility of a Website in search engines via the natural or unpaid (often called the "organic") search results. In short: it gets your site to show up early in the unpaid listings.
This process starts with embedding in your site key words that accurately reflect your products and services. But you can't just load up pages with certain words. "Search engines caught up with that and they see it as spam and mark it as spam and you can get penalized for it," says Gelberg. "But it's important to get the terms in there where it's appropriate."
To learn a lot more about how to appropriately place key words and choose title pages to ultimately improve your search-engine ranking, go to www.aquamagazine.com and search for the "Search Engine Ranking Factors Guide," provided by Blue Fountain Media.
Principles In Action
As you consider how your website can be improved, it's helpful to find out what the experts say about a few industry sites. The following dealers were generous enough to let AQUA put their sites under a microscope for closer examination. In addition to a critique of each website by Blue Fountain Media's Jon Gelberg, there's some information from each company about the sites. If you have Internet access nearby, please key in these sites and follow the commentary.