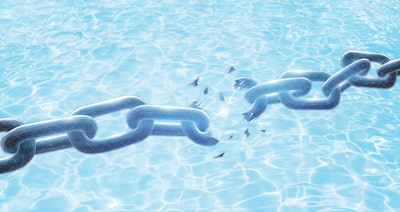 The pool and spa industry is grappling with recurring supply chain issues amidst a rebounding American economy. Faced with sustained high levels of demand, companies are struggling to manage inventories and looking at second level suppliers to maintain production levels.
"The pandemic has caused extensive shortages and shipping delays in the pool and spa industry," says Jerry Kisgen, executive director of Pkdata, a pool and spa industry market research consultancy firm. "This has led to long lead times for new pools and price increases for equipment, hot tubs and chemicals, as well as for raw materials, labor and shipping. Freight costs are soaring globally, increasing from $1,040 per container last June to $4,570 this spring, according to S&P Global Platts."
Bottlenecked ports and shuttered production facilities caused by COVID-19, however, have transformed an exercise in efficient materials distribution into a full-scale crisis. The supply chain imbroglio has, in turn, impacted revenues and profits. "Overall, the industry could have sold a great many more pools and hot tubs if the equipment and raw material supplies were available, and a skilled labor force was in place to accommodate the demand," says Kisgen.
The pain is shared by a broad spectrum of industries. "The COVID-19 pandemic has given the supply chain a whole new level of priority," says Tom Palisin, executive director of The Manufacturers' Association, a York, Pa.,-based regional employers' group with more than 370 member companies. With its diverse membership in food processing, defense, fabrication and machinery building, Palisin's association can be viewed as a proxy for American industry. "Companies in just about all sectors have experienced pauses and shutdowns. Some have even gone out of business."
LABOR ISSUES
The same labor shortages that are bedeviling pool stores, builders and service companies are causing distribution slowdowns. "One banker told me that his four manufacturing customers could each hire 50 additional workers if enough applicants were to show up," says Bill Conerly, principal of his own consulting firm in Lake Oswego, Ore. "When a company I work with in Portland was awaiting a late shipment of brass from Los Angeles, it turned out there was no driver for the truck."
RELATED: P/S Supply Shortage: A Perfect Storm
The reasons for labor shortages are varied. "Part of the problem is that people are not yet willing to come back to work," says Conerly. "But the fact is that there were not as many pandemic- related layoffs in manufacturing as in, say, food service. A larger issue is demographics: Older people are retiring, and younger people don't want to go into dirty, noisy factories. And then you have government cash payments for people who get laid off. And finally, there are childcare issues."
Companies struggling to cope are looking to automation as a way to produce goods with fewer man hours. "In recent months there's been a surge of business orders for capital equipment," says Conerly. "The fact that manufacturing production has not reached all-time highs, though, indicates that the new equipment is not intended to boost capacity. So I think a lot of the business capital spending is intended to replace empty positions with machines. The idea is, 'If I can't hire somebody to assemble this product, maybe I can hire a robot to do it.' And I think that's a good strategy."
A decline in the cost of automation has helped fuel this trend. "The cost of labor has gone up while the cost of electronic equipment has gone down," says Conerly. "Something that did not pencil out a few years ago may well do so today."
That same general strategy is being examined by pool and spa companies as a way to ease the labor crunch, mostly through the use of more advanced technology and software.
NEW APPROACHES
Companies are addressing the supply chain conundrum by doing more with less, running machinery beyond its prime and collaborating with vendors to predict shipping delays. Such moves strike a familiar chord with Palisin at the manufacturer's association. "The pandemic has really highlighted the need to develop strategies to mitigate potential disruptions in the flow of critical components," says Palisin. "That means doing a deep dive into the supply chain, mapping the geographical locations of the first tier of suppliers and learning to rely on second-tier suppliers as well."
Pandemic-related shortages have affirmed the need for backup vendors even for lower volume items. "Instead of relying on one supplier, a company might have three to manage risks," says Jim Hannan, practice leader of manufacturing, distribution and logistics service group at consulting firm Withum.
Inventory, too, is getting a new look. With deliveries spotty and prone to long lead times, companies are keeping more stock on hand. "Because equipment and raw materials can no longer be received within days of an order, many builders are ordering well in advance — sometimes before they even start to dig," says Kisgen. "That creates new problems, especially for higher volume builders, in terms of storing the equipment and managing pre-purchase costs. It's imperative that builders understand their costs to protect prices quoted for pools that may be constructed months from the point of equipment purchase."
While businesses pay a steep price for bolstering inventory levels, such costs must be balanced against the possibly higher operational expenses, such as the need to pay higher prices for goods when a company scrambles to fill customer orders — or lost revenues from unhappy customers. As they balance such costs, many companies are viewing higher cashflow on the shelf as acceptable. "Risk mitigation has now become more important than efficiency gains," says John Manzella, a consultant on global business and economic trends, East Amherst, N.Y.
Furthermore, three historic costs of inventories — interest, obsolescence and shrinkage — no longer universally apply. "The interest rate you get for having cash in the bank now is approximately diddly squat," says Conerly. And obsolescence would only be an issue if something were expected to go out of fashion. "Many products in short supply today are the same products as last year's model, and they are not going to go obsolete." Shrinkage, he adds, is not an issue in some industries and in others can be controlled with requisite security steps.
Cheap or not, inventory storage must be allocated selectively. "Companies need to be thinking, 'What might be in short supply when we try to ramp up our production?'" says Conerly. "They may well buy a year's supply of a relatively cheap item that is a small part of what a company uses but is vital to producing a finished product."
THE ROAD AHEAD
The economic rebound now underway in the U.S., while a welcome development, has only increased delivery pressures. "Demand for new hot tubs is off the charts in some areas," says Kisgen. "Dealers are selling new units as fast as they can get them. At the same time, hot tub retailers are encountering difficulty obtaining new units from overwhelmed manufacturers with lead times reaching well over six months. As a result, the pool and hot tub industry cannot meet the current consumer demand within a reasonable time frame. Some pool builders have orders they can't start for over a year."
RELATED: What People Are DOING About the Trichlor Shortage
In the face of such pressures, businesses must answer difficult questions. How quickly will supply chain disruptions be resolved? And what's going to happen with prices? While no one can forecast the former with any accuracy, many feel there will be little price relief any time soon. "We anticipate price increases to continue through 2022 or 2023," says Kisgen. "Because many manufacturers pass along these price increases to their customer base, some consumers might be priced out of the market for new pools and hot tubs."
Given the existence of so many unknowns, it's clear that companies must develop playbooks to address possible disruptions and evaluate risks up and down the supply chain, and then develop plans to address them.
"Because job costing and completion dates are subject to many forces outside company control, strategic logistical planning is a crucial pandemic skill for pool builders," says Kisgen. "Businesses need to adapt by spending more time sourcing products, and stocking and storing more inventory than usual. As one Texas pool builder has said, 'Calculating lead times for supplies is a whole new adventure, so you must think ahead and get creative to solve problems that you simply didn't have before.'"
Whatever the trend in consumer spending, some operators feel that the pandemic's dissolution is the right time for businesses delivering quality service to gain market share. Says one: "We're assuming the worst and hoping for the best. Our overriding goal is to protect the health of our people and service our customers. Those things haven't changed a bit. And we'll do what it takes to get it done."
Phillip M. Perry is a New York-based writer and consultant.

---
This article first appeared in the October 2021 issue of AQUA Magazine — the top resource for retailers, builders and service pros in the pool and spa industry. Subscriptions to the print magazine are free to all industry professionals. Click here to subscribe.
---