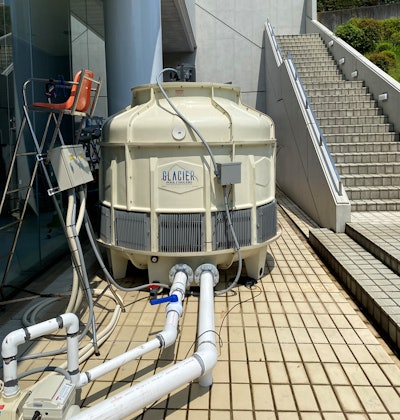 What's new this month in the pool and spa industry? New technology to prevent drowning, fun games to play in the pool, an adjustable pool lift and more! Check it all out below.
---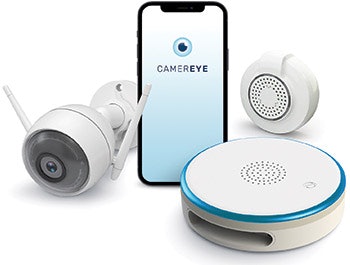 Product of the Month: CamerEye
CamerEye introduces the Artificial Intelligence Smart Fence technology and safety ecosystem to provide faster distress detection and help save lives. CamerEye's ecosystem allows pool owners to monitor their pool 24/7, detect distress and near-drowning behavior through AI-powered overhead cameras, and receive an alert within 10 seconds of distress being detected.
To begin monitoring, users simply install the camera to look into their pool or spa. Once the camera is connected and configured, it will stream live to the smart hub and then to their mobile device. The company's trusted AI algorithms, developed and fine-tuned using several years' worth of real data, will continuously monitor and analyze for human activity in or around the pool and watch for distress events. If something is detected, users will receive an audio and visual alert on the smart hub and mobile app, and an alarm will sound.
CamerEye differentiates alerts from alarms. Alerts inform the user of unauthorized human entry in the pool or when the power is lost. Alarms notify the user of the need for immediate action when distress behavior in the pool has been detected. Premium users also have a "make phone call" service, where automated calls are sent to five pre-assigned numbers when there is a CamerEye alarm.
This affordable, easy-to-install system keeps pool owners connected to their backyard as a part of their smart home ecosystem.
camereye.ai | (800) 906-2810
---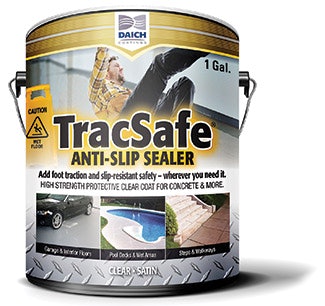 Daich Coatings
TracSafe provides anti-slip performance with all-weather durability for areas around any pool surface. Its odorless, water-based technology bonds firmly to all types of flooring and surface materials, from concrete, masonry, stone and pavers to tile, vinyl, linoleum and pre-painted surfaces — indoors and out. In swimming pool settings, TracSafe can be applied to deck areas, backyard surfaces, steps and entrances. This product contains a low VOC pre-mixed formula with a fast dry time and easy water cleanup. Once applied, TracSafe provides all-season exterior durability and long-term, slip-resistance indoors and out, the company says.
daichcoatings.com | (866) 463-2424
---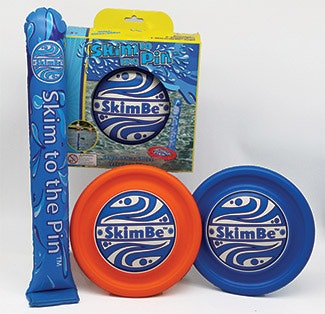 Waterline Toys
Waterline Toys introduces its flagship toy SkimBe, a four-season toy that skips, skims, slides and jumps across water, snow and ice. For use in the pool and beyond, SkimBe adds many more ways to play: play a game of catch, challenge someone to trick shots or come up with your own ideas. This polyurethane disc comes in three color options with a rocker bottom. For added fun, the Skim to the Pin product consists of two SkimBe discs and a multi-use floating target for a game of "Closest to the Pin." Add a second set for a "Party Pack" and the game options expand.
waterlinetoys.com | (949) 246-8798
---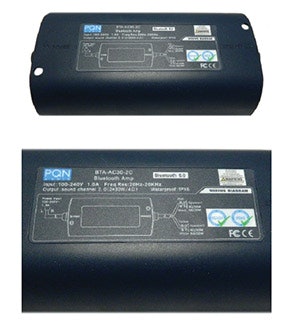 PQN Audio
The new BTA-AC30 BlueTooth Amp is constructed with an internal 100-240VAC at 1A power supply. This allows for simple BlueTooth connectivity and easy installation within a cabinet, with plenty of power to drive a pair of PQN speakers or transducers. This product is available with customization and a choice of input cordage.
pqnaudio.com | (805) 794-6475
---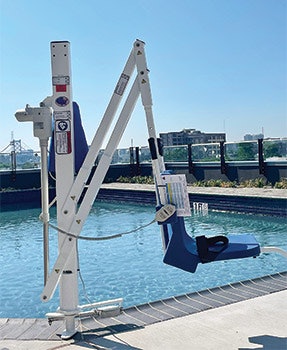 Pentair
AquaTRAM 90+ pool access lift rotates 90 degrees left or right for safe and easy pool access. The lift has an increased lifting capacity of 400 lbs with an improved reach to clear spa benches and most gutters, the company says. This product anchors directly into the deck with the popular Quickset Dual Wedge Anchor socket, making it removable without tools and easy to retrofit in existing anchors. Includes dual flip-up armrests, comfortable seat with adjustable lap belt and footrest, plus simple-to-operate controls. Fully ADA compliant and solar kit option-ready with a rechargeable battery-powered operating system.
pentair.com | (800) 831-7133
---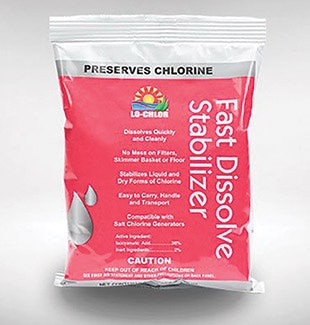 Lo-Chlor
Lo-Chlor LLC has introduced Fast Dissolve Stabilizer to their specialty pool chemicals line. It is a ready-to-use, professional strength granular pool stabilizer. Fast Dissolve Stabilizer works rapidly and is easily dispersed while walking around the pool's edge. No more extra brushing, undissolved lumps and clogged filters, the company says. Fast Dissolve instantly extends the life of chlorine. Lo-Chlor also has a liquid stabilizer, EZ-Pour, with the same benefits and an even faster speed of dosing and protecting.
lo-chlor.com | (954) 491-9810
---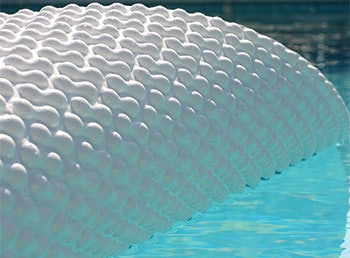 PlastiPack
RaeGuard is a covering material designed specifically to optimize heat retention. This product's unique properties work to actively reduce heat losses from a pool's surface by up to 57%, the company says. The specially selected pigments of the silver and white layers are designed to reflect and scatter radiative heat, and maximize reflection in the targeted mid-infrared region. The GeoBubble air cell provides an insulating barrier to prevent the transfer of thermal energy away from the surface of a pool. This product comes with a six-year manufacturer's warranty and is also available with a reinforced woven top layer for enhanced longevity and durability.
geobubble.co.uk
---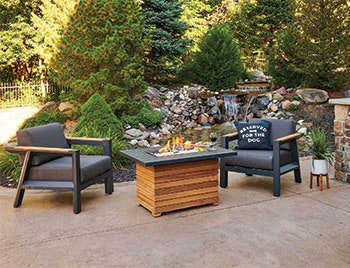 The Outdoor GreatRoom Company
The Outdoor GreatRoom Company is excited to introduce the Darien Collection. Two gas fire pits incorporate Grade A teak wood and are outfitted with a Graphite Grey aluminum or Stone Grey Everblend concrete top, plus a 12-by-24-inch Crystal Fire Plus gas burner. A matching aluminum cover is included with the aluminum top, while a grey glass cover is included with the Everblend concrete top.The collection also features Darien Teak Chat Chairs in powder-coated aluminum framing, with outdoor-rated Olefin cushions. Teak accents on each armrest tie the chairs in with the rest of the collection.
outdoorrooms.com | (866) 303-4028
---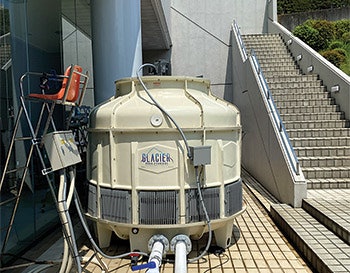 Glacier Pool Coolers
Glacier Pool Coolers is supplying its GPC280 Model Series Pool Cooling System for the U.S. National Team's practice swimming pool for the 2021 Olympics in Japan. This pool chiller has brought the water temperatures from 86 degrees Fahrenheit to 77 degrees Fahrenheit at the training facility — providing an optimal temperature for peak performance and training, the company says. The cooling system is also available in smaller units that can be installed in residential homes. Using an electric fan rather than freon, heat exchange or gas, this product can reduce energy costs.
glacierpoolcoolers.com | (480) 272-7700
---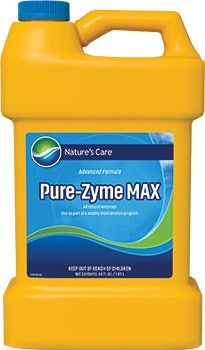 Nature's Care
The re-imagined Nature's Care brand now offers Pure-Zyme Max. This product combines a broad-spectrum enzyme with a phosphate remover to break down and reduce pool water contaminants. This product's effectiveness increases as water temperature rises, making it ideal for mid-summer heat, the company says. Pure-Zyme Max also reduces and controls phosphate levels in pool water and helps reduce filter maintenance to improve water quality and clarity. Available in 64-ounce/2-quart size. Made in the U.S.
naturescarepool.com | (616) 365-9515