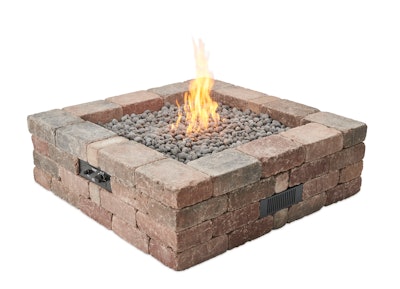 Even though pool season is winding down, there are still many new products to go around. From new business software to gate latches to pool cleaners, take a look at the new products hitting shelves below.
---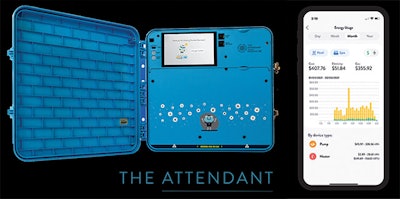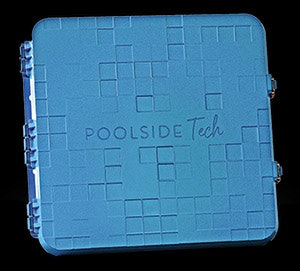 Product of the Month: Poolside Tech
Something modern and innovative has hit the market in pool automation! Introducing The Attendant Powered by Poolside Tech. Automation that thinks for itself. And pays for itself.
Homeowners get a return on investment and the peace of mind that their oasis is being mindfully managed. Removing wasteful spending with features such as "Ready by Time," allowing users to define when they want their pool to be at the perfect temperature and letting The Attendant calculate the most optimal moment to fire the heater.
Pool Pros love that The Attendant natively integrates with all equipment. You can truly intermix any pump, heater, salt cell and light from existing manufacturers in the industry.
This cloud-based automation system actively monitors all equipment on the pad. Making operational decisions to protect a homeowner's investment, lowering their environmental impact, improving water quality and sending real-time notifications when equipment malfunctions. All with a playful personality that communicates with you along the way.

poolside.tech | (267) 810-0600
---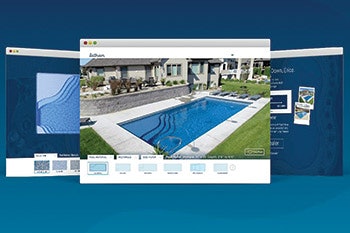 Latham
Latham, The Pool Company has launched Plan Your Pool, an interactive section of the company's website that offers a new way for homeowners and future homeowners to personalize, prepare and budget ahead of purchasing a pool for their home. Features and benefits of the platform include exploring swimming pool shapes and patterns, backyard requirements, installation details, product descriptions, preferences and more. Plan Your Pool also includes a Pool Cost Estimator, which allows homeowners to compare and contrast different pricing options that fit their budget.
lathampool.com | (800) 833-3800
---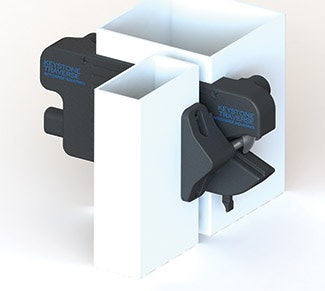 Nationwide Industries
Nationwide Industries launched its Keystone Traverse 500 Magnetic Gate Latch, a key-locking latch for vinyl gates that locks and unlocks from both sides without drilling any holes through the post. The Keystone Traverse 500 builds on the Keystone Traverse series by offering a six-pin cylinder and the ability to install on vinyl gates. This patent-pending latch enhances gate reliability while streamlining the installation process, the company says. The Traverse 500 installs with four easy steps: determine left or right application, determine latch height, attach the latch to the post using five flat head screws and attach the striker.
nationwideindustries.com | (813) 988-2628
---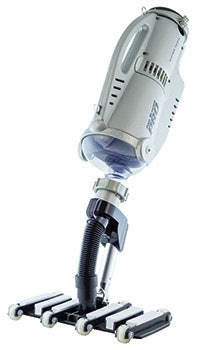 Water Tech Corp
The Pool Blaster Pro 1500 is a battery-powered pool cleaner that offers professional grade pool cleaning for commercial pools. Now engineered with the powerful P40 Heavy Duty motor box, this unit is powerful enough to capture debris of all sizes, the company says. It works independently from the pool's filtration system and requires no hoses or cords. This product simply attaches to a standard pool pole and features multiple vacuum heads for cleaning a variety of pool-bottom surfaces. It comes with two rechargeable lithium-ion batteries that each provide up to one hour of run time, giving the Pro 1500 up to two hours of vacuuming time.
watertechcorp.com/pro1500 | (800) 298-8800
---
Mist Cooling
The commercial Pool Mister, also known as the Swimming Pool Cooler, comes equipped with a pump and two long-throw, fire control, non-corrosive spray nozzles. These nozzles cool down the pool water temperature and quickly boost oxygen levels to reduce heatstroke. Hotel or club guests can enjoy a summer dip in the pool and stay cool with a portable commercial pool cooler.
mistcooling.com | (281) 633-0109
---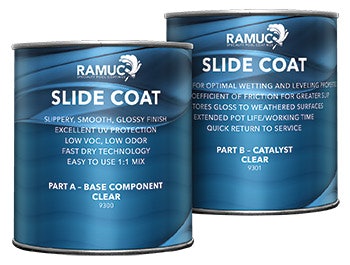 RAMUC Pool Paint
RAMUC's Slide Coat coating is designed to restore old pool slides, providing a tough, durable finish that is both chemical and abrasion resistant. Slide Coat is a high-gloss coating that will promote slippage, restoring old slides as well as sealing new backyard features. This product is designed to optimize leveling and wetting properties, creating a smooth surface. Ideal for concrete and fiberglass slides, it is UV-resistant, VOC compliant and self-priming. Ready for use in 24 hours with final cure in seven days.
ramucpoolpaint.com | (800) 745-6756
---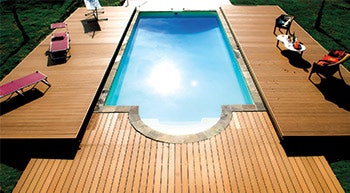 Azenco Pool Deck
The Azenco Pool Deck is a three-in-one mechanized pool cover, patio and deck that can elevate any inground pool into a dynamic entertainment space. With the push of a button, the mechanized deck slides aside to create an instant pool-side patio. This product provides insulation, safeguards the pool while unattended and supports patio furniture. The Azenco Pool Deck is available in numerous configurations to fit almost any pool.
azenco-outdoor.com/pooldeck | (305) 607-1722
---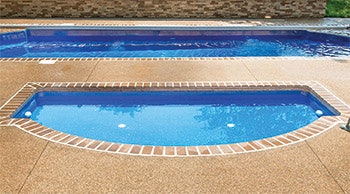 Thursday Pools
Thursday Pools has created a new water feature and lounging pool that can be added to any pool. This 8-by-14-foot fiberglass unit is 12 inches deep, creating an area ideal for sunbathers, toddlers or those who just want to sit in a shallow spot to get their feet wet. This product can be installed flush with the deck or raised with a spillway. Available in seven different colors to match the latest in backyard design.
thursdaypools.com | (877) 929-POOL
---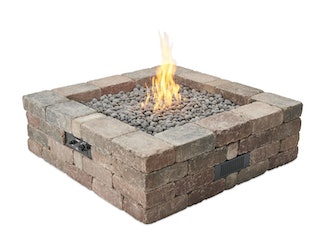 The Outdoor GreatRoom Company
The Outdoor GreatRoom Company is excited to debut the Bronson collection to its line of gas fire pits. Bronson Block Gas Fire Pit Kits are available in round and square shapes. Both DIY fire kits utilize durable, long-lasting hardscape pavers that vary between colors of red, brown, grey and tan. The collection also includes a Crystal Fire Plus gas burner insert and plate, control panel, two vent blocks for proper ventilation and tumbled lava rock. The Bronson Round and Bronson Square utilize liquid propane or natural gas for a convenient, smoke-free alternative to wood. Made, assembled and shipped in the U.S.
outdoorrooms.com | (866) 303-4028
---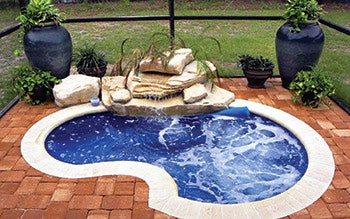 RicoRock
Rico Rock now offers a compact, lightweight, cast concrete modular water fountain that can be mortared together to create a waterfall for spas. Unlike heavy real stone that can be hard to manipulate, this modular fountain package is designed to look good without the worries of leaks or awkwardly stacked stones that aren't aesthetically pleasing. This product comes with natural cobbles to cover mortar joints and base pieces have a 3-inch lip so the waterfall looks built-in.
ricorock.com | (888) 717-3100