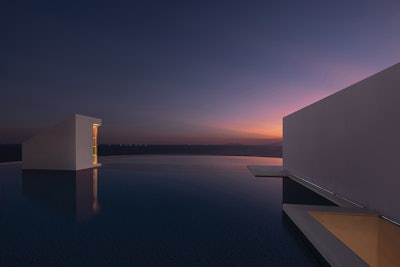 Photography: Jin Weiqi, He Wei, Huizhou Shuangyue Bay Real Estate Investment and Development Co., Ltd.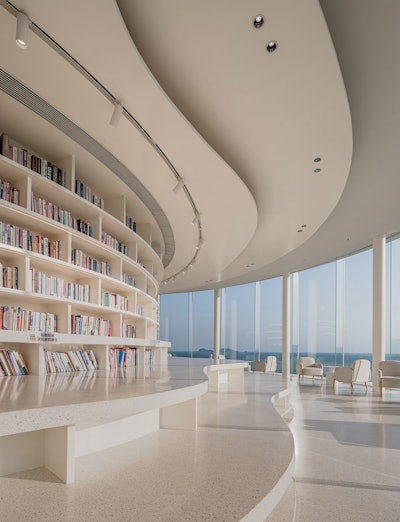 On the rooftop of a public library in China, adventurous visitors can step out into a unique and unexpected water feature.
A bowl-shaped pool crowns the aptly named Water Drop Library, created by 3andwich Design / He Wei Studio. Guests can follow a hidden path to reach the pool, where a set of stepping stones stretches out across the surface of the water.
"People can see the sea level in the distance by glancing out over the pool," the studio says. "Water, sky and the sea are integrated here and now."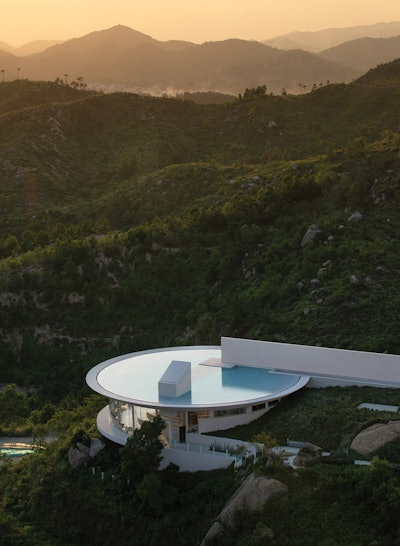 Tucked within the Guangdong Province, the entire structure was integrated into a hillside. "At the top of the hill, the white corridor and long wall become artifacts in the natural landscape," the studio says. "The pure geometric shapes attract the attention of users and lead people to the direction of the roof and the sea."
The process of entering the building represents "a journey to understand nature and oneself." To enter, visitors must walk down a corridor and "dive in" under the pool. Once inside, they're met with a spectacular reading space, surrounded by nearly 270 degrees of floor-toceiling glass. Bookshelves are arranged in a ring along the inner wall, while seats and small tables line the outer glass wall, offering grand views of the landscape.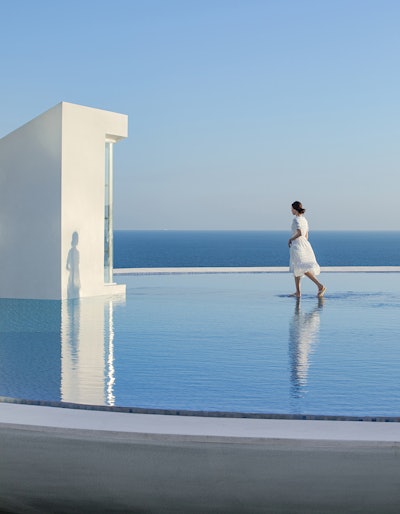 Additionally, the architects included an opening in the ceiling that captures light through the rooftop pool. "Through [a color device], the sunlight is rendered as colored light, which is scattered into the space in a blurred form," the studio says.
---
Photography: Jin Weiqi, He Wei, Huizhou
Shuangyue Bay Real Estate
Investment and Development Co., Ltd.
This article first appeared in the January 2023 issue of AQUA Magazine — the top resource for retailers, builders and service pros in the pool and spa industry. Subscriptions to the print magazine are free to all industry professionals. Click here to subscribe.