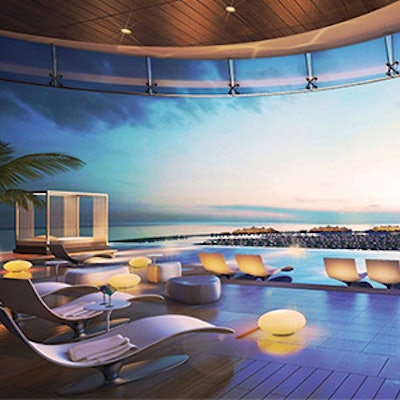 Like many things in the futuristic urban landscape of Dubai in the U.A.E., the city will soon boast the world's highest 360-degree infinity edge pool. Located on Palm Jumeirah Island, one of Dubai's record-setting man-made islands, the pool will crown the Palm Tower, a 52-story multi-use skyscraper, at a breathtaking 689 feet above the ground.
The building is nearing completion with structural work on the pool completed in November. The pool breaks the existing record for highest infinity edge pool by a mere 33 feet, a distinction held until now by the Marina Bay Sand SkyPark pool in Singapore at 656 feet. It is also claimed to be the first 360-degree rooftop pool on a skyscraper.
RELATED: A Pool That Defies Gravity…and Logic
The Palm Tower is the work of Dubai developer Nakheel, a firm that has been responsible for an impressive roster of Dubai's dramatic high-rise buildings, shopping malls and other commercial properties. Nakheel already enjoys a reputation as one of the most innovative developers working in Dubai and having a record-setting pool in its portfolio will only further enhance that mystique.
The property features stunning contemporary architecture and includes a whopping 23 luxury hotels, a shopping mall and 28 floors dedicated to fully furnished luxury apartments.
The building broke ground two years ago and has climbed steadily above its perch on the "trunk" of the palm-shaped island. Reporting from Dubai indicates that like many of the city's soaring structures, the pool's construction faced challenging conditions due largely to high winds that complicate the process of lifting materials to such great heights.
The pool, which holds 250,000gallons of water, is part of a three-story complex on top of the building known as The View at the Palms, which features a restaurant, viewing deck, cabanas and vistas that seem to go for, well, infinity.