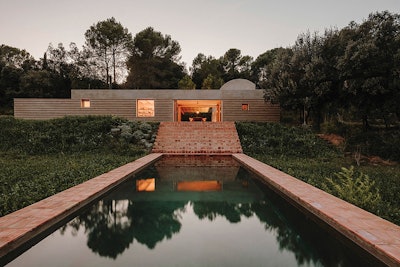 Photos courtesy MESURA / Photography by Salva Lopez
Designed by Barcelona-based architecture studio MESURA, this Spanish home was built to embrace the natural beauty of rural Catalonia.
"A Mediterranean way of living means living outdoors a lot, due to the pleasant climate throughout the year. In Spain, it's not uncommon to have an outdoor kitchen or living area, where people spend most of their days together," explained the studio.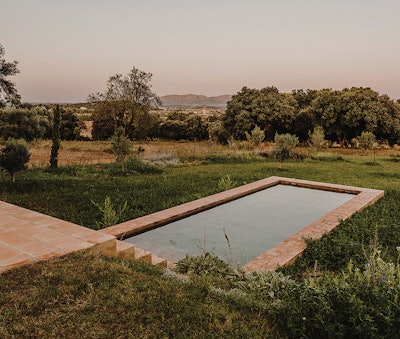 Stones from the banks of the adjacent Ter River were used in construction — hence the name, Casa Ter. The home's exterior also features textured concrete, while the terrace, pool, vaulted ceiling ridges and window/doorway insets are lined with local ceramic tiles from La Bisbal.
Unadorned white walls make up Casa Ter's interior, dotted with wooden furniture and other soft accents. As a special touch, MESURA opted to nestle the main bedroom below a Catalonian-style barrel vault.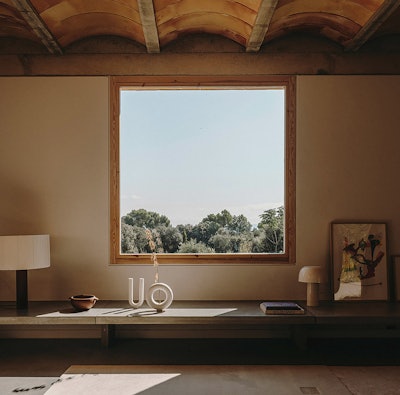 The residence is split by an outdoor terrace, leading down to a lengthy swimming pool that stretches into a grassy hillside. A covered porch space, with a kitchen and living room on either side, can be kept open or closed depending on the weather.
"The house can be closed off, or set open completely," MESURA said. "One can choose to keep nature at a distance through the windows, or to let it into the home."