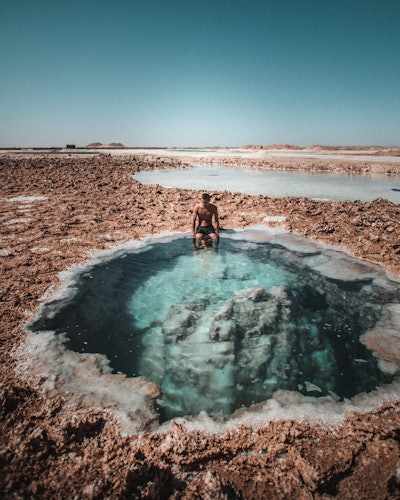 Austin Divine
In the Western Desert of Egypt, a hidden gem lies far off the beaten path: the Siwa Oasis, an unusual destination known for its salty lakes and springs.
Surrounded by dunes and limestone mountains, Siwa stretches over an area of 33 square miles. The ancient oasis, once visited by Alexander the Great, is packed with sites for cultural and archeological tourism — but most visitors opt to go for a swim.
A combination of low annual rainfall, high evaporation rates and the absence of good drainage led to the formation of several hyper-saline lakes, which stand out from the rest of the landscape in striking shades of blue and white. The high salt concentration of the water allows swimmers to effortlessly float above the surface.
Salt from the Siwa lakes has been extracted and utilized by the local population for centuries. It was traditionally mixed into "kerchief" (a blend of sand, salt and clay) to construct houses. Today, salt from the lakes is used in everything from furniture to wellness treatments. Renowned for its healing properties, the mineral is said to ease ailments of the sinuses, skin and beyond.
"The salt lakes started to be visited [for medical purposes] a few years ago," says Mahdi Hwieti, director of tourism in the Siwa Oasis, speaking to Arab Weekly. "Locals used to go there to wash the bodies of the children with problems in the skin, although some do it just for fun."
Siwa remained largely isolated for hundreds of years, until the completion of a highway opened it up to tourism in the 1980s. It's a long way from other beloved destinations in Egypt — such as the Dead Sea — which has kept it relatively under wraps, and helped preserve the unique ecosystem.
---
This article first appeared in the June 2022 issue of AQUA Magazine — the top resource for retailers, builders and service pros in the pool and spa industry. Subscriptions to the print magazine are free to all industry professionals. Click here to subscribe.