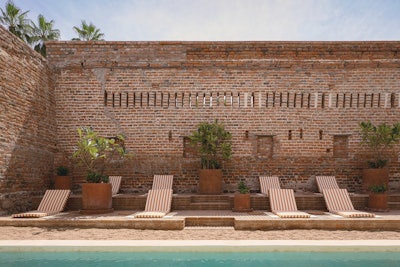 Photos courtesy César Béjar
After a transformation by Max von Werz Arquitectos studio, an old colonial-style villa in Mexico is now a 32-room hotel.
Dating back to 1910, the villa was built in La Paz, Baja California Sur, on a site once used for pearl harvesting. Today, the new-and-improved Baja Club hotel features a four-story extension with guest rooms, suites, a pool and a rooftop bar. But history wasn't forgotten: Max von Werz Arquitectos retrofitted the old villa, and took care to preserve the property's original brick walls and landscaping.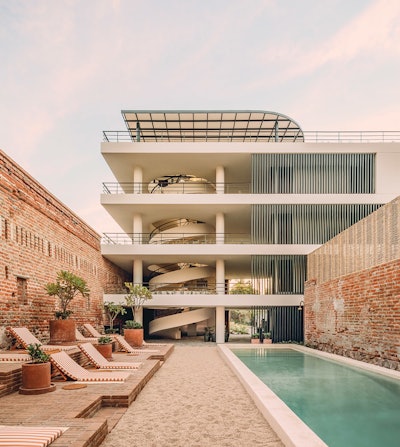 "It was a conscious decision not to demolish, but rather to conserve and complement," the studio says. "Baja Club's central question is the age-old one of how to build on a site's rich history and character, but at the same time, update it in order to give it a new lease on life. While decidedly modern, our extension is discretely nestled into the property's interior where it enters into a respectful dialogue with the old villa."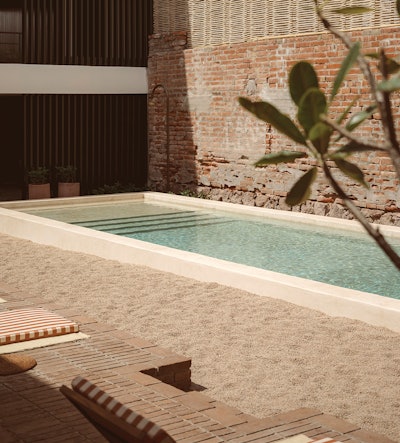 A showstopping helical staircase provides access to the building's upper levels, while a new swimming pool offers a place to cool off down below. As a nod to local culture and the site's history, the inside of the hotel features hand-finished carpentry, blown-glass lamps and Talavera tiles. Additionally, the pool area was crafted using Chukum, a type of Mexican stucco.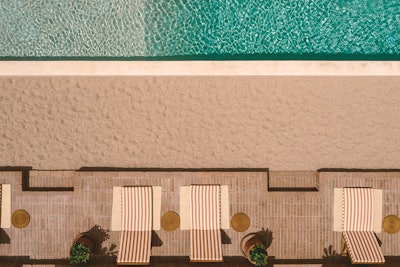 "Baja Club Hotel aims to give a modern twist on Mexico's rich tradition of colors, textures and craftsmanship," says Max von Werz Arquitectos. The studio made a point of using locally produced materials and finishes where possible: "For us, using local craftsmanship was a way to anchor the project in its locale, to achieve a certain authenticity and to build a strong connection with the history and identity of the place."