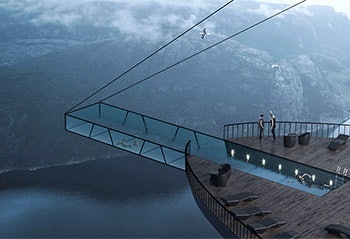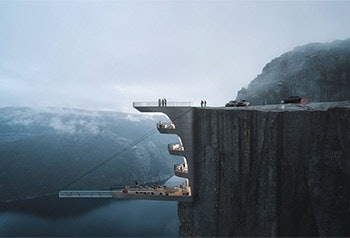 Don't look down — this proposal for a Scandinavian clifftop getaway is not for the faint of heart.
The ambitious design, conceptualized by architect Hayri Atak of Istanbul, is still in the early planning stages. Visuals from Atak's design studio depict a hotel embedded within one of Norway's most daunting cliffs, known as Preikestolen (Pulpit Rock).
"Pulpit Rock has been one of the most exciting places to me through the years," says Atak. "The hotel can be considered a part or an extension of the cliff."
As shown in the design, the top of the cliff accommodates a large viewing platform and dually serves as the hotel entrance. Below, nine guest suites are tucked into three levels of the cliff. Each level features balconies molded to fit the rock's natural shape, offering visitors impressive views of the surrounding mountains.
On the lowest level, a shared balcony extends beyond the reach of the guest rooms. Further out, Atak added a nerve-wracking experience designed "for more adventurous visitors." The space culminates with a cantilevered swimming pool teetering off the edge of the cliff.
The pool, dangling approximately 1,968 feet above the ground, is designed to be made entirely out of glass. Its transparent walls and floor immerse swimmers into both the magnificent landscape and the sheer drop that lies below them.
Ultimately, Atak believes the experience of being on the cliff's edge "would be much more thrilling in a pool, rather than on a balcony." No doubts about that. Though his ambitious design has yet to be constructed, it's sure to defy gravity.
---
This article first appeared in the March 2021 issue of AQUA Magazine — the top resource for retailers, builders and service pros in the pool and spa industry. Subscriptions to the print magazine are free to all industry professionals. Click here to subscribe.
---