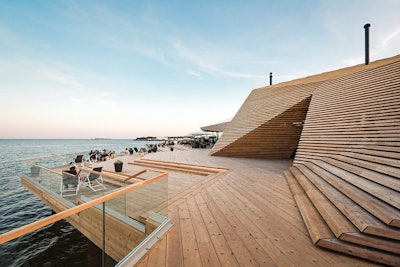 Photos courtesy kuvio.com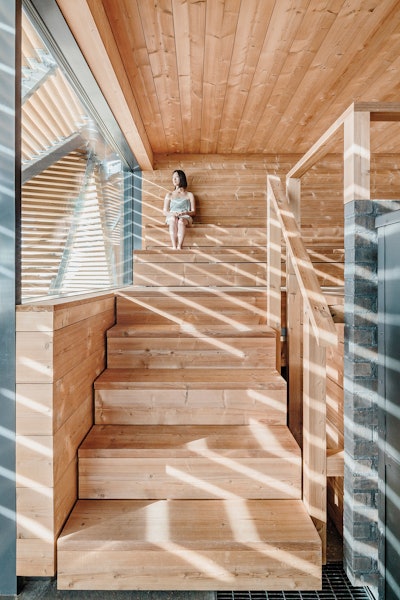 Sauna bathing is a crucial part of Finnish culture: Believe it or not, the country's 5.4 million people live amongst nearly 3.3 million saunas.
One public sauna, in particular (perhaps Finland's best-known) lies just shy of Helsinki's city center. Designed by local firm Avanto Architects, Löyly — named after the word for steam that rises from water thrown on hot sauna stones — was listed as one of the World's 100 Greatest Places by Time Magazine in 2018.
"Public saunas used to be common in bigger cities, but now that most new apartments have saunas of their own, [they] have decreased dramatically in number," the studio explains. "As a sense of community is becoming a more and more important part of new urban culture, many new public saunas are being planned."
Located in a former industrial park, Löyly is part of a new "Helsinki Park" intended to bridge the gap between the capital city and the sea. It was designed with a low volume to avoid obstructing the view from future residential blocks.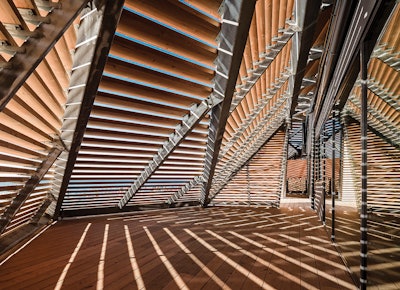 "The architectural idea is simple — there is a rectangular black box containing the warm spaces that is covered with a freeform wooden 'cloak,'" the studio says. Made from heat-treated pine, the cloak serves to offer privacy, interior shading and protection from the harsh climate. A set of steps allows visitors to reach a rooftop lookout point, which doubles as a viewing platform for watersports events.
Löyly's interior, designed by Joanna Laajisto Creative Studio, features black concrete, Scandinavian birch wood, blackened steel and wool. Visitors can choose to enjoy a sauna bath and/or dine at a restaurant serving sustainably caught fish and other organic options.
The wood-heated sauna offerings come in three varieties: a continuously heated sauna, a once-heated sauna and a traditional smoke sauna. A central area with a cold water basin and fireplace room offers additional space for people to relax in, before or after their time in the sauna.
Sustainability was carefully considered throughout the project: Löyly's electricity is produced with water and wind power, and a Forest Stewardship Council's certificate proves that its wood material comes from responsibly managed forests.