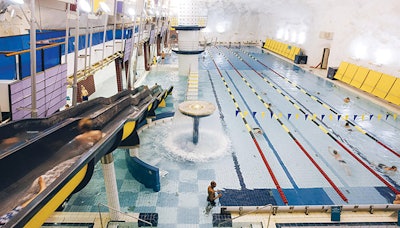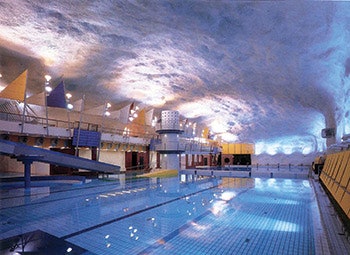 Finland's capital Helsinki has embraced downward expansion. Since 1960, the city has been actively creating an underground "shadow city" in an effort to contain urban sprawl, become more energy efficient and escape the cold. Carved in the area's solid Granodiorite bedrock, Helsinki's vast underground spaces include shopping areas, a church, hockey rink, a data center, "parking caverns" and a beautiful public swimming pool facility. In all, the city has more than 400 separate facilities underground and more than 300 kilometers of tunnels.
The Itakeskus Swimming Hall was blasted and carved into existence back in 1993 and has since served as one of the city's most enjoyable public amenities. The facility was conceived as a way to combine an emergency civic shelter, versatile swimming vessels and a recreation center. The massive space mitigates the harsh seasonal climate reducing maintenance costs while sustaining comfortable temperatures year-round.
RELATED: Rescuing Community Pools
The daring underground space demanded new design techniques from the architects and required closer-than-usual contact with the construction engineering planners. The building's possible use as an emergency shelter for 3,800 people was made as inconspicuous as possible, with all necessary climate and pool systems merged and concealed within the stone cavern.
Designed by Hkp Architects, the hall includes four pools, a spa, a Turkish bath and a solarium. It has a capacity of 1,000 people and provides a range of fitness and recreation programs. It has yet to be used as an emergency shelter