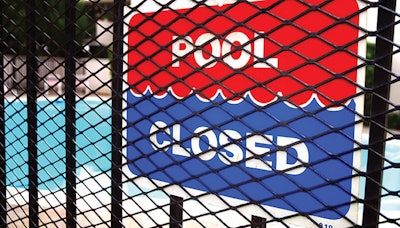 Many public pools have fallen on hard times in recent years and a large number have closed forever. The effort to save aging pools is not only a struggle for places to play and exercise — it's also a fight for the character and future of the communities they serve. Read the introduction to this story here.

How long is the average lifespan of a public swimming pool? Is it 30 years, 40, 50 or more? Although statistics are hard to come by, we do know that a great many community pools across the U.S. are in a state of decline and in many cases have already closed due to a variety of factors, most of which come with dollar signs attached.
The available numbers are sobering: According to Mick Nelson, facilities development director for USA Swimming, more than 2,000 pools throughout the U.S. have closed since January 2009. Nelson, who has painstakingly tracked the demise of community pools in recent years, believes there are several reasons behind this rash of closings.
"Some of the pools closed because they could not upgrade and retrofit to meet the new drain laws mandated by the Virginia Graeme Baker Pool & Spa Safety Act, while others deteriorated and would require expensive renovations," he says. "Many more have closed, however, because they have been running at a deficit for many years and decided they can no longer afford to pay the operating costs."
Certainly in some communities, obsolete pools are shuttered because other, more modern facilities take their place. In 2007 for example, the "Plunge" in La Mirada, Calif., an austere facility that was once the heart of the city's recreational scene, closed after five decades of use when it was replaced by a nearby, state-of-the-art multiuse aquatic center, which included a full-blown waterpark and a 50-meter competition pool.
Although some residents were crestfallen by the closure of the old pool for sentimental reasons, with a shining new facility available, the change can be accurately chalked up to progress. Now the city is enjoying the fruits of its more than $20-million investment as attendance has far exceeded expectations.
Unfortunately, for many other less-fortunate locales, pools have been forced to close prematurely and without viable alternatives, leaving residents high and dry in the summer swelter. Case in point: the Oklahoma City Community College 50-meter pool will close at the end of this summer, ending the pool's 25-year run as a centerpiece of swimming in the state.
According to a statement from college president Paul Sechrist, the decision to close was due to "the present day functional, operational, financial and mission realities."
Sechrist cited $280,000 per year in annual maintenance and estimates of $6 million to repair, a level of funding that has sealed the fate of the facility. In the meantime, seven high school swim teams and countless local residents will soon find themselves looking for a place to play, exercise and train.
BIG NUMBERS, MONUMENTAL TASKS
With so many facilities closing their doors, anecdotal evidence is abundant and the stories often sound very similar. The big reason driving the demise of community pools is most often the cost of repair and renovation, a sum well beyond the operators' means.
In Green Bay, Wis., community groups and civic leaders have mounted a vigorous campaign to renovate and save the Colburn Park Pool: They need $4.5 million.
"The pool is in really rough shape, and so are the facilities," said Amanda Tuttle, president of the Green Bay Swim Club in an interview with the Green Bay Gazette. Her club is attempting to raise $1 million, a huge sum but one that will leave the majority of the cost to the city and private donors.
The largest of the city's three outdoor pools, the vessel and its circulation system haven't been renovated — beyond minor repairs — since it opened in 1967. Despite the years of wear and tear, the site remains home to local swim clubs, largely because it's the only 50-meter outdoor pool in the area.
Despite the large sum required to save the pool from almost certain closure, local groups and the city are not giving up. Using a combination of social media and fundraising events, proponents of saving the facility remain reasonably optimistic.
One fundraising measure takes its cue from larger professional sports facilities. According to city alderman Chris Wery, whose district includes the site, proponents of saving the facility are working to sell the naming rights, a pricey measure that could generate the needed funds.
FEAR FACTORS
The situation in Green Bay is just one of a great many that came to light in researching this article. Stepping back from those local scenarios and looking at the broader landscape of aquatics and aquatics facilities reveals no shortage of opinion about the factors driving public pool closures.
According to some, the overly litigious nature of American society is another factor, especially when looking to the future. According to blogger Mike Stinson, better known as "Mike the Poolman," a service professional from Folsom, Calif., abusive litigation may well completely wipe out public swimming pools.
"If the United States of America continues on its current litigious path, most public swimming pools will cease to exist in our lifetime," he writes. "Water has become a great market for lawsuits. A child has a seizure in a public pool and drowns: the pool owner gets sued for failure to provide lifeguards (or some other perverse rationale) and is forced to close due to the risk of more potential and inevitable lawsuits and evaporating funding."
Although some might argue that such dire prediction are overreaching, he follows that statement with a number of keen points about the importance of pools and why it behooves people from the grassroots to the halls of power to fight for their survival.
"When public pools close, inner-city and non-affluent children don't have anywhere relatively safe to swim. Kids are going to find a way to cool off so they head to a river or quarry or canal where the risk of drowning dramatically increases."
THE LONG VIEW
For all the dire implications of losing community pools, strong arguments to support them remain. A good example being a recent study by the National Recreation and Parks Association that revealed home prices near a park or public recreation center are nearly $8,000 higher than equivalent homes in other locations.
Perhaps an even greater testament to the value of community pools resides in the idea that areas that have swimming pools available, especially economically depressed neighborhoods, experience significant reductions in crime among kids who would otherwise find their way into trouble absent a place to play and cool off.
In his wonderfully researched and written 2009 book, "Contested Waters: A Social History of Swimming Pools in America," author Jeff Wiltse cites a study by the Chicago School of Civics and Philanthropy, which found that on average, neighborhoods with community pools and other recreational facilities see juvenile delinquency rates reduced by 28 percent.
With stats like that, it's not surprising that some public officials prize these public gathering places. Wiltse quotes West Chicago Parks and Recreation President, B.A. Echhart who glowingly said that within such public settings resides "the beginning of the social redemption of large cities. They furnish the spectacle of a city saving itself, of the people of a great city finding nature and God, finding their neighborhoods and themselves."
And finally, perhaps the greatest reason saving community pools matters so much to so many is they teach a vital skill. As opposed to say, public tennis courts, a public pool provides the setting for learning a potentially life-saving skill. As the well-known African-American swimmer Sabir Muhammad once told an ESPN reporter, "No one dies from not being able to play basketball."
Immediate Measures
Although saving community pools is often a truly long-term proposition, one that can cut to core issues of facility design and programming, as well as ongoing community outreach, there are also short-term measures that can help.
According to Mick Nelson, facilities development director for USA Swimming, there are a number of immediate steps facility managers can take to increase financial viability. As he shared in a blog post on the National Swimming Pool Foundation site:
Match program pricing with the cost to operate the pool.
Establish a learn-to-swim program, both for income and as a service to the community.
Investigate overlooked programming opportunities such as aquatic therapy, senior citizen usage and swim team bridge programs.
Invest in energy efficient materials and items that will save money in the long term. One of the easiest, especially for indoor pools, is to cover the pool at night or on weekends when it is not in use.
Nelson also has advice for swim club and swim coaches trying to save their pools, using a real-life scenario from California: "A team was renting a municipally-owned pool that was losing $35,000 a year. The city council's obvious solution was to close the pool. The swim team, under the direction of the head coach proposed to take over the operation of the pool along with all expenses. He guaranteed the city a profit of 5 percent of his total program income.
"USA Swimming advisors worked with the coach to introduce adult aquatic programs, high quality learn to swim lessons, and other aquatic programs. These programs were optional to the public and were offered at a higher cost than previously. In two years, the programs were operating at a profit of $30,000."
To that he adds: "Swim teams cannot usually support a pool by themselves and municipalities are usually not adept at profitably programming their aquatic facility. Their first reaction is normally, we have to close the pool. USA Swimming clubs or Learn-to-Swim schools can become the managing entities for Total Aquatic Programming and assume the business responsibilities for the operations of the pool. However, this is a tough call for a volunteer swim club parent board. While the volunteer leadership may like the idea in theory, it is often more than they want or are able to take on.
"This is where a professional coach can step in and assume operation of the facility as a for profit business," he adds. "The swim team can maintain its non-profit status as one pillar of the overall business plan. This is not an easy process and does not happen overnight. It is a huge commitment on the part of the coach and a giant step beyond 'just coaching.' The coach will be contracting to take over total operations of the pool."
Comments or thoughts on this article? Please e-mail [email protected].