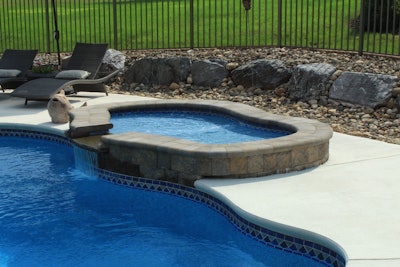 The following content is supported by one of our advertising partners. To learn more about sponsored content, click here.
As pool builders continue to discover the advantages of the Z Poolform system — a reusable product that creates stunning cantilevered concrete pool coping — they're also becoming savvier about how they incorporate it into their pricing strategies.
The result? Customers eager to show off their cool pool coping to friends, which in turn helps generate new leads (and more income) for pool builders.
"We use it on every single pool. It's made our life a lot simpler, and also makes us different than other pool builders in the area," says Rob Goodall, the third-generation co-owner of Goodall Pools & Spas, which has five locations in Pennsylvania, including a new showroom in Camp Hill that features a design center showcasing samples of all nine Z Poolform liners manufactured by Scott Township, Pa.- based Concrete Countertop Solutions. Styles range from bullnose and squared faces to chiseled slate and woodgrain.
Z Poolforms are made of rigid PVC pieces and engineered for compatibility with gunite, fiberglass and vinyl-liner pools, as well as many popular automatic pool cover tracks. Designed to eliminate the need to set concrete forms with messy, one-time-use Styrofoam pieces, Z Poolforms require no tie wires, stay in place while setting without the risk of falling off or blowing away, and can easily be stripped the following day after the concrete sets and used again on the next project. The entire process is less labor intensive than before, and cleanup is quick and easy.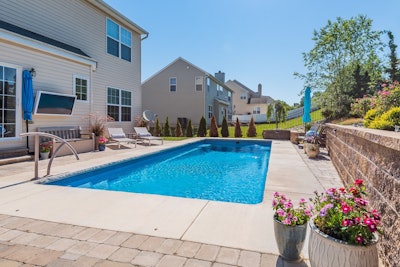 PRICING Z POOLFORMS
Goodall says he was introduced to Z Poolforms about three years ago. His company uses a concrete subcontractor, for whom he purchased one form and asked the sub to give the product a shot. (Any subsequent purchases are the sub's responsibility.) Together, Goodall and the sub have worked out a pricing system based on percentages.
"Our subcontractor comes to us and says, 'I need X amount of dollars per linear foot on the cantilever edge,' and we'll do our percentage markup on top of that for managing the project," Goodall says, adding that the typical markup is 20%, plus a 5% markup to cover the sales commission on that project. "So if the sub says, 'I need $15 per linear foot,' we'll add our 25% on top of that, and that's what we present to the customer."
Mike Day, who has operated Day's Concrete Floors in Monmouth, Maine, for more than 40 years, charges a standard price of $40 per linear foot to install cantilevered coping using Z Poolforms. Pool builders in the region seek him out for concrete coping and deck work, and Day's company works on about 20 pool projects per year.
"It was just a matter of doing a few and deciding on the best rate for us to recoup our costs," Day says about determining how he prices Z Poolforms. "I think we started at $30 per linear foot. Over the course of doing multiple pools, we settled on $40, which covers our time and still allows us to make a profit."
Day's YouTube channel, Everything About Concrete, has more than 185,000 subscribers and includes hundreds of instructional videos — including two featuring Z Poolforms. The channel averaged about 1.2 million views in January and has reached two million ​​monthly views during the summer.
AN EASY SELL
The best way to introduce homeowners to Z Poolforms, according to Day and Goodall, is by showing them photos or videos of cantilevered coping created using the system. It looks more luxurious than traditional coping and blends in with the pool better. Once a homeowner envisions the end result, it's an easy sell.
In some cases, Day will send clients to the Concrete Countertop Solutions website to view the company's entire collection of liner faces. If they prefer a design he doesn't already offer, he will purchase it and charge the homeowner a small fee to help cover the new liner's cost.
While Day and Goodall report happy homeowners, Z Poolforms has cut down on their own stress, too.
"Our phone calls in the construction department about concrete issues have slowed immensely," says Goodall, whose company builds about 60 fiberglass pools and 25 to 30 vinyl-liner pools each year. "And the support Concrete Countertop Solutions provides when we do need help is great. One of their technical guys has come out to some of our jobsites and helped the concrete crew. They take pride in what they offer and want to make sure people are installing their product properly and representing it the way it should be."