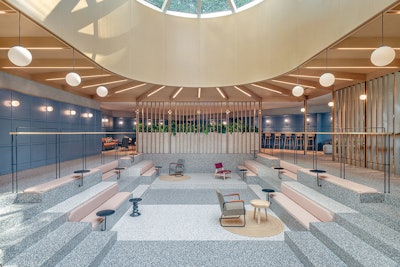 Photos courtesy/by Dirk Weiblen
What once was a public swimming pool has become a chic place to ride out the daily grind.
In Shanghai, developers have taken an outdated pool and transformed it into an office space for workers in the Jing An Kerry Center. Designed by architects at Linehouse, the expansive room uses existing architecture to create a hub for events, town halls, meetings and flexible work.
"It is both a symbol of domesticity and a creative center," according to Linehouse.
The original skylight was the inspiration for a parallel, oval-shaped gathering space below. Sunken steps in two tones of speckled vinyl offer flexible seating for small or large groups, with pink leather cushions and black metal tables.
The architects opted for new, gray-blue lacquer wainscoting on the walls but kept the existing concrete above it. A new concrete render ceiling features oak timber fins fitted with custom-made tube lights. For added functionality, these fins can fold down as screens to create separation.
The old swimming pool changing rooms were converted into meeting rooms, accented with green wainscoting. Additionally, three private phone booths offer a quieter place to make calls.