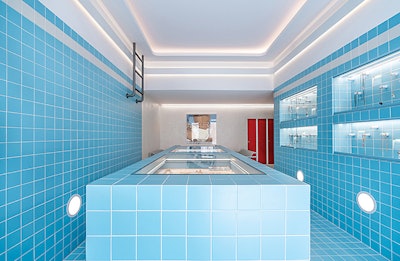 Nothing sells jewelry like the shimmer of a swimming pool – see for yourself at Gavello, a luxury retailer with a dazzling new location in Mykonos, Greece. The Italian jewelry brand enlisted Dive Architects and design agency Saint of Athens to bring this unique concept to life in a jewelry store.
"We were looking for an unorthodox way to present the colorful and opulent [jewelry] designs, so we came up with a surreal, summer-y idea," Saint of Athens Founder Nikos Paleologos tells Dezeen.
The challenge was to break away from one of the most recognizable architecture styles in the world: the whitewashed, minimalistic buildings of the Cyclades Islands.
"Cosmopolitan and picturesque places like Mykonos tend to trap themselves in a dipole of rigid tradition versus forced extravagance," explains Paleologos. "But Mykonos is a cosmopolitan place that calls for big and bold moves."
Blending vintage furniture with modern elements, the swimming pool aesthetic is a bold move indeed. The store's walls are drenched in the blue of custom terrazzo tiles, intended to evoke the "urban pool luxury of the 60s," says Paleologos. Red accents including beach balls, a bench, striped bolsters and a set of lockers make everything pop.
Jewelry is displayed on a central table and across the walls, utilizing custom elements by Urbi et Orbi. Some of the designer gems dangle from pool towel hooks, while others are housed in four illuminated wall niches.
To top off the endless summer feeling, a pool ladder hangs from the wall, and several round "pool lights" line the floor of the store.